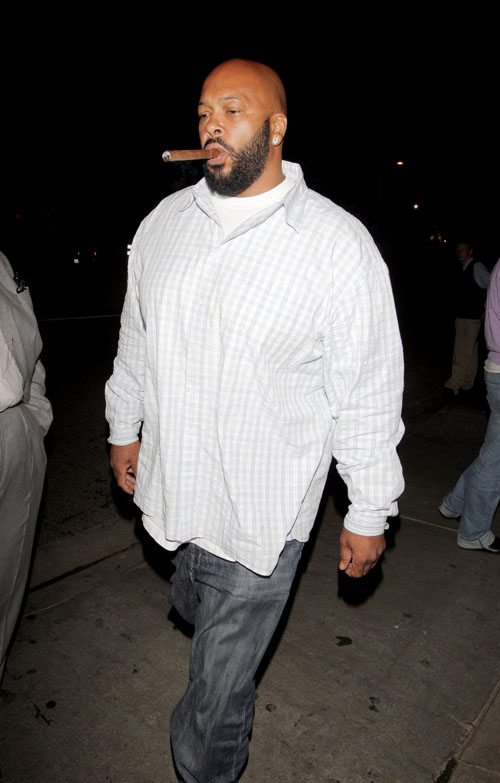 Suge Knight has been the recipient of a beatdown! Ruh-roh. Somebody's going to get payback for this, I just know it. Suge was in fight at a "local hotel" in Scottsdale, Arizona. Suge was in town to see the NBA All-Star game, and he was staying at the W Hotel. Apparently, there was some kind of "fracas" in the VIP area amongst several guests. Sounds like somebody wasn't happy with the turndown service.
The Scottsdale police who were called to the area had to use Tasers to break up the multiple-person fight. Suge had facial injuries, and is being treated at the local hospital. Which is weird, because the Reuters report later states that the hospital has no record of treating Suge. It's like the man existed in a an episode of The Twilight Zone. Reuters has more:
Rap music mogul Marion "Suge" Knight was treated in the hospital for facial injuries after being injured in a fight at a local hotel, Scottsdale police said on Monday.

Security at the W hotel in the city near Phoenix called police after two groups of guests exchanged "heated words in the VIP area" early on Monday, Scottsdale police said in a news release.

Shortly after police officers arrived at the hotel, they saw a man punch Knight, 43, twice in the head, police said. Officers used Taser stun guns to break up the fracas and arrested two men — identified as Robert Carnes and Leon Anderson — who were subsequently charged with aggravated assault and disorderly conduct, the police report added.

Knight, co-founder of the rap label Death Row Records, was taken to a local hospital where he was treated for facial injuries, police said.

Scottsdale police did not immediately return a call seeking further information on Knight's injuries or condition. The Scottsdale hospital cited in the police report said it had no record of having treated him.

Knight who helped promote such rap stars as Snoop Dogg and Tupac Shakur in the 1990s, was in the Phoenix area to attend the National Basketball Association All-Star game on Sunday night.

His career has been overshadowed in recent years by run-ins with the law.

In August, he was arrested in Las Vegas on drug and assault charges after he was suspected of punching his girlfriend and pulling a knife on her during an argument outside a strip club.

Knight was jailed in October 1996 for violating his probation on a previous assault case by allegedly kicking a man during a scuffle at a Las Vegas hotel.
From Reuters
This might be off-topic, but it really bothers me how Taser-happy police are these days. Obviously, many criminals facing arrest are violent, but it seems like Tasers are now the policeman's first option rather than the last. I'm kind of wondering if Suge got "tased" in the face, and that's what his "facial injuries" are, but that's just supposition. The only thing I'm sure about is that this will not end here – Suge is going to want payback. For sure.
Suge Knight is shown on 7/15/08. Credit: WENN