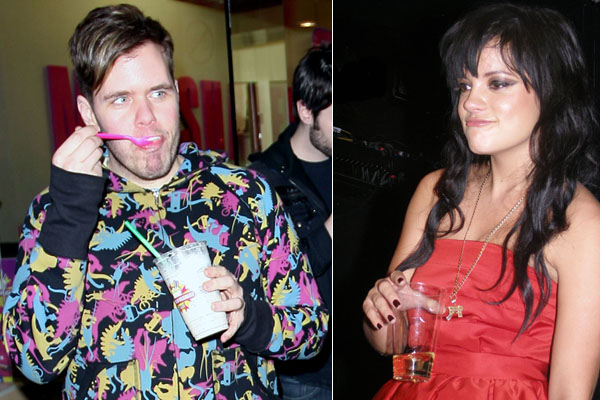 Perez Hilton and Lily Allen just can't stop their deathmatch. Last night the pop star and the gossip blogger got into a nasty (and funny) Twitter war. Perez told Lily that "If I wanted to be a f–ked up Brit, I'd rather be Amy Winehouse." Lily called Perez a "douchebag" and a "parasite". Yikes.
This is the second "Twitter War" or "Twitter spat" that Lily has been involved in in the past week. Her album, It's Not Me, It's You, is number one in England. Just as a rule, I'd rather side with anyone other than Perez. Perez is a pretty nasty misogynist, but calling him (in Lily's words) a "bitter lonely old queen" is a bit much. Still, Lily was provoked. It's a tough call, but I'm erring on Lily's side. The Daily Telegraph has more, including some of the juiciest excerpts from the Twitter war.
Pop singer Lily Allen and gossip blogger Perez Hilton engaged in a very public spat on Twitter last night. Allen described Hilton, who has made a career out of mocking celebrities, as a "little parasite" and a "bitter lonely old queen" in a flurry of messages seen by tens of thousands of the pair's followers.

Hilton hit back by claiming that the British star only sold her albums in the US by slashing prices, adding: "If I wanted to be a f***** up Brit, I'd rather be Amy Winehouse".

The pair have clashed online in the past, with Allen using her MySpace website to attack the blogger's claims that she smoked during her pregnancy.

But is the first time they have crossed swords on the increasingly popular microblogging website, which allows users to exchange short, quick messages. Although most users of the site are unfailingly courteous, the instant nature of the communication does allow the rows that develop to quickly spiral out of to control.

Hilton began the exchange by encouraging other Twitter users to persuade Allen to cast him in her new music video. The rest of their spat went as follows:

Allen: oh, I'm sorry, we've already cast the jealous and bitter lonely old queen role. Next time eh?

Hilton: Jealous of who? David Beckham, maybe. And if I wanted to be a f***** up Brit, I'd rather be Amy Winehouse – whose got talent.

Allen: god, you're like so obsessed with me its embarrassing.

Hilton: Hilton: Congrats on your album doing well in America, though. It's REALLY HARD to sell copies when u discount it to $3.99. Desperate!

Allen: its also number one everywhere else in the world douchebag. Go away you little parasite.

Hilton: Aw, u can see I've lost weight! I am a littler Perez. But I'm still a big fat c*** – just like U! That's why I lova ya. xoxo

Hilton: P S Thanks for advertising on my website. I'll take your money (or the label's) anytime!

Allen: I know you will, and that's what makes you a cheap ass whore. Now leave me alone, stop following me, I'm working. Bye x x

Hilton: It's not fair and I think you're really mean! You're supposed to care! It's not fair and it's really not ok.
From The Daily Telegraph
Perez sounds like he was having more fun with it. Lily seemed genuinely irritated. This isn't the first time Lily and Perez have gotten into it, and I sort of admire the fact that she doesn't back down to a bullying blogger. Looks like both Lily and Perez got some free promotion out of this one, so maybe they're both geniuses! Not really.
Perez Hilton is shown eating his namesake milkshake at Millions of Milkshakes on 2/15/09. Lily Allen is shown performing on 2/10/09. Credit: WENN