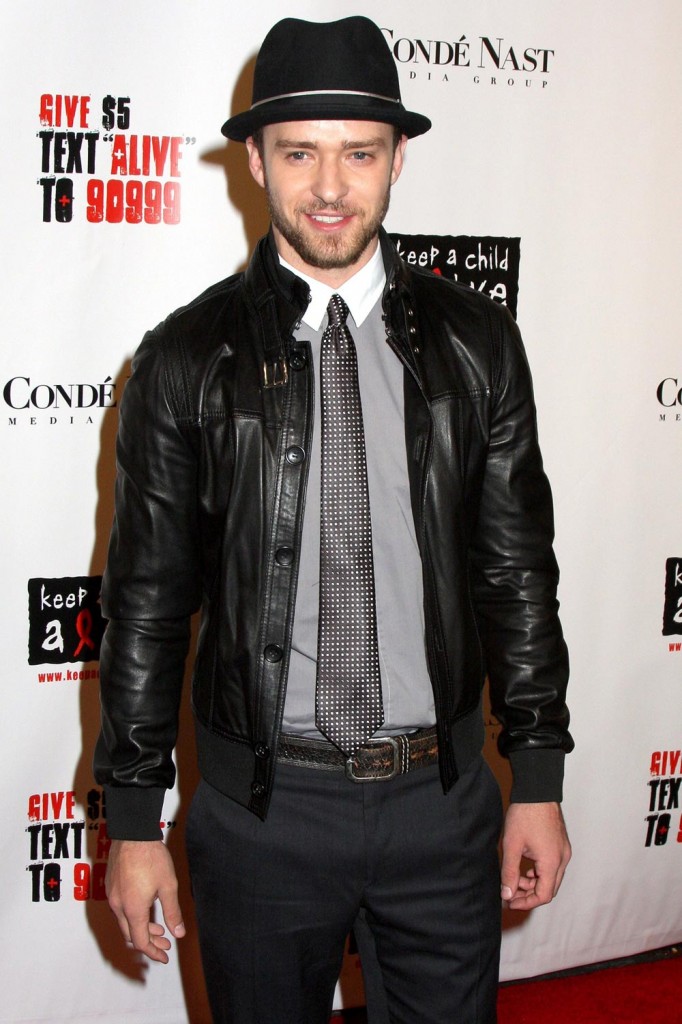 GQ has announced its list of "10 Most Stylish Men," and decided put Justin Timberlake right on top. No surprise there – the guy has a fashion line that's doing pretty well, and he's always noted for looking very put together, even when wearing a teeshirt and jeans. For the article, Justin takes the reporter to the golf course and spends a round talking fashion. An excerpt from the blurb in GQ accompanying his photo:
All the while, there's chatter about fedoras and three-piece suits and his clothing line William Rast—and why we included Timberlake on our list in the first place: not because of some effortless way he dresses or comports himself but because of the way he works at his style. Timberlake has a knack for targeting trends just before they crest. He might not spark them, but he's the guy who broadcasts them—whom we point to for making, say, hats popular again, or for making suits look like they were meant to be worn with sneakers, or for wearing a beard that's not quite a beard per se but is pretty much what every guy at the club wears these days.

His impact is undeniable, as is his willingness to take risks. He's the guy who rocks the sweater vest off the [golf] course ("definitely—but not argyle; a solid-color one, usually with a T-shirt underneath"); the tie with a leather jacket ("but a really good leather jacket—really sleek and clean looking").

On the seventh fairway, while he reaches for a 7-iron, I ask if his girlfriend ever gives him a thumbs-up or -down on his outfits before he leaves the house. Timberlake shoots an "Are you kidding me?" look and then answers a definitive no. At which point Nick the caddie jumps in: "Dude, he's the f'ing King of Pop! He can wear whatever he wants to wear. If he wants to rock sandals with socks, a week later everyone in L.A. is going to be wearing sandals with socks!"
[From GQ]
My dad has been trying to rock the sandals with socks for years, and just don't think there's any possibility that Justin would approve. But I guess that's what we would have said about leggings and headbands a few years ago, so who am I to talk?
The rest of the list is rounded out by some people you know, and a few you don't: Mark Ronson (Samantha's brother); Alexi Lubomirski (a photographer who says he's inspired by Paul Newman's style); André Balazs (who owns the Chateau Marmot); Kanye West (they call him "flashy and attitudinal"); Sid Mashburn (described as a "haberdasher and southern gentleman"); T.I. (who takes credit for making suits acceptable for hip hop); Glenn O'Brien (fashion guru); Jason Schwartzman (about time the kid got some recognition); and Ed Ruscha (L.A.-based artist).
Justin Timberlake is shown on the runway for William Rast in NY Fashion Week on 2/16/09 with Johan Lindeberg, Justin Trace Ayala, and Marcella Lindeberg. He is also shown at events on 11/13/08 and 12/1/08. Credit: WENN