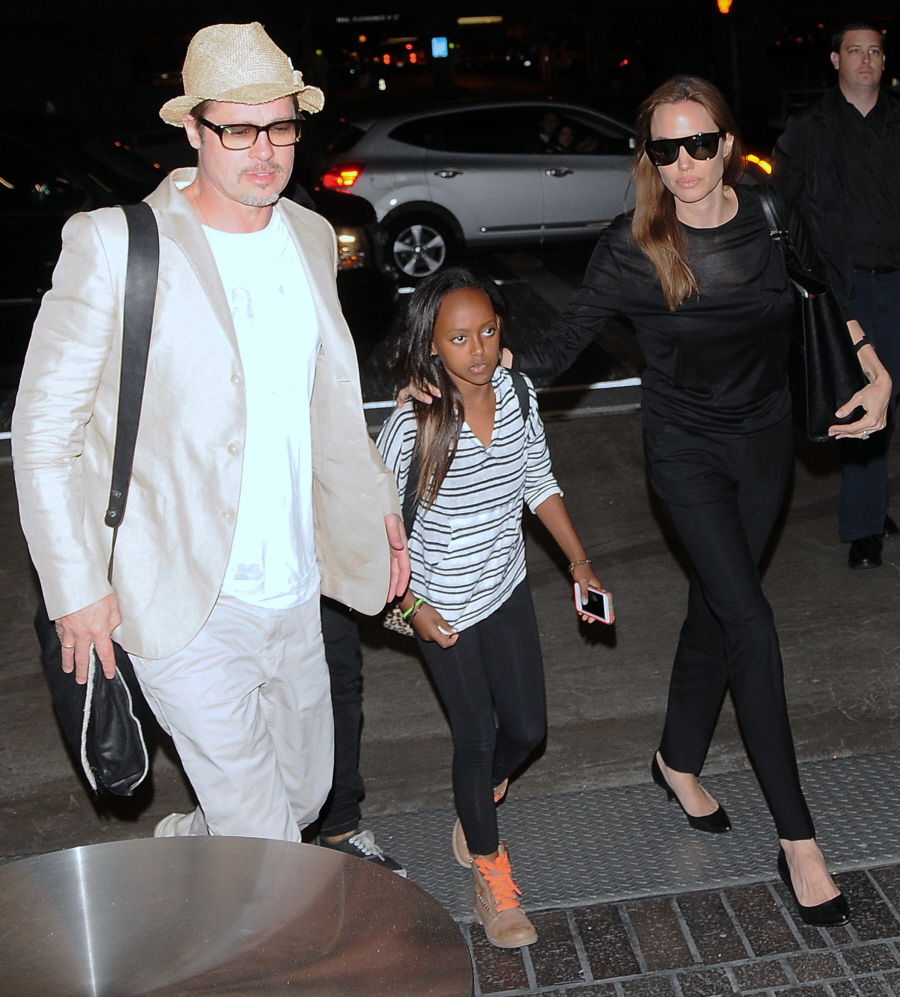 Is it wrong to love Angelina Jolie's outfit from head to toe? If I was a professional woman instead of a sweatpants-and-flip-flops-wearing blogger, this is how I would dress for work. No pantsuits, no cutesy twinsets. Just black slacks and a great black top. Kitten heels and a fab tote. This would be my uniform. And praise the lord, it's not a sack-dress!
Anyway, these are new pics of Angelina and Brad and two of their oldest kids, Zahara and Maddox (Pax is actually one year older than Z). Zahara looks amazing, doesn't she? She can really put together an outfit. And she's just… beautiful. Gorgeous, actually. Does Z have a hot pink iPhone case? And… Brad looks like a down-on-his-luck Miami hobo.
In other Jolie-Pitt news, Angelina gave a recent interview where she came out in support of teaching children about Santa Claus and the Tooth Fairy. It's cute:
In a new interview, she said: 'There are morals in these stories and you want a little magic – it's important to have something that we're a little bit in awe of. The other day, one of the kids lost a tooth and I talked about the tooth fairy. Half of them are old enough to think: 'What are you talking about,' yet they're still not sure there isn't something. And I'm not lying to them. I say, 'I really can't tell you. I don't really know. Mothers are sworn to secrecy.' Kids grow up fast enough these days, so let's allow them to have a little bit of childhood for as long as they can."
I always think it's weird when adults are, like, really upset that their parents lied to them about Santa during their childhood. Is it really that big of a deal? It's a nice fairy tale, as is the Tooth Fairy and the Easter Bunny and all of that. There's too little joy in the world – let kids have their myths and imaginations. I think that's how Angelina feels too.
By the way, this coming week will see Angelina in London, co-hosting the international forum on violence against women with UK Foreign Secretary William Hague. That's probably where Angelina, Brad and the kids are going in these photos. There has been a rash of completely awful stories lately, so I imagine the forum is going to get extra attention this week.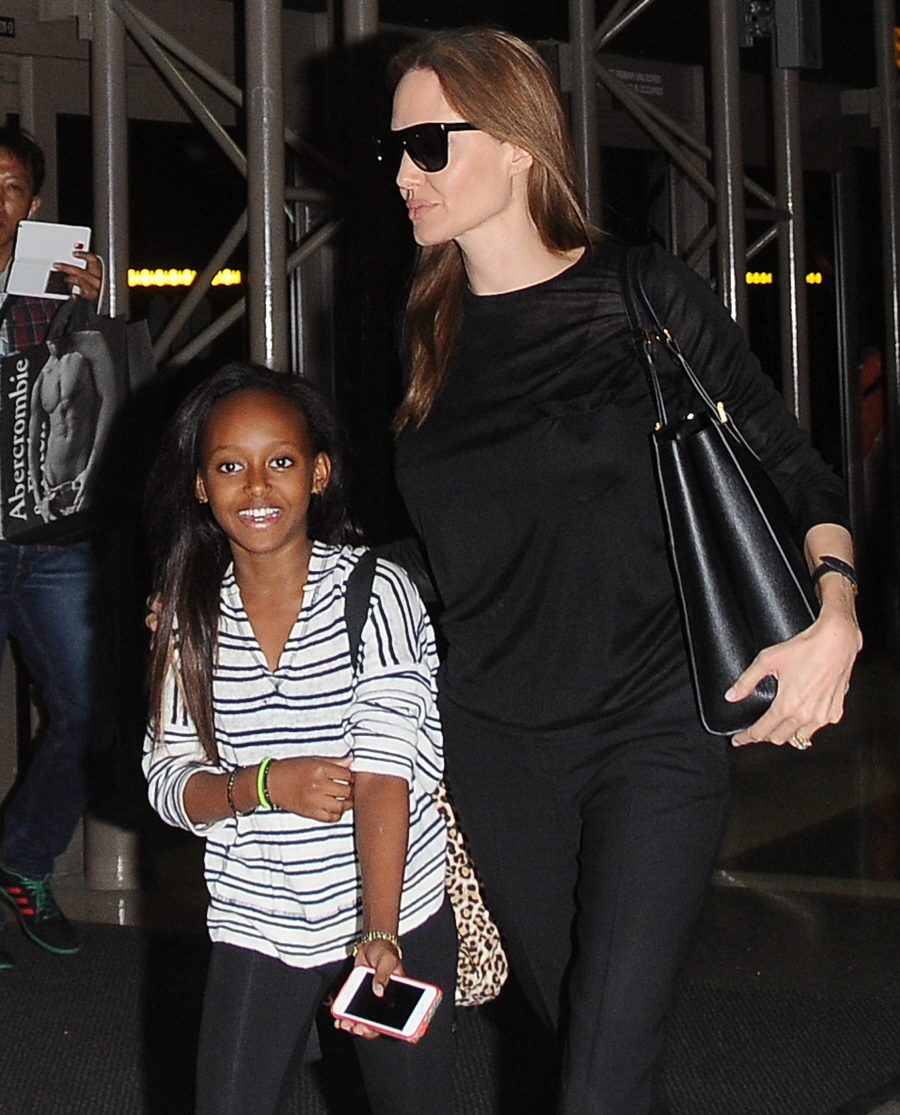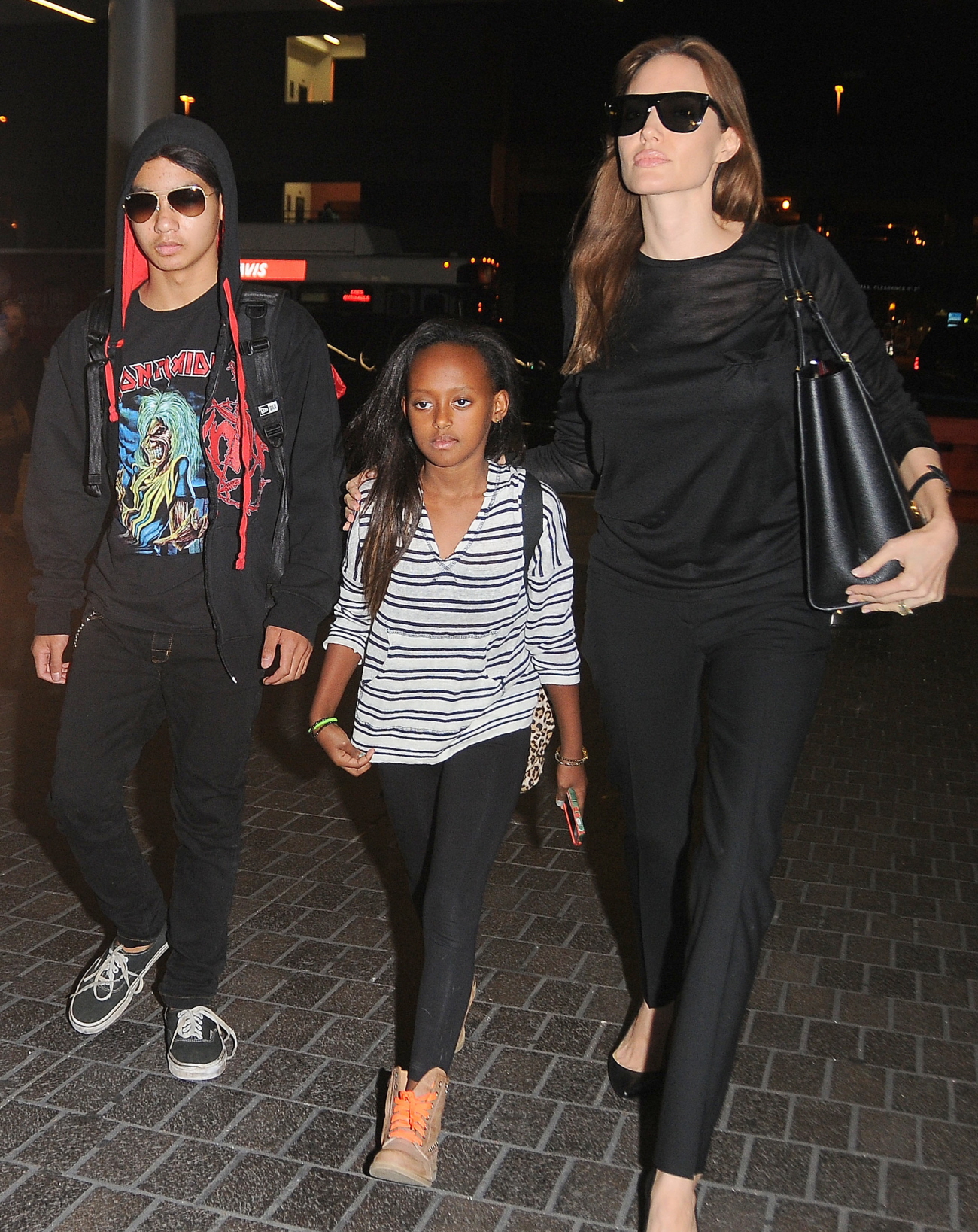 Photos courtesy of Fame/Flynet.