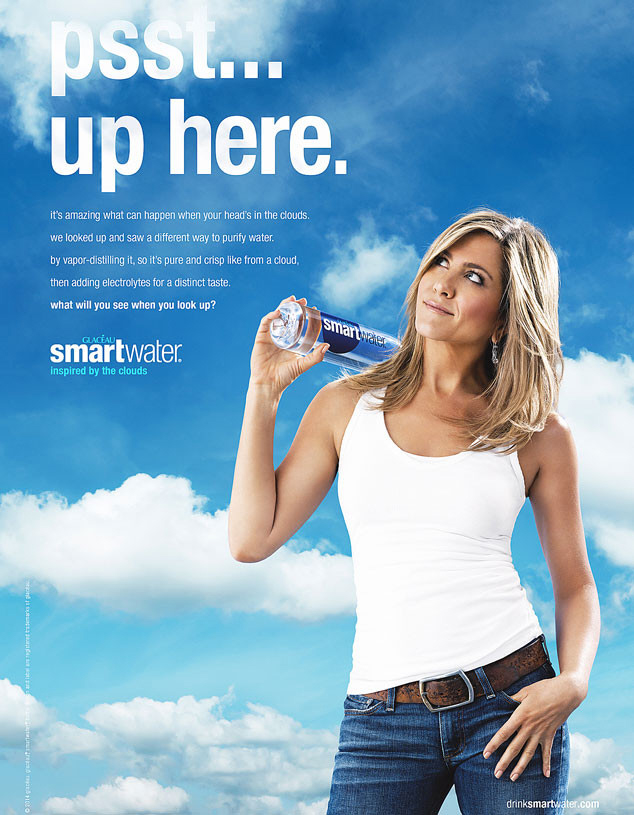 Here is Jennifer Aniston's latest Smartwater print ad, which was just released yesterday. Jennifer has represented (and has some kind of profit-sharing deal with) Smartwater since 2007, and about twice a year, Smartwater debuts the new (air-brushed to a crazy degree) print ads. Jennifer also represents Living Proof haircare and Aveeno, but Smartwater was one of the first major ad deals.
Aniston-loonie Take: She looks gorgeous and sexy in this ad and she's RICH as hell and she can live her life however she wants and Brad probably regrets leaving her.
Jolie-loonie Take: It's super-suspicious that Jennifer Aniston is trying to steal Angelina's thunder in the middle of Angelina's very, very important Global Summit on Sexual Violence in Conflict and it just goes to show that Jennifer is terrible and superficial.
Eh. I just thought I'd get that out of the way. I've actually been surprised that Jennifer "went dark" around the time that Angelina really geared up to promote Maleficent. Usually, Jennifer does get pap'd a lot, or tries to announce something major during some big week for Brangelina. She didn't do that this time. So good for her. Progress!
The National Enquirer has some assorted Aniston stories this week as well. Apparently, Jennifer's Bel Air mansion renovation includes an absolutely enormous closet (for all of her LBDs, one would assume). She has 1500 feet of closet space now that she blew out one of the walls in her garage. But her closet is just that – just for her. Justin doesn't get to use the closet. As for the state of JustJen, the Enquirer says Jennifer is freaked out about his veins. LOL.
HORRORS! When Jennifer Aniston looks at her soon-to-be hubby Justin Theroux, she sees a frightening sight – her arch-love rival Angelina Jolie. That's because Justin's intense workouts have left him with bulging blood vessels that remind the "We're the Millers" star of skinny Angie and her jutting veins, says a source.

"Jennifer is begging Justin to cool it with the free-weight workouts," revealed an insider. "She says she's turned off by his ultra-muscular body. She wants her man to be in shape, but it creeps her out that he has veins jutting out on his arms, legs, chest and neck."

Making matters worse, Justin shaves and waxes his chest – and sometimes his legs – which makes his veins even more evident. According to the source, Jen would prefer some macho-looking body hair on her man.

"She says that when she looks at Justin, she feels like she's staring at a pumped-up male version of Angelina," said the insider. "Jen has always thought Angelina is sickly looking and skinny. She even nicknamed her 'toothpick.' "

But Justin, 42, thinks it's absurd that Jen is comparing him to the 39-year-old "Maleficent" star, said the insider. "He views this as just another example of her not being able to let go of the hurt and pain from her marriage to Brad."
I told you it was funny. In Jennifer's mind, veins = Jolie. Remember when Justin used to talk about Angelina in interviews? I think Angelina was more of his "ideal woman" – at least she was back in the day. When he was with Heidi Bivens. Before Jennifer homewrecked him.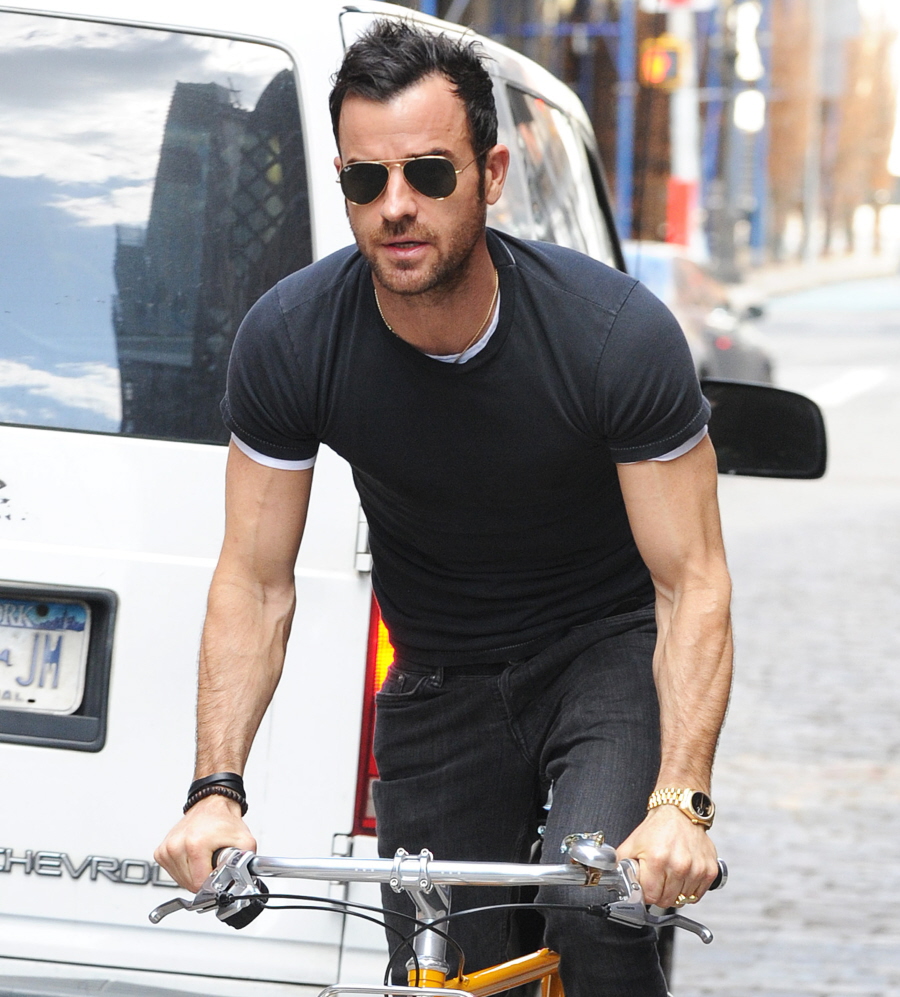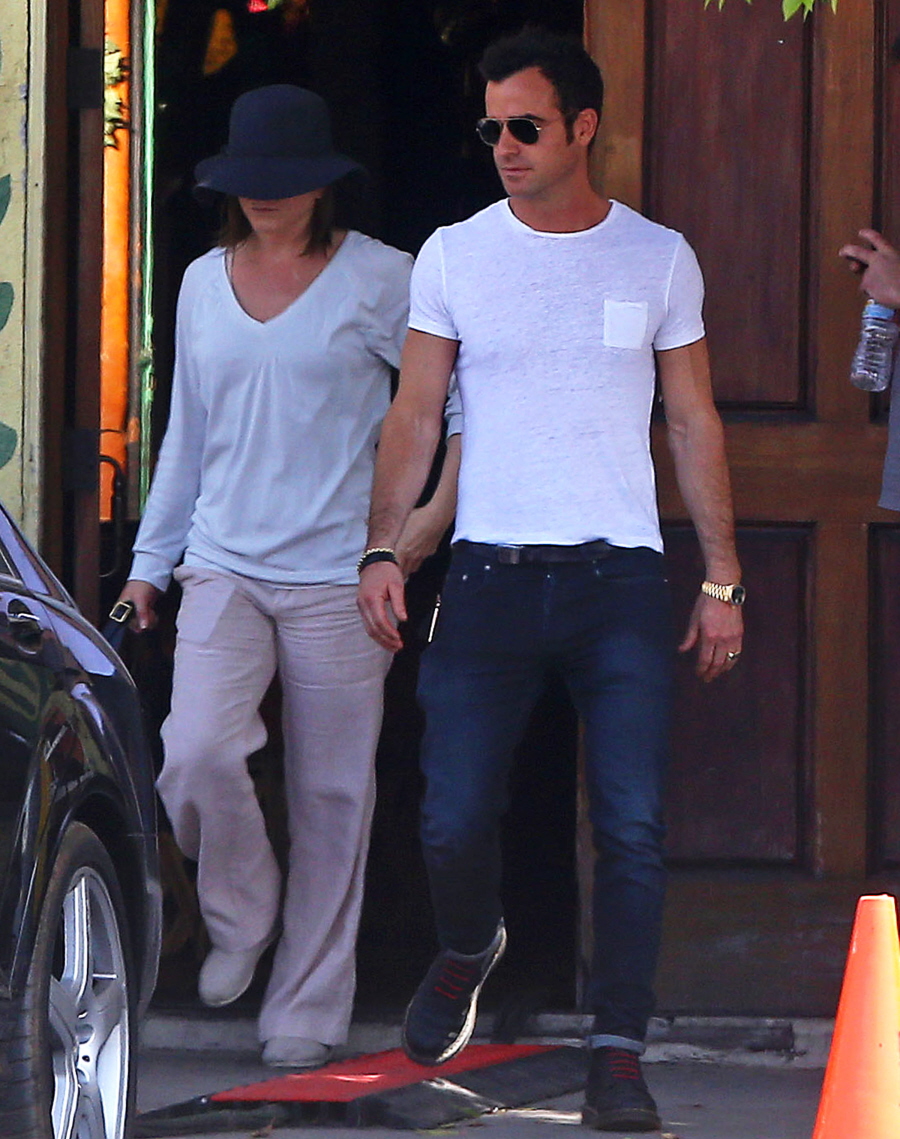 Photos courtesy of Fame/Flynet, Smartwater.