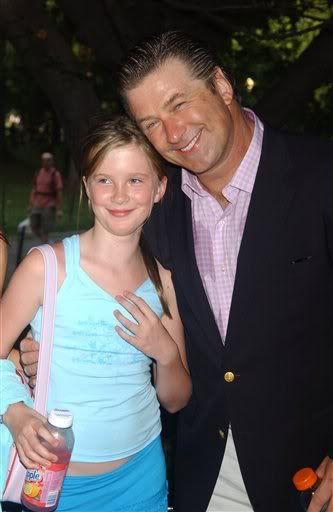 Alec Baldwin recorded an interview for women's roundtable talkshow "The View" in which he is said to speak candidly about the tirade he left on his 12 year-old daughter's voicemail when she didn't pick up the phone for a scheduled call. The episode with air on Friday, and Alec was soft-spoken, contrite, and emotional about it according to TMZ, which also claims that the audience was responsive to him and applauded his candor.
Today's NY Post reports that he was so torn up about the voicemail going public that he wanted out of his contract with NBC sitcom "30 Rock." Baldwin makes $150,000 per episode, and he will not be leaving the show according to his representative. Baldwin asked producers if they could release him, and they said that they wanted him to stay:
ALEC Baldwin is so distraught over the custody battle with his ex-wife Kim Basinger and her alleged sabotaging of his relationship with their daughter, Ireland, he wants to quit "30 Rock," the sitcom based on "Saturday Night Live" that was recently renewed. Baldwin, interviewed yesterday by Barbara Walters and Rosie O'Donnell for a segment to air tomorrow on "The View," was described as "soft-spoken, apologetic and thoughtful" during the chat. "He said he asked to be released from his contract," Baldwin's spokesman, Matthew Hiltzik, told Page Six. "NBC is not releasing him, and he will fulfill his contract." Baldwin said that when he left an angry voice mail for Ireland calling her "a rude, thoughtless little pig," he was inappropriately directing feelings that should have been expressed to Kim.
Of course he says this is the first time this has ever happened. The Post mentions that he talked about the time he spent two weeks with his daughter, only to have her stop taking his calls once she returned to live with her mom.
There seems to be a lot of dysfunction in that family and of course Balwin should never have talked to his daughter like that. When questioned by Barbara Walters about whether the rant was meant for his ex-wife, he said "that goes without saying." He did say in the voicemail that he didn't care if Ireland was 12 or 11 or whatever. I wouldn't forgive him that easily if it was my daughter or if he was talking to me that way, but it's not for me to judge and a lot of people mentioned that we never should have heard that recording.
Kim Basinger has denied releasing the tape to the public.
Baldwin's interview on "The View" airs on Friday.