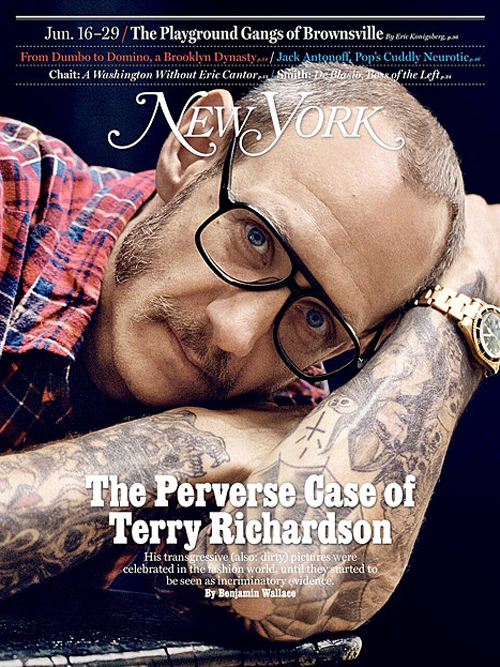 As I noted last week, NYMag has been preparing a pro-Terry Richardson story (as another alleged victim told her tale). The article has arrived, and it's such a hot sycophantic mess. The piece is titled, "Is Terry Richardson an Artist or a Predator?" It's a loving portrait of the artist as a young creep. And an older creep too. The piece goes into great depth about Terry's unconventional upbringing. His parents got divorced, and he heard them getting it on with other lovers. His childhood was full of travel and chaos, and POOR Terry.
All of the prominent Terry controversies are discussed in this article, which is a sympathetic take on his "art." You can read the whole NSFW article (with some explicit photos) here. I'm only talking about Terry's direct quotes from the piece. He blames the internet for everything. He completely denies offering a Vogue shoot for sex (the Emma Appleton story), and he touches upon (I think) the most disturbing account of all (the Charlotte Waters story). He maintains that every "interaction" he's ever had with a subject has been completely consensual:
Poor Terry: "It's insane, the internet. Totally craziness. Like a little cancer. People can just do whatever they want, say whatever they want, be totally anonymous. It's totally out of control."

What's with the teddy bear fixation? "I don't know. Not consciously or whatever. I don't know, I like that film Ted. It's great. Teddy bears are great. A lot of that stuff is, I don't think about, What theme should I explore? Teddy bear. Terry bear. I don't know. But they're comforting, bears."

On the Emma Appleton story: "'I'll put you in Vogue,'" Richardson said bitterly. "So corny. Ridiculous. Who talks like that? When people call me a pedophile and f—ing bullsh-t, that's a horrible thing to say about someone."

Terry's on predator accusations: "It was never just me and a girl ever. It was always assistants, or other people around, or girls brought friends over to hang out. It was very daytime, no drugs, no alcohol. It was a happening, there was energy, it was fun, it was exciting, making these strong images, and that's what it was. People collaborating and exploring sexuality and taking pictures."

Assistant Leslie Leslin denies being an "enabler": "I would never, ever stand around passively while anyone was being taken advantage of or made to feel uncomfortable. That is simply not what happened."

Terry on Charlotte Waters: "When I was taking those pictures. I was very, like, 'Cool, sounds great, let's do it, great, okay, sure, great, cool, if not, no problem, never do anything you don't want to do, of course, I totally respect that.'" He makes the point that agents and bookers shouldn't encourage their clients to take on assignments that will make them uncomfortable.

Terry on his life's work: "I don't have any regrets about the work at all, but obviously I don't ever want someone to feel like that. It was never my intention. But also, people do things, and then they have regrets, and that's also nothing to do with me. Then don't do pictures like that again … I'm okay with myself about everything, and that to me is the most important thing."

He denies sleeping with La Lohan: "LiLo … Somehow she said we spent a romantic night making love at the Chateau Marmont. Which never happened. Then, on the internet, people are like, 'He did this and that.' But it's totally untrue."
[From NYMag's The Cut]
Did you catch that last quote? Even Terry Richardson denies getting busy with Lindsay Lohan. I think there's a fair chance they did sleep together. He took lots of photos of her at the Chateau, and she was staying in his permanent room for awhile. Terry is finally worried about his own image, so he's distancing himself from even more trouble.
One thing I learned: Terry's daily rate of pay is $160,000. He earns that much money from magazines to throw up a white wall, some bright lights, and some suggestive props. His creepy behavior with young models in his own studio? He does that for free.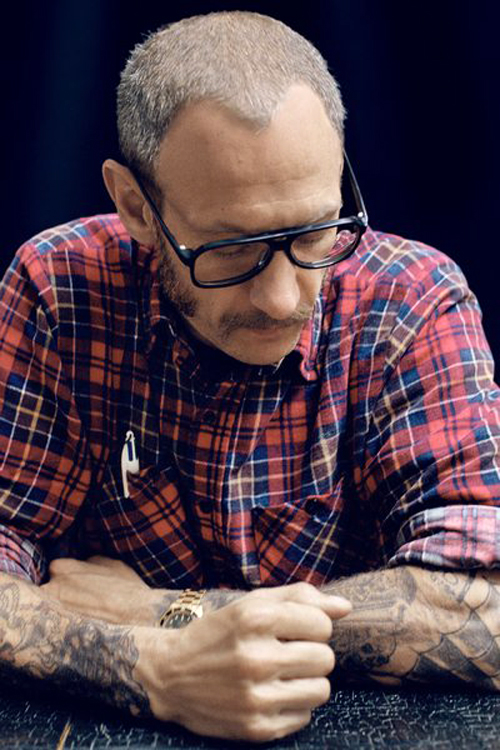 Photos courtesy of NYMag, Terry Richard's revolting diary & WENN