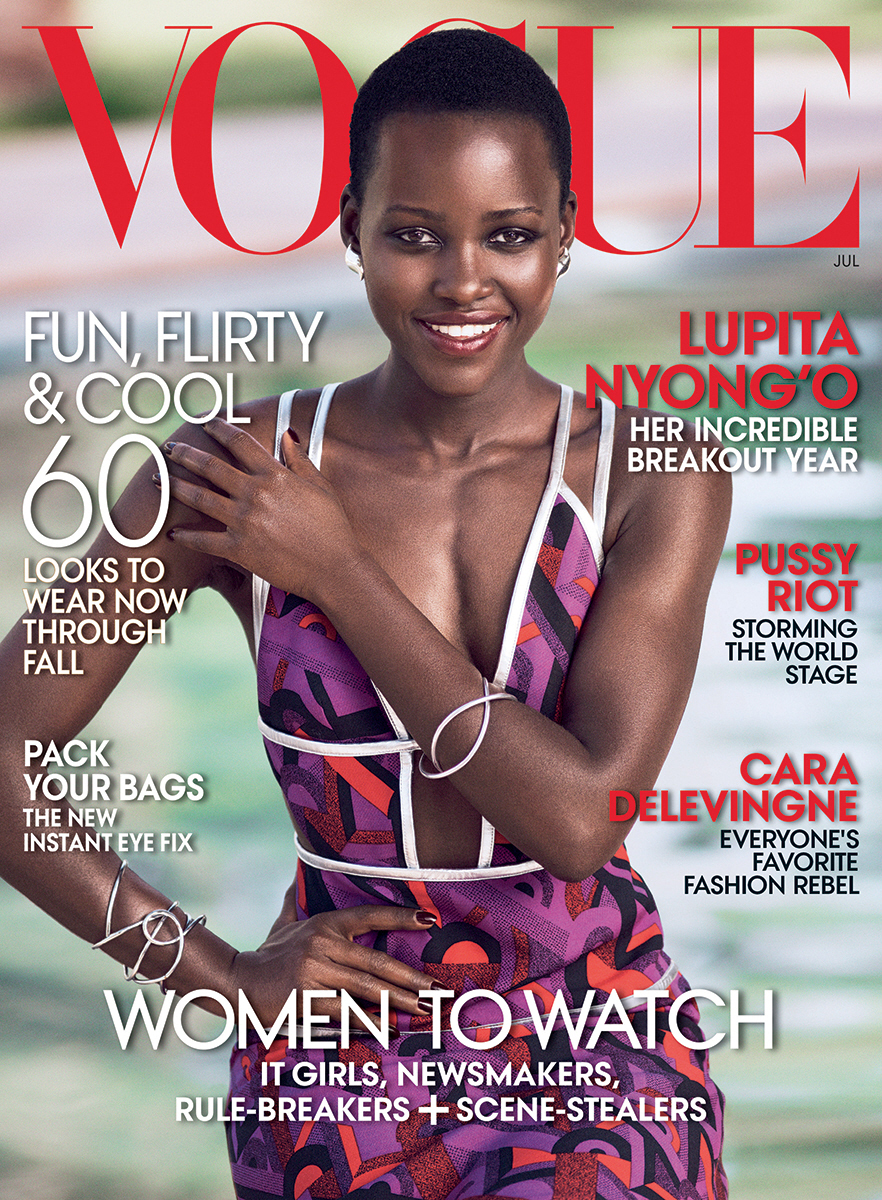 Ooooh, I didn't know this was happening! This is a nice surprise. Lupita Nyong'o covers the July issue of Vogue. The editorial was done by photographer Mikael Jansson, and the backdrop is Marrakech's Ksar Char-Bagh resort. As for the interview… I just read/skimmed it. It's a good piece. She's not really promoting a film (although she talks about her future projects), but it's more like she's recapping her journey over the past year, when she went from unknown to Oscar-winning fashion darling. You can read the interview here (I enjoyed it). Some highlights:
Her Lancome deal: Lupita appreciates the fact that Lancôme's brand ambassadors, who currently include Julia Roberts, Kate Winslet, and Penélope Cruz, "are very different, unique women—it's not about conforming to an already established idea of what is beautiful, and I like that…I felt how valuable and vital such representation is."

Her surreal year: "Indeed I did. It just feels like the entertainment industry exploded into my life. People who seemed so distant all of a sudden were right in front of me and recognizing me—before I recognized them!"

Becoming a fashion darling: "[There are] epic six-hour fittings. It's a job; it's work, you know! We'd just try, try, try, try, try, try, try. At first it was very daunting, but I ended up really having fun with it… [Most times] especially for the bigger awards, the dress let me know it was going to be worn. It's quite scary when you fall in love with a dress, because it's nothing to do with your brain. It's like a gut reaction."

The red carpet marathon: "Everyone said, 'Brace yourself, Lupita! Keep a granola bar in that clutch of yours!' I didn't really understand what they meant, and it was only once it was past that I realized that my body had been holding on by a thread to get through this very intense experience. Nothing can prepare you for awards season. The red carpet feels like a war zone, except you cannot fly or fight; you just have to stand there and take it." She considers for a moment. "I hope they don't make that the big quote!" she says, laughing. "Because that would be sad! Tell them not to do that!"

Watching herself in 12 Years a Slave: "I was really nervous about seeing myself in 12 Years a Slave because it had been such a profound experience in all ways. I remember it being one of the most joyful times in my life—and also one of the most sorrowful. I didn't want my experience to be a vain one. But I will say that when I watched it, my heartstrings were pulled so tight for Solomon that I couldn't go into the ego trip. I cried—I mean, I was inconsolable. I wept for an hour after the movie."

The Oscar: "I had already gotten the nomination, which was truly, truly astounding, and enough," she remembers. "Even in my dreams of being an actor, my dream was not in the celebrity. My dream was in the work that I wanted to do." When her name was read out, the experience was, as she recalls, "very confusing, very numbing. I was just repeating my name in my head, so I didn't know whether I had said my name or they had said my name! And then my little brother screamed, and time was suspended and it was just noise in my head."

Don't fall like J-Law: As Lupita gathered those voluminous silk georgette pleats of her custom Prada skirts, she remembers that all she could think was "Don't fall on those stairs" because, as she drolly explains, "it's not cute if you follow Jennifer Lawrence—it's not cute if you're the second one!"

Star Wars: "I'm going to a galaxy far, far away."

She wants to do Shakespeare: "I thought I'd had my fill at Yale, but . . . oh, boy, I guess there's nothing like the Bard!" she says, laughing. "I absolutely adore Twelfth Night." She adds that in the future, Cleopatra and "Lady M" are top of her wish list.
When she started talking about Shakespeare, I'll admit it… I wanted to put her with Tom Hiddleston. They would make a beautiful couple. I think she would limit his twee-ness too. But she's dating K'Naan – he's identified as her boyfriend within the piece, although Lupita is not quoted with any kind of confirmation. Oh, and I totally used the "red carpet feels like a war zone" quote as the headline, even though Lupita is smart and self-aware enough to joke about that statement just seconds after she made it.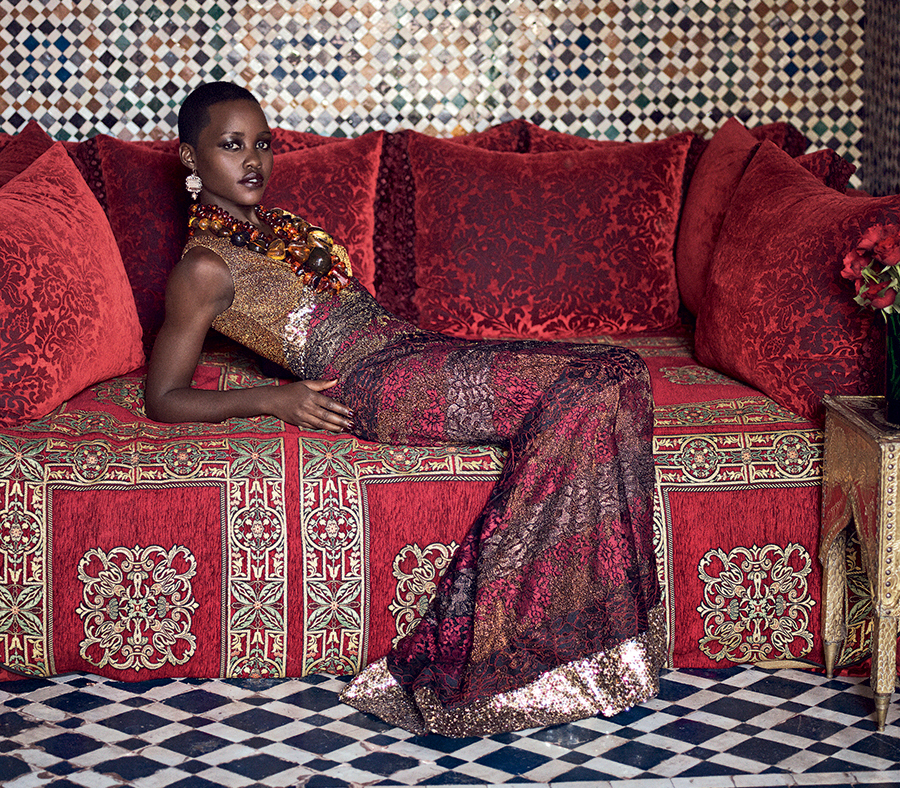 Photos courtesy of Mikael Jansson/VOGUE.