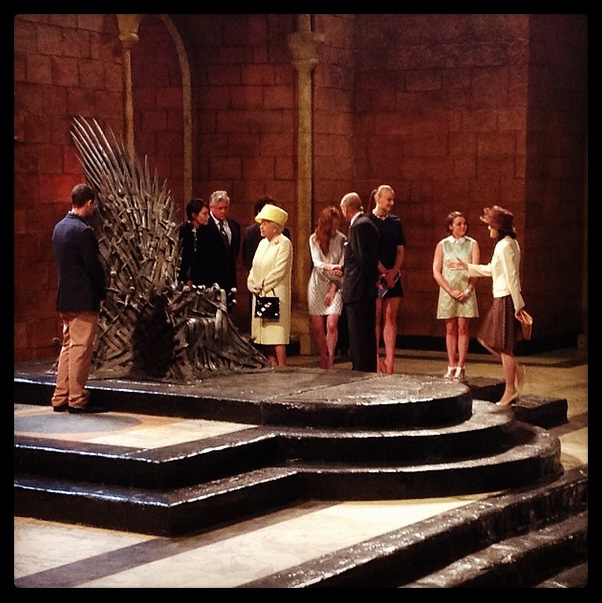 As previewed last week, Queen Elizabeth arrived in Northern Ireland this week and somehow, she ended up in the heart of King's Landing. Yes, Queen Elizabeth is #TeamLannister, I guess, because when you play the game of thrones, you win or you die. How much money would you give to hear the Queen say that?
Unfortunately, Queen Elizabeth did not sit on the Iron Throne. She did "marvel" at it though, and she got to meet some of the Game of Thrones cast members, including Lena Headey, Maisie Williams, Sophie Turner, Kit Harington and Rose Leslie, along with co-creators David Benioff and Dan Weiss. This happened too:
The Band of the Scots Guards played the @GameOfThrones theme tune during Changing of the Guard today to mark The Queen's visit to the set

— BritishMonarchy (@BritishMonarchy) June 24, 2014
Amazing. I'm adding a video and another awesome tweet from her visit. I really do think she watches Game of Thrones now. You can't fool me, your Majesty!!! You want a dragon.
The Queen is presented with a miniature #IronThrone during her visit to the @GameOfThrones set #QueeninNI pic.twitter.com/yIbwvlQs8W

— BritishMonarchy (@BritishMonarchy) June 24, 2014
Photos courtesy of WENN, Instagram.