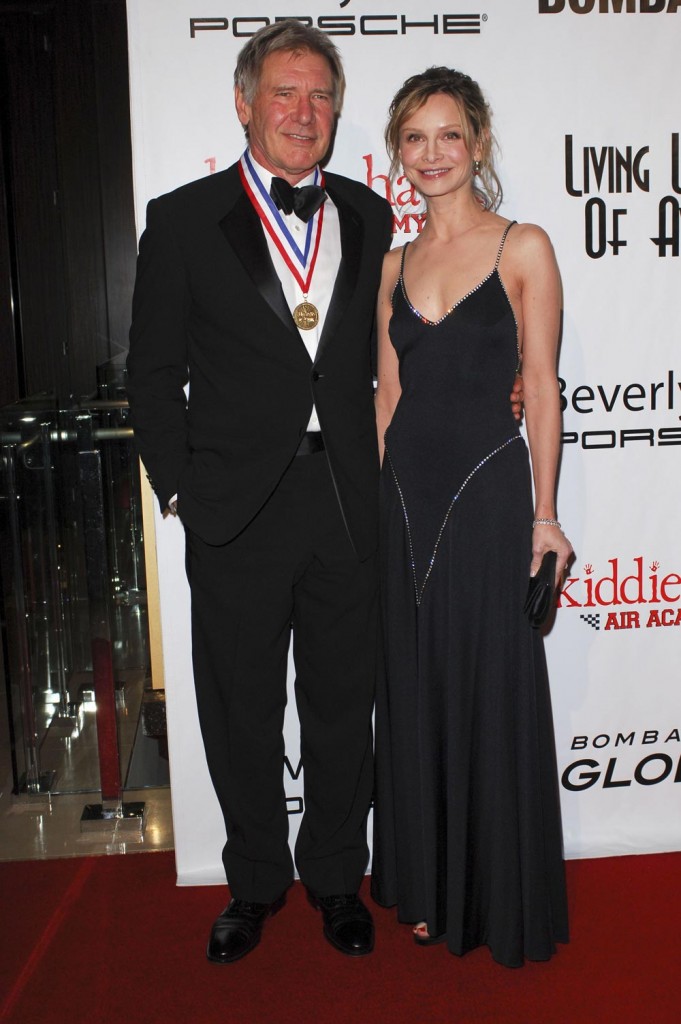 Is it possible that Harrison Ford, who has twice been twice divorced in a costly manner, is going to marry for a third time? Rumor has it that Ford and his longterm girlfriend, Calista Flockhart, are about to be married:
Harrison Ford and Calista Flockhart could finally be set to tie the knot nearly two years after they got engaged.

Rumours of their imminent wedding are said to be swirling in the town of Jackson Hole, Wyoming, where the couple have an 800-acre ranch.

They have reportedly had blood tests, which in some parts of the U.S. are required in order to obtain a marriage licence.

New York Post gossip columnist Cindy Adams reported: 'Jackson Hole bigmouths swear Harrison Ford and Calista Flockhart took blood tests and got licenses so could be they already are, or soon will be, filing joint returns.'
Harrison divorced his wife Melissa Matheson in 2004 (two years after he began dating Calista) and settled for $85million after 27 years of marriage. She also received an ongoing interest in the films he made during their marriage, including the Indiana Jones Trilogy.
Prior to that Harrison divorced his first wife of 15 years, Mary Marquardt, settling for an undisclosed amount. Not including Calista's son, Harrison has four adult children and three grandchildren.
Calista adopted her son Liam in 2001, and Harrison credits him with keeping him young. Harrison proposed to Calista on April Fool's Day 2007, and I think most people presumed that the pair wouldn't get married because of how long they'd been together and the nature of the proposal's date. Most predicted he'd marry Calista shortly after he divorced his second wife in 2004, and when it didn't happen there was a lot of break up talk.
Perhaps the reason for getting married is to give Calista a more solid claim on Harrison's life and estate as he gets old. In the event of Harrison becoming very ill, a wife has a lot more say in his treatment then a girlfriend or even a child. Harrison has grown children who could be asked to make decisions in the event he is unable to. I don't think they would be consulted if Harrison had a 'wife' rather than 'life partner'. A friend of mine is recently got married to her much older partner for similar reasons to this.
Of course, they might just be madly in love and looking to cement it, and celebrate it. Congratulations to Harrison and Calista.
Harrison Ford and Calista Flockhart are shown at the "6th Annual 'Living Legends of Aviation Awards' honoring Harrison Ford held at the Beverly Hilton Hotel" on 1/22/09. Credit: WENN