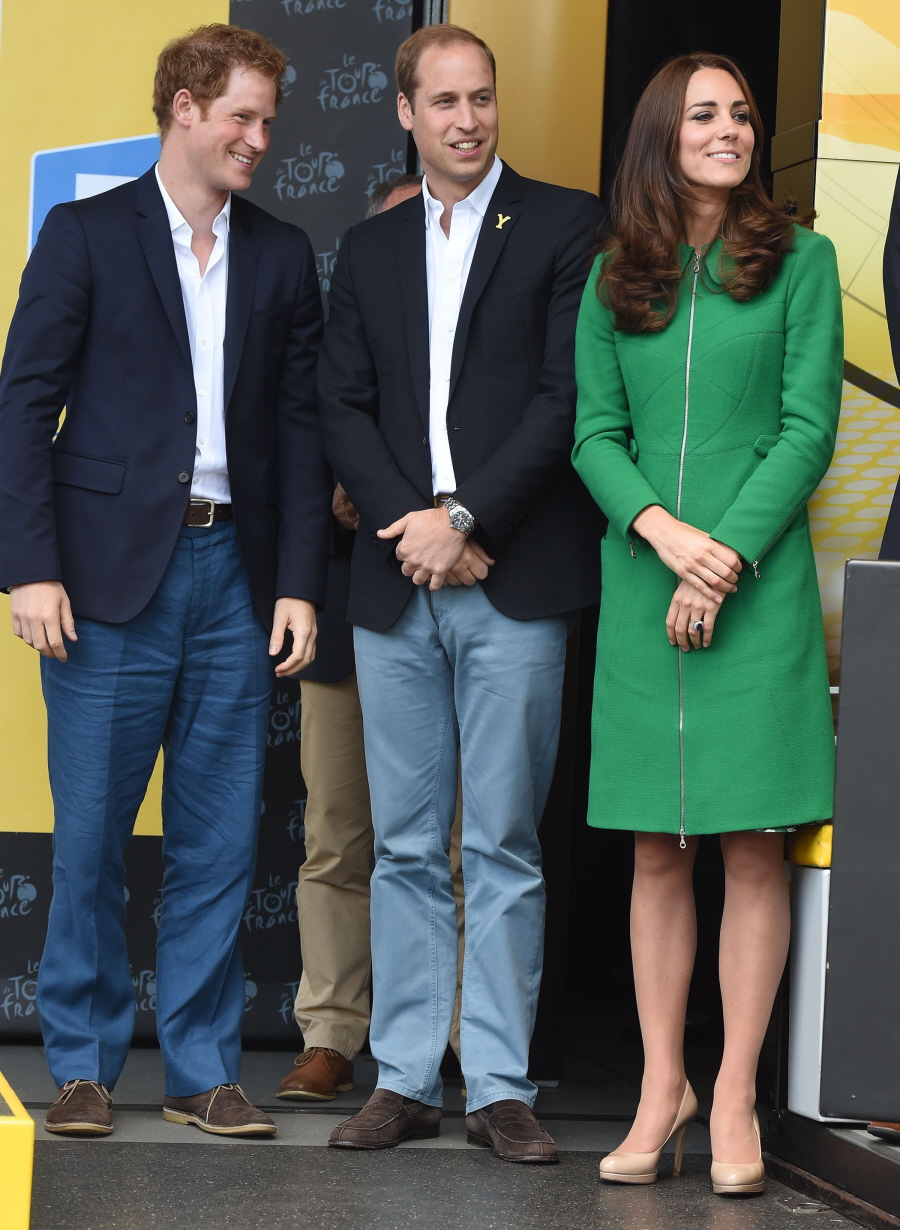 I don't know, you guys. Since Prince George, I've rarely done a Bump Watch on Duchess Kate, mostly because I think she's making an effort to space out "the heir and the spare" for a little while longer. But these photos are giving me pregnancy vibes. It's not that Kate even "looks pregnant" – it's more about how she's carrying herself. Maybe she's knocked up again, just in time for George's first birthday in a few weeks.
Anyway, these photos are from a Saturday event in West Tanfield, England, with Kate, Prince William and Prince Harry. They were doing a kick-off event for the Tour de France. For the appearance, Kate repeated a green Erdem coat which she first wore during an appearance in New Zealand a few months ago. I liked the coat then, but I think she's a little bit too covered up for a July event in England here. Not that I am suggesting she wear some fluttery skirt and no panties!! Just that there's a happy medium between a long-sleeved conservative wool-felt coat in July or flashing one's bum in a too-short light dress. People has some added details about this visit:
Kate and her husband both stopped to say hello to 22-month-old Mason Tupland, who was holding a pink balloon and waiting with his mother, Claire Tupland.

"George would have popped that by now," William, 32, said, with Kate adding, "He's more interested in helicopters and anything with wheels."

Many kids gave loom bracelets to Kate, including Jemima Berry, 9, and Hattie Craven, 10, who gave Kate a pink one they made. Then, Kate showed her the loom bands she wears on her wrists and said she and William got several in New Zealand and Australia during their April trip.

Kate stopped to ask pregnant Laura Wright, 25, of Kirby-Fleetham, if she knew the sex of her baby. When Laura said she didn't know, Kate replied, "Surprises are the best way."

William asked, "What would happen if you went into labor?" She joked she would hitch a ride with a cyclist. He laughed and instead offered a ride in their helicopter.

Lily Boynton, 6, of Northallerton, asked where Prince George was. Kate sweetly replied, "He's asleep in his bedroom."

The famous bike race traditionally starts outside France. This year, the United Kingdom was chosen because the last two winners have been British. The quaint village of West Tanfield, Yorkshire, in Northern England, has been transformed into a jovial carnival atmosphere with painted bicycles hanging precariously from stone walls and pubs. Yorkshire pudding, a concoction of fried batter with onion gravy, is offered in market stalls as a snack. Sheep are painted in red polka dots – yellow and green, to represent the famed winning jerseys for the Tour de France cyclists.

Harry, 29, tried a golden ale called Tour de Ale from the Pennine Brewing Company. And then the royal trio departed to see cyclists race to the finish line at Harrogate on day 1 of the Tour.
Sounds about right. Harry's off drinking beer, the sheep are painted and William "jokes" about using his new royal helicopter to fly a pregnant peasant to the hospital. Ah, England! And as always, little reminders that Prince George is destructive and he likes to squeeze things, like balloons, bilbies, babies and basically whatever he can get his hands on. George is going to be the kind of kid who propels himself headfirst down flights of stairs, just to see what happens.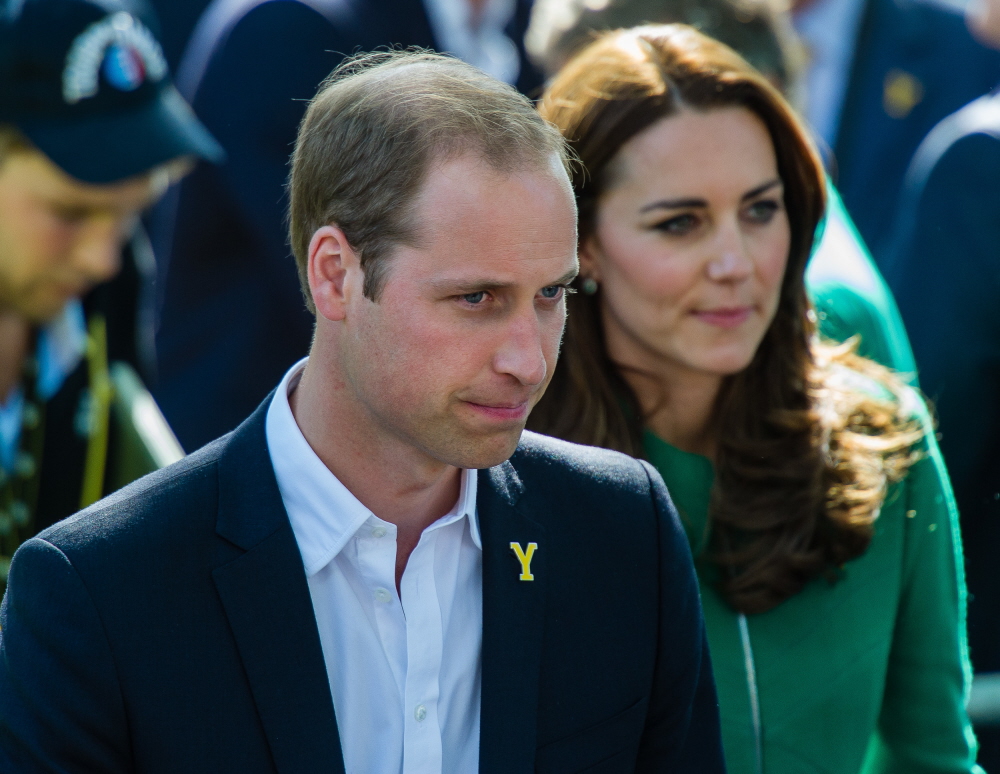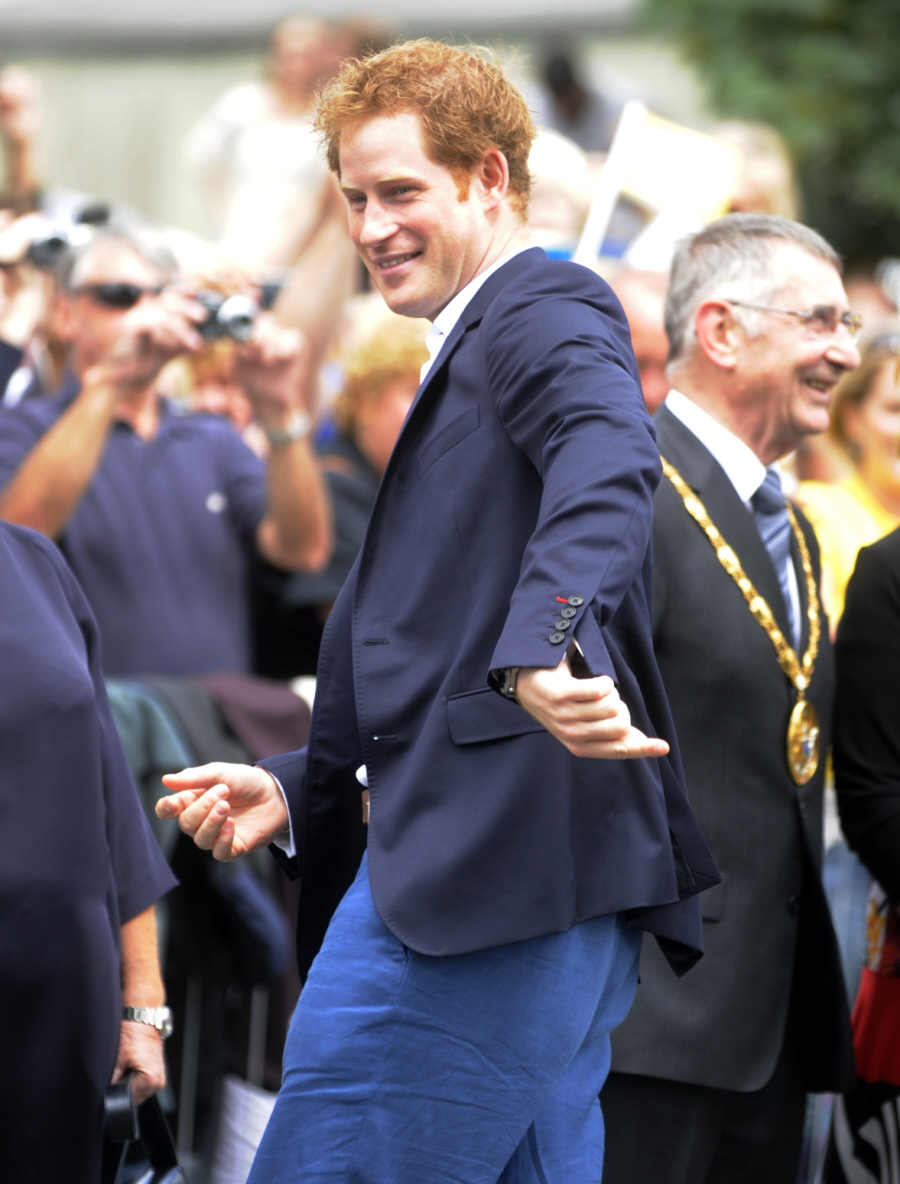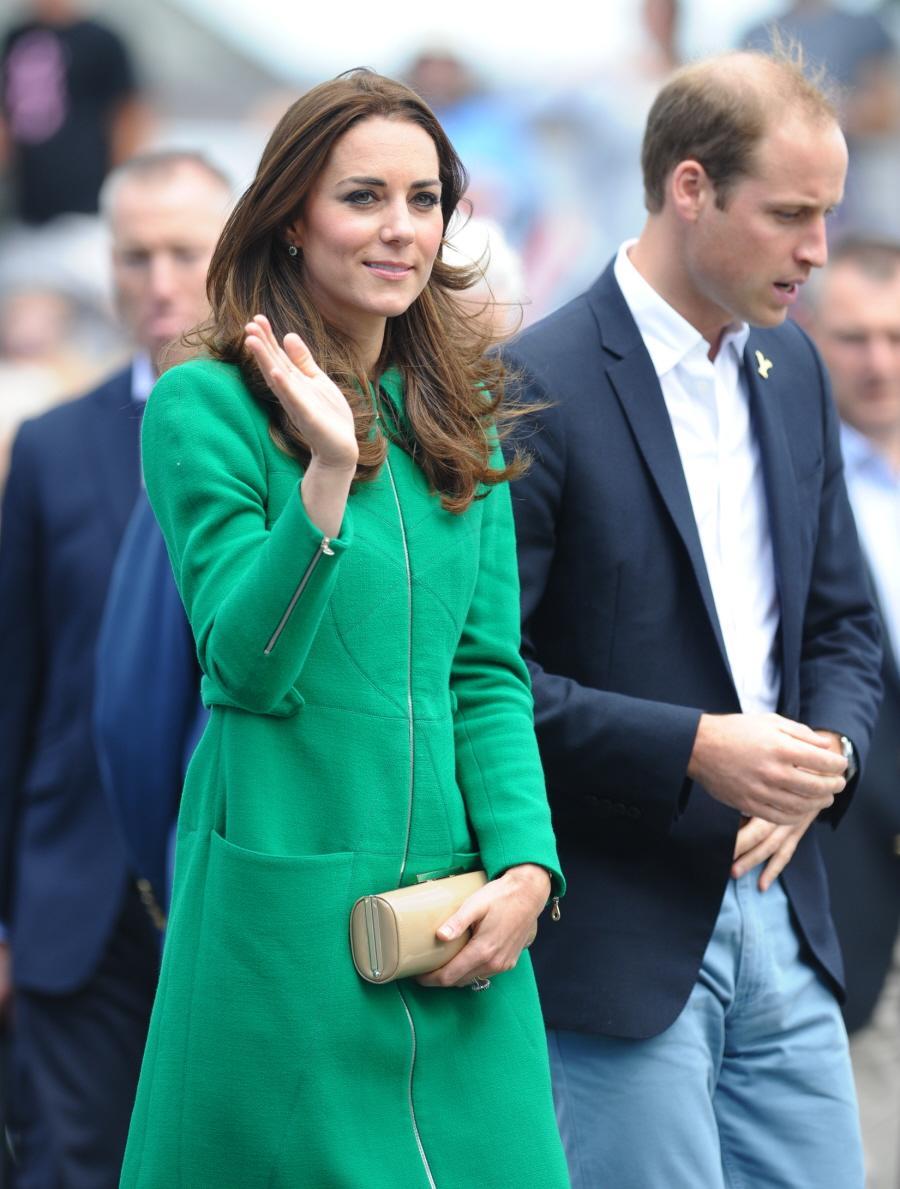 Photos courtesy of WENN, Fame/Flynet.