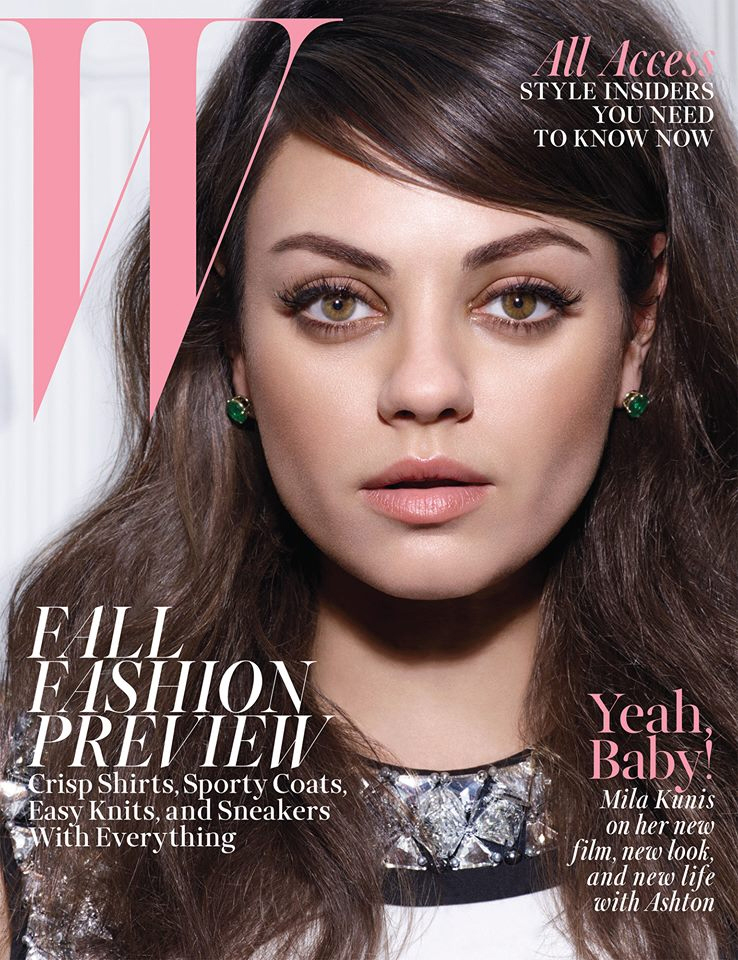 Mila Kunis covers the August issue of W Magazine and I think this might be the absolute WORST editorial I've ever seen with Mila. Mila is extremely photogenic, but it's almost like they were trying to make her look older and less gamine. The clothes are stuffy. Most of the photos don't have the proper lighting. Mila's body language radiates discomfort. It's just awful. Doubly awful? You know why she's doing so many interviews lately, why she got the W cover? It's because of Jupiter Ascending, which was supposed to be her big summer movie, only it get pushed back at the last minute. She's still got her small, indie film Third Person, but she wouldn't have gotten the W cover for that.
Anyway, Mila's W interview is a lot nicer than the interview she did with that poor New Jersey Star-Ledger reporter. Mila isn't a raging a—hole in this one, which just goes to show that she's only rude to people when she thinks they're unimportant, when she believes no one is paying attention. Some highlights from the W piece:
Ashton was her first kiss: "My first real kiss ever was with him on the show. And when That '70s Show had a prom, my date for the prom turned out to be my fiancé. We can honestly say that we went to prom together! Although I do think that in that episode I went home with someone else. We don't talk about that part."

Bitching about the paparazzi: "Every day and every night, the paparazzi are parked outside my house. Today, I had to drive through the Warner Bros. back lot on my way here, just to throw them off. They want a shot of my stomach because they need proof of my pregnancy. I don't know why they even bother—they've been saying I'm pregnant for years. Now they're right, so they won't leave me alone."

Working on That '70s Show: Despite developing a dislike for the period fashions ("You will never see me in bell-bottoms ever again," she insisted), Kunis has a deep affection for the Fox series. "Not only did it introduce me to my fiancé, but I'm so grateful that all my mistakes are recorded for posterity. I went through puberty on television! I grew five inches while I was on that show, and I had so many different eyebrow shapes! I went through everything embarrassing that a girl can go through in front of my fiancé. There's no question that he's seen the worst. I find that comforting."

After Black Swan, she hates ballet. "The first time I put on a pointe shoe, I screamed. I will never dance again. It was the hardest thing I've done."

She got pregnant while filming Jupiter Ascending: "I had already decided to take a year off. I have never wanted to be the person who only has business on her mind. To me, this job has always been a hobby that turned into a great profession, but I don't eat and breathe acting…I'm sure Meryl Streep has a very different point of view. But I'm excited about being a full-time mom…Although, give me a year of not working and I'll see how I feel."

Ashton is the love of her life: "I never wanted to get married. From the age of 12, I prepared my parents for no marriage. Then things changed—I found the love of my life. Now my theory on weddings is: Don't invite anyone. Do it privately and secretly. My parents are okay with that. They're just excited that I said yes."

Introducing Ashton's cousins to Channing Tatum: "I promised to introduce the girls to Channing. They are so excited about meeting him." Kunis smiled knowingly. "We all get movie star crushes. I'm marrying mine."
Oh, for the love of God. That "I'm marrying mine" was just too sugary and gross for my taste. It sounds like something Katie Holmes would have said when she was in the first flush of Xenu. You guys have yelled at me before for suggesting that Ashton has turned Mila into a jackass, and maybe you have a point. Maybe she's always been this way and two jackasses found each other and fell in love.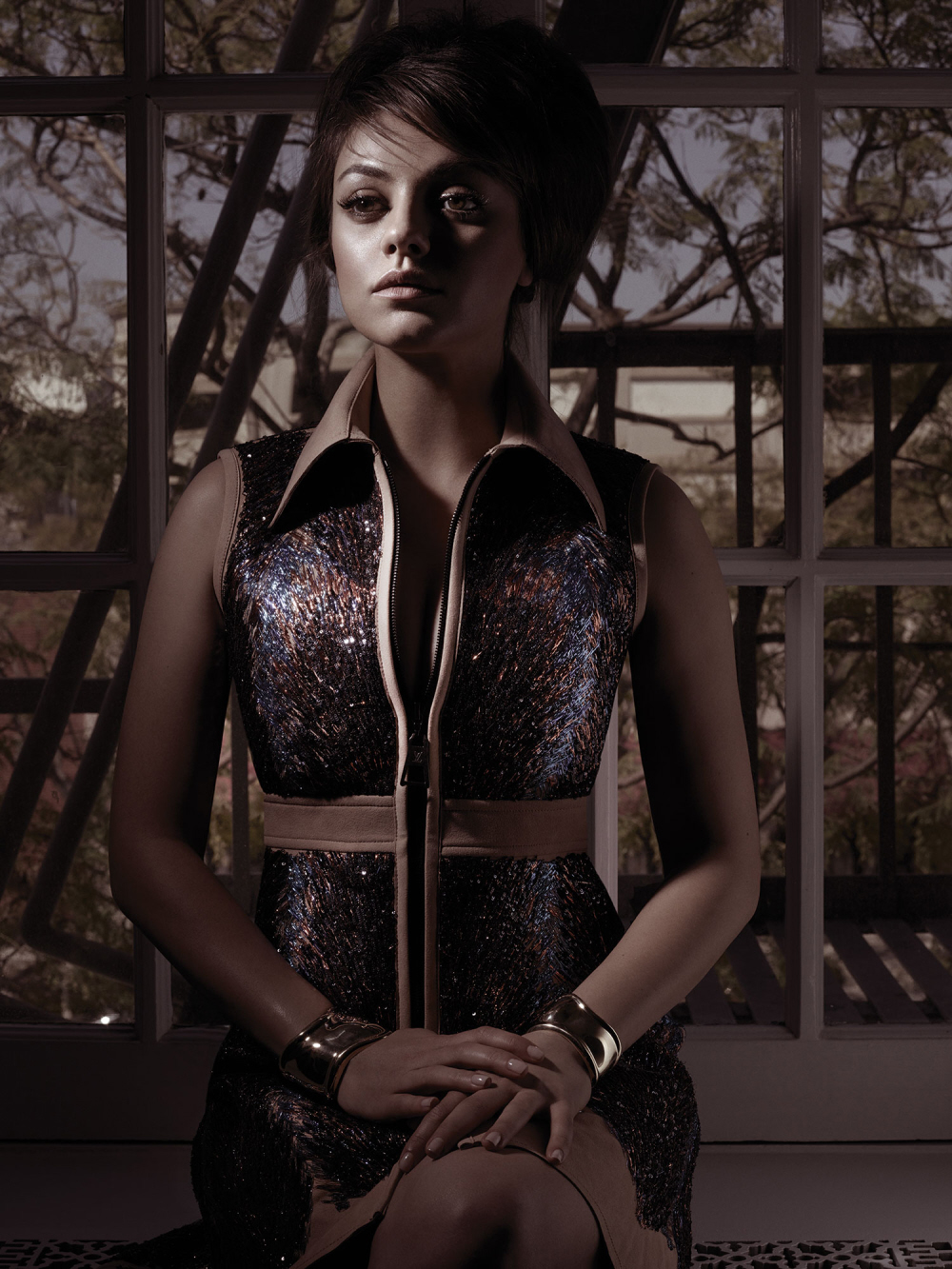 Photos courtesy of Michael Thompson/W Magazine.