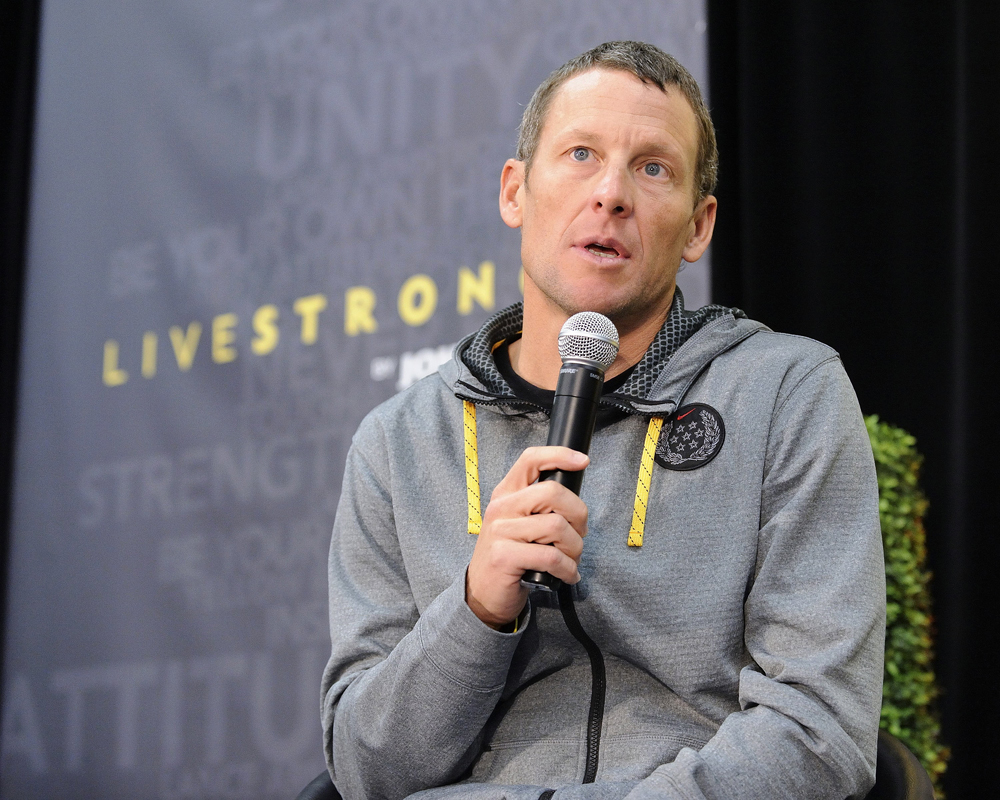 Lance Armstrong appears in a gigantic feature in the August issue of Esquire. The piece is called "Lance in Purgatory," which implies he'll be climbing out of the punishment zone soon. Will he? Esquire visited Lance's current Hawaiian home. It's a borrowed mansion (loaned by a wealthy friend) with six garages and a lush wine cellar. Lance still has his magnificent art collection, and he spends his days playing golf and making special margaritas called Lanceritas.
Esquire feels sorry for Lance because he lost $150 millionish after his doping scandal. They paint a huge story about what upsets Lance the most, which is that his memory has been erased in the fight against cancer. I can see why that would sting. Lance is a cancer survivor, and he built the Livestrong foundation that has helped millions of people. They ousted him because his reputation was trashed, but I don't blame Livestrong for wanting nothing to do with him.
Lance is still convinced that he didn't do anything wrong when he came out of retirement for the 2009 Tour de France. He says he was clean then, and so was everyone else. He says that everyone used to dope, so punishing him is ridiculous. Last January, Lance went on an "admission" tour. He confessed to doping to Oprah and to Livestrong employees. I think he expected instant forgiveness, which didn't happen. Now he's raging to Esquire. Lance says he won his titles fair and square, and he should be allowed to compete at something:
He can't even compete in a local swim meet: "Anything I try to do, any sport, even archery and volleyball, I can't do it."

He's sorry for being an a-hole: He's sorry, he swears, for the lies and the bullying and the lawsuits against journalists. "It was indefensible. Pure hubris." But he's not going to be a hypocrite, either. The doping charges were bullsh-t. "Nobody has stepped forward and said, 'I really won those races.' They didn't award those jerseys to somebody else. I won those races."

His friends are worried about him: "He may think he's not going through a terrible time. But he's going through a terrible time."

How does he deal? "I go Zen as much as I can."

Lance is still very angry: Did Nelson Mandela really forgive the people who put him in prison for twenty-seven years, he asks, or did he just say that for public consumption? "People are fine that Michael Jordan was a jerk, they're fine if Wayne Gretzky was a jerk, but they weren't fine with me being an a-hole. They expected that perfect story."

He didn't have transfusions of his own blood in 2009? "Bullsh-t. They'll find out someday, 'cause they'll perfect that transfusion test. I'll be the first guy to say 'Use it.'"

His punishment: "I haven't paid a price? Okay. I mean, I can't talk about the price I've paid. That doesn't do me any good. I can't talk about any legal stuff."

He "resigned" from Livestrong: "It was clear that I was gonna be forced out, so yeah, I fired off a humdinger."

Will he tell his kids what happened? "No. No. I'm not gonna share conversations with my children. No way."

He's confused: "Maybe this is a lesson for me. I mean, there's so much in tone and reaction and reaction time and I can imagine–I mean, f—, for twenty years it probably really put people on their heels, and probably still does. I like to think it's mellower now, but maybe not."

He feels trapped: "Don't we all, when our backs are against the wall, try to push back or fight or control certain things? But this is so far gone, I don't know what's gonna happen. I can't control what's gonna happen. It's beyond my control." He stops. "Now I'm whining."

He can't take the exile anymore: "If I'm still playing golf five days a week at fifty, my head will explode."
[From Esquire]
Lance dislikes that he must earn random paychecks by traveling to "man camps" where he bikes with attendees in an informal setting. Lance would like to return to Livestrong, and he wants to be able to make a living at competition.
Do you feel sorry for Lance? He's not destitute. Esquire admits that Lance still owns homes in Aspen and Austin. I know he's still pulling in money from Honey Stinger (his face is still all over the boxes) and god knows what else. Lance feels like he was singled out and punished as an example to other athletes. Maybe so, but he still cheated like crazy.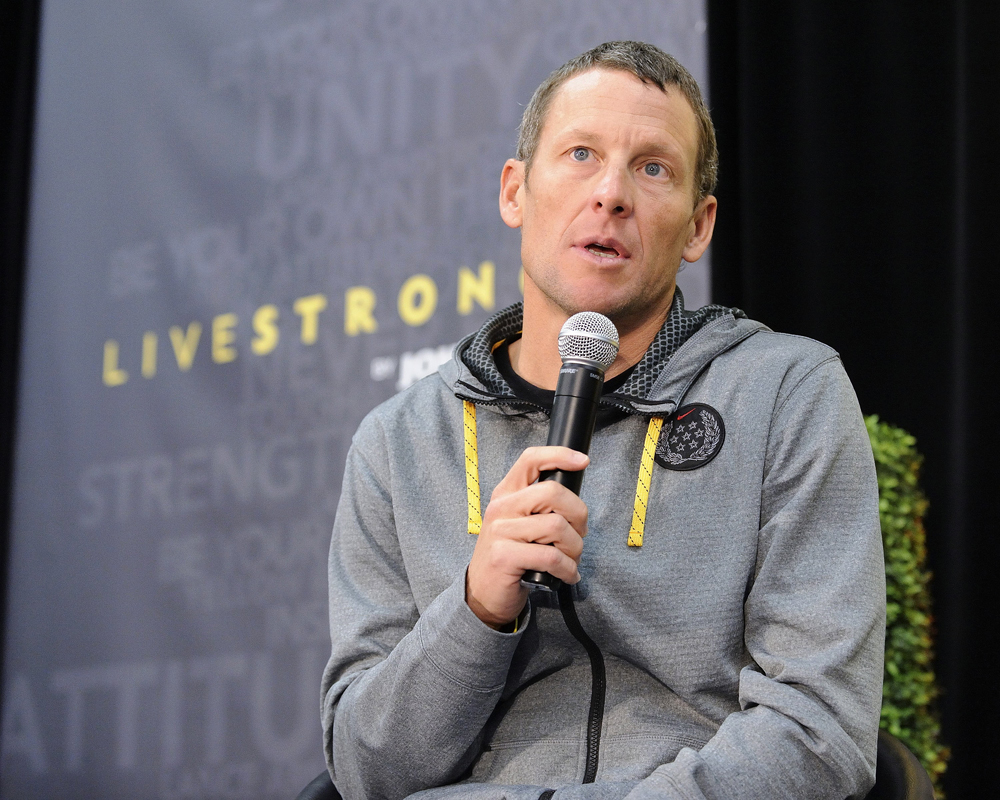 Photos courtesy of Esquire & WENN