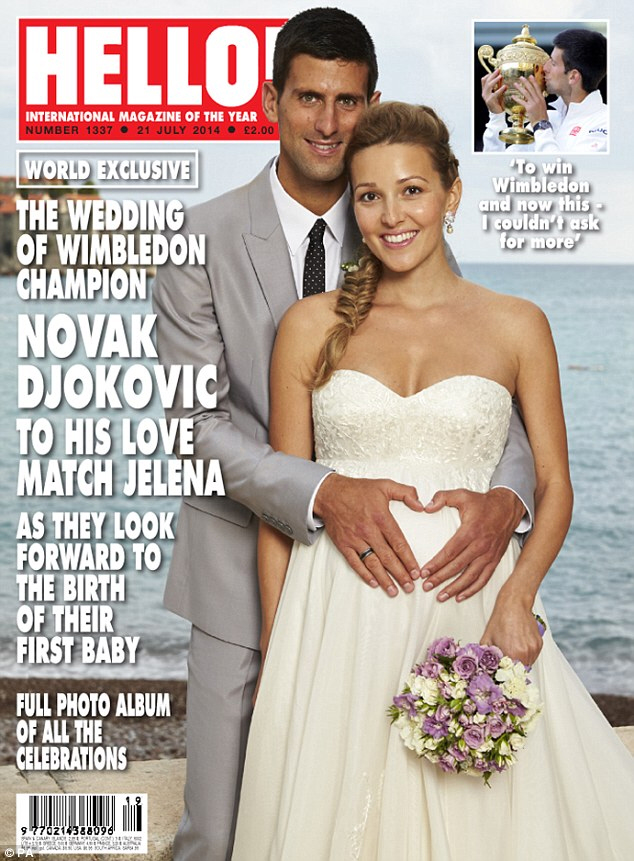 Some of us are still heartbroken about Novak Djokovic's victory over Roger Federer at Wimbledon last week. But if you stayed glued to your TVs after the game, you would have heard Novak reference his pregnant fiancée and how they would be marrying soon. Well, the wedding went down last week and they sold the photos to Hello. I like that Hello chose a photo of Novak where he doesn't look so much like Lurch. Too mean? Sorry. He's a great tennis player (he's currently ranked #1 in the world) but my heart still belongs to Federer.
Tennis champ Novak Djokovic says he 'couldn't ask for more' after tying the knot with his pregnant childhood sweetheart just days after winning the men's title at Wimbledon. The 27-year-old Serbian-born sportsman exchanged vows with Jelena Ristic in the grounds of Montenegro's Aman Sveti Stefan resort on Thursday.

The bride – who is expecting their first child – wore a gown by Sarah Burton for Alexander McQueen, the designer of the Duchess Of Cambridge's wedding dress.

Djokovic told Hello!: 'Seeing her for the first time in her wedding dress, smiling and walking towards me – she looked like an angel.' Djokovic told the magazine, which had the rights to the ceremony, 'I was trying to be present in that moment and memorise it. I was focused on her, and her smile and our baby. It really was a perfect moment.'

Ristic said: 'I was very nervous and everything seemed a blur. I was seeing him through tears and immediately started crying when I saw him. I was just so happy and probably being pregnant makes it quite difficult to control the emotions. I am so blessed to have him in my life. I couldn't ask for a better partner than him. The wedding was everything we hoped it would be. Our family and closest friends united in a beautiful setting in celebration of our love. It was truly emotional and unforgettable for us.'

The pair married on Thursday, just four days after Djokovic beat Roger Federer in the Wimbledon final and dedicated his five-set victory – his second Wimbledon win – to his fiancee and 'our future baby'.

Djokovic told the magazine that marrying in the wake of his win made it even more special. 'I am marrying the woman I love and there is no better feeling than that,' he said. 'To win Wimbledon and to now be preparing for fatherhood – I couldn't ask for more.'
It's nice. He seems like a sweetheart off the court, and I guess Jelena is his childhood sweetheart? Or they've been together for a really long time, something like that. He seems really proud that he's going to become a dad soon and he seems to adore her. But here's what I really love, and what is making me like him a little bit: his dogs. Or, his dogs with Jelena. I was looking through his Twitter to find photos, and I came across these glorious photos of Novak and Jelena with their fluffy puppies. I love a big guy who loves little dogs.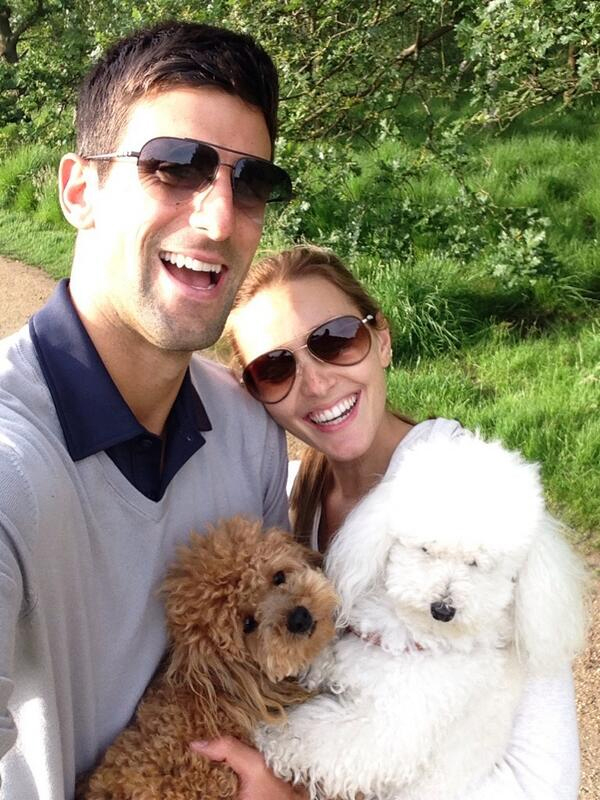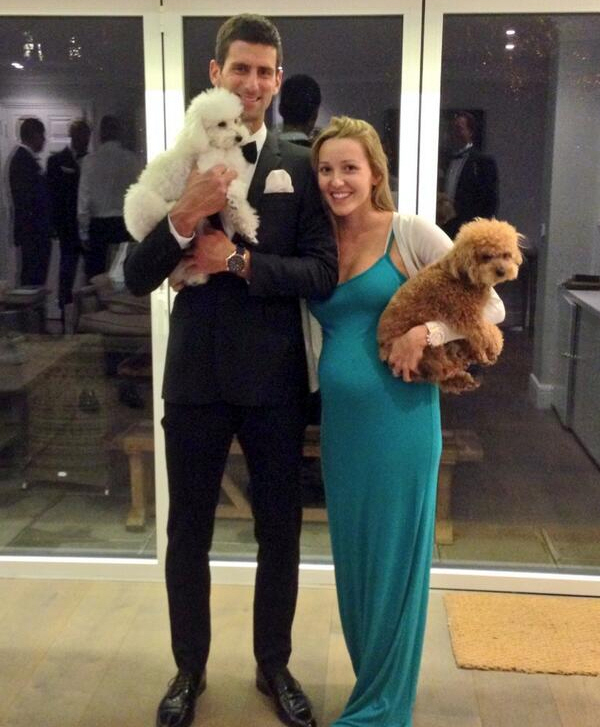 Photos courtesy of WENN, Novak's Twitter, Hello.