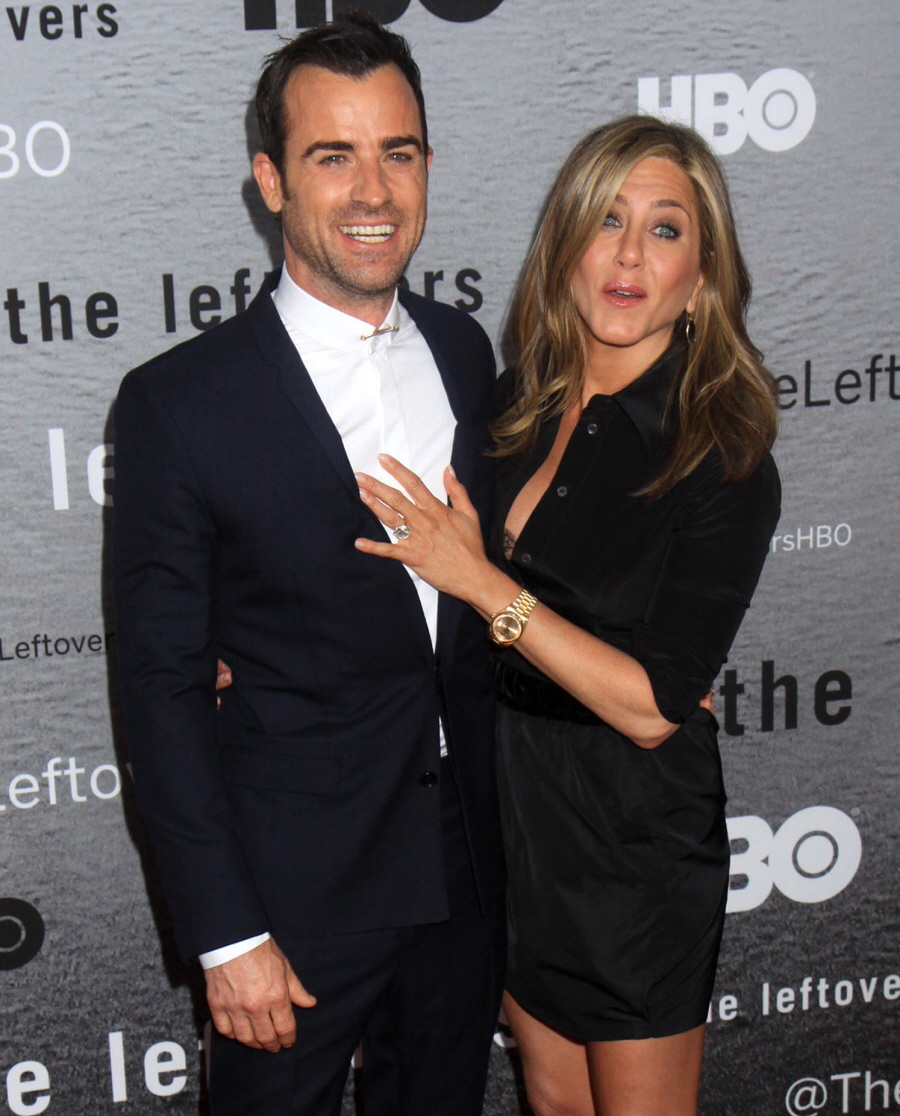 A few nights ago, Justin Theroux and Jennifer Aniston attended a party to celebrate his August cover of Details Magazine. Well, somebody might have slipped Aniston about five mojitos, because chica decided to wax rhapsodic about her man. And it was funny. I mean, if you asked me to explain why I love Benedict Cumberbatch so much, I wouldn't be able to be incredibly eloquent either – it would come out like "He's sexy and unconventional and…um…his voice…mmmm…" – but Jennifer's description of Justin is just sort of oddball. She probably was buzzed. Or perhaps she smoked a joint before the party?
Jennifer Aniston and Justin Theroux stepped out of their comfort zone Tuesday night at a dinner at the Sunset Tower Hotel's Tower Bar. She is normally tight-lipped when it comes to their relationship, but she let her guard down just for a bit to talk to WWD about her fiancé.

"I commend him for his courage. This is not normal for him. He's so graceful and utterly kind and golden," she said. Details magazine convened the dinner in Theroux's honor to toast his August cover and his star turn on the HBO series "The Leftovers."

"It is amazing. He's just so beautiful and handsome to me, and I love that his eyeballs are so beautifully captured because those eyes just knock me out every day," the actress continued, now getting poetic about her better half. "He just gets better every year. He's just like a lost gem in the sand, and he's just always been there and been brilliant, and now this is just in a different light."

Theroux said he felt comfortable on the shoot, which he helped style. "They wanted me to incorporate my style. I just brought basically old T-shirts and jeans — nothing major. It's always a bummer when you show up to a shoot, and they're like, 'Here's a pink leather [piece]' and you're like, 'I don't really want to wear that.'"

The 42-year-old, in a Dior Homme suit, said he's starting to dress more age-appropriate these days.

"I can't wear things that are totally ripped anymore or completely beaten to s–t. That's a young man's game. As you get older, you have to clean it up a little bit."
"His eyeballs are so beautifully captured"… she had to be baked!! That's the kind of sh-t you say when you're high. "I love that your dog is so… hairy." Or: "Bro, your chin is… epic." Here's what I don't get: why was the Details cover "courageous"? I don't understand. Truly. You could stretch and applaud him for stepping out of his comfort zone (but even then, it's a magazine cover not "eating haggis for the first time"), but "courage" is so weirdly misapplied here.
Meanwhile, Star Magazine claims the JustJen wedding is happening… soon. Very soon.
The world's most-anticipated wedding is all planned out — and it's just around the corner! According to insiders, Jennifer Aniston and Justin Theroux are finally moving full-steam ahead with their plans to say "I do" on July 26 in Cabo San Lucas, Mexico.

The wedding will reportedly take place in an intimate ceremony at San Jose del Cabo's stunning Flora Farm — a venue so secluded it can only be accessed by a dirt road! "It's absolutely magnificent," a source says of the stunning location. "There are luscious trees and greenery surrounding the entire property."

Jen and Justin are reportedly spending nearly $2 million on their nuptials, with famous guests like Ben Stiller, Jason Bateman, Courteney Cox, Chelsea Handler and more in attendance. But, despite the expensive location, the actress wants the rest of the wedding to be low key.

"This evening for her will be all about making memories with those she loves the most," the insider explains. "That's what's important to Jen now."
As I keep saying, I would love if this wedding happened sooner rather than later. If they ran off and did a quick wedding in Cabo, that would be excellent. Fingers crossed, loonies.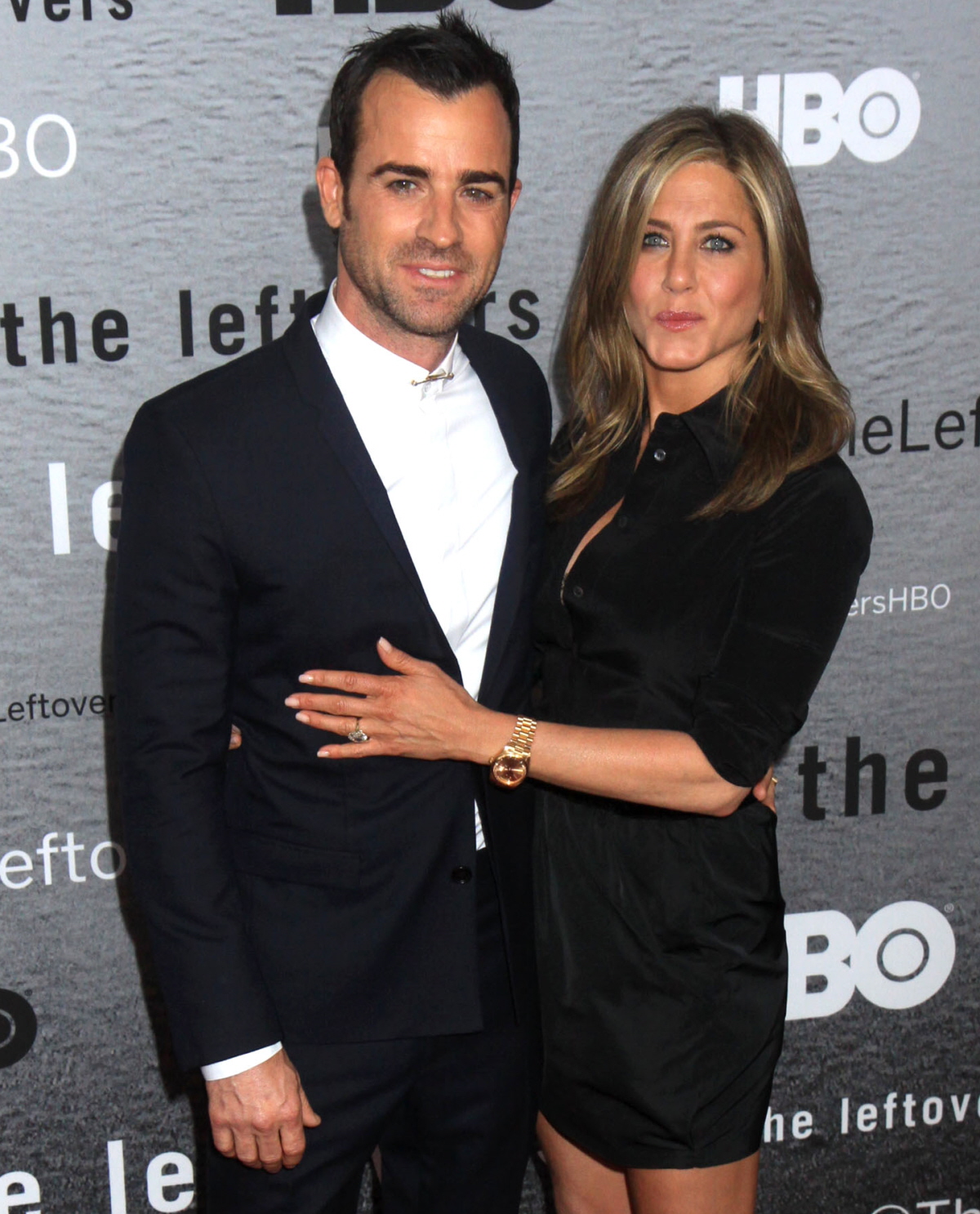 Photos courtesy of Fame/Flynet.