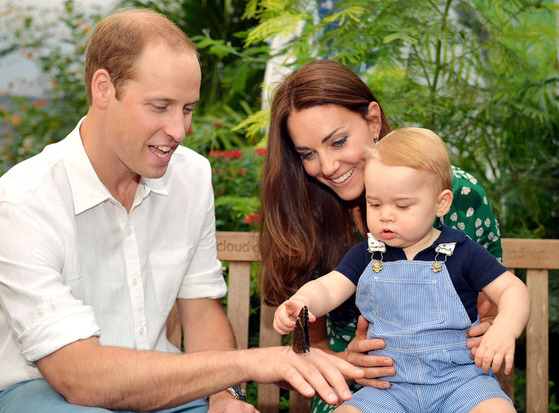 Prince George is one year old today. Just think… one year ago, I was SO MAD at Duchess Kate and Prince William for the way they were making us wait all friggin' day to announce any kind of news about the birth. They really made everybody wait for hours and hours after the birth. I still don't know what that was about. Anyway, happy birthday Prince George. May you find something to kill, squeeze or slap today. William and Kate issued a statement ahead of his birthday:
"We would like to take this opportunity on George's first birthday to thank everyone over the last year, wherever we have met them, both at home and overseas, for their warm and generous good wishes to George and our family."
For his birthday, Clarence House released two more George photos from the same Butterfly Exhibit at the National Maritime Museum. We've already seen one photo from this bunch over the weekend. In these new photos, you can see William letting a butterfly land on his hand and George is reaching for the wings. I hate to be the bearer of bad news, but I think that butterfly is dead now. George crushed it and then ate it. This trip – with nannies and at least one professional photographer in tow – happened back in June.
Incidentally, this is what photographer John Stillwell had to say about the photoshoot: "He's quick on his feet. He was walking towards me – I was kneeling down to take the picture and he was on top of me as soon as he started walking. He was very quick. He looked really steady on his feet." Ha. Subtext: George was on top of him within a matter of seconds and Stillwill got a baby fist to the eye and sharp baby-kick to his ankle. Stillwell's camera is now broken and Stillwell is now on disability. Probably. Stillwell also said George was enchanted by the butterflies: "He was fascinated to see the them fly but a little scared when they got a bit close to him."
George apparently will have a birthday party in Kensington Palace today. Harry, Pippa and the Queen are supposed to come by.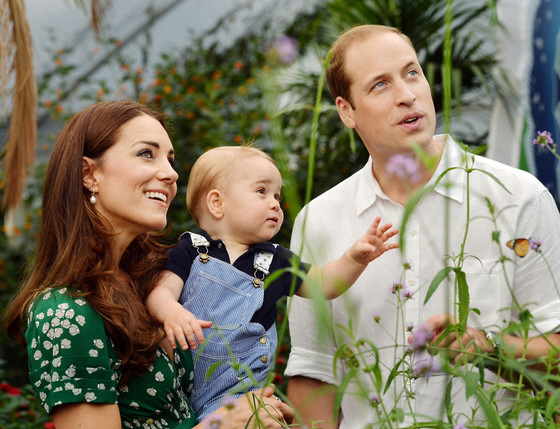 Watching the butterflies flutter by… As promised, two more pictures of Prince George #HappyBirthdayPrinceGeorge pic.twitter.com/1q2d7HuMeG

— Clarence House (@ClarenceHouse) July 21, 2014
Photos courtesy of Clarence House/PA Wire.