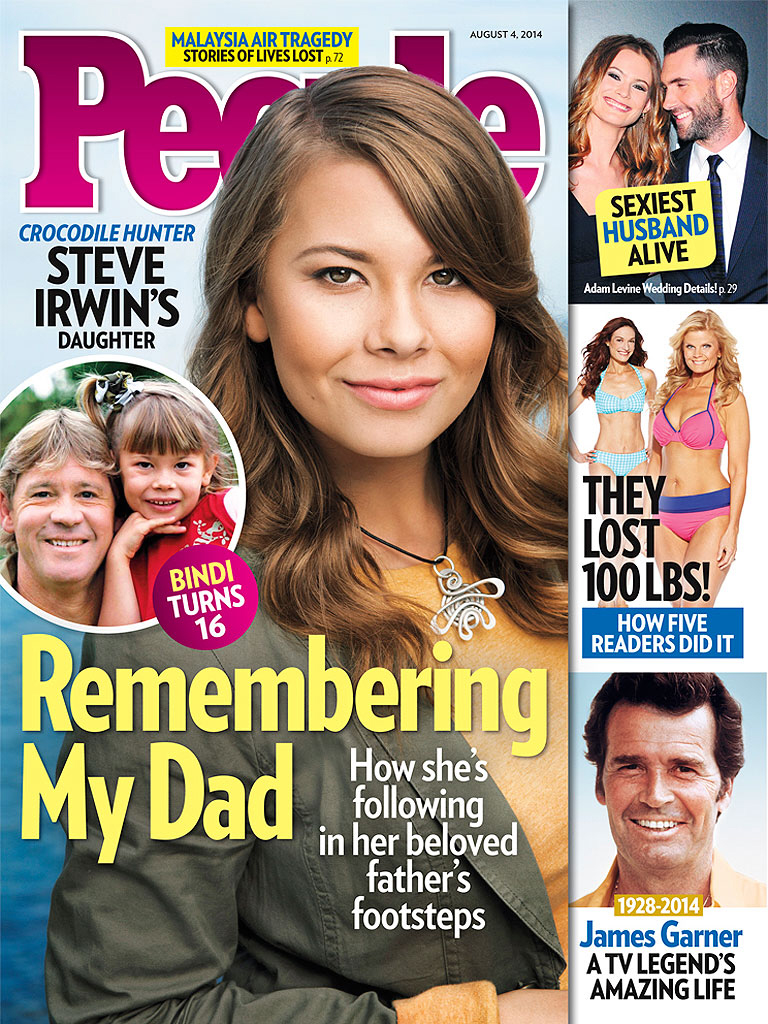 Bindi Irwin turns 16 years old today. And so People Magazine gave her this week's cover. I'm fine with that. I'm actually really pleased that People didn't go with Adam Levine's wedding or another Prince George-turning-one cover. I appreciate it when People does these more human-interest stories, although I know this isn't going to be the most commented-on post of the day or anything. There's no scandal. It's just a teenage girl talking about grief and how she misses her dad. This is the second major interview Bindi has given in a month's time – I guess someone (her mom?) is really pushing her to be a vocal animal-rights advocate.
After her father, Crocodile Hunter star Steve Irwin, died following a freak attack by a stingray in 2006, Bindi Irwin says well-meaning strangers kept offering the same reassurance.

"I remember after we lost Dad, so many adults came up to me and said, 'Honey, time heals all wounds,' " Bindi, who turns 16 on July 24, tells PEOPLE in this week's cover story. "That is the biggest lie you will ever hear. It doesn't."

She continues, "That kind of sadness never goes away. It's like losing a piece of your heart that you never get back."

Speaking in-depth for the first time about her grief, Bindi also shares how she and her mom, Terri, and 10-year-old brother, Robert, have found ways to move forward.

"When you lose a loved one, you come to these crossroads," says the young conservationist, who lives with her family in their home within the gates of Australia Zoo in Queensland. "You can take the path that leads you down the aisle of sadness, or you can say, 'I'm never going to let this person's memory die. I'm going to make sure everything they worked for continues.' "

For Bindi, that has meant carrying on her father's animal-focused legacy, from planning the family's annual crocodile research trip to working with SeaWorld as a youth ambassador.

"Every day is a new journey for me," she says, "and I feel like in my lifetime, I've been blessed to experience such a lot."
Wow, there have been some good celebrity quotes about grief lately. Billy Bob Thornton made me tear up when he was talking about his late brother, and now Bindi is showing a remarkable resiliency and maturity when discussing her dad's death. I always forget that there's a little Irwin boy too – Bindi is a big sister!
Also – I guess I forgot that Bindi was named a Youth Ambassador for SeaWorld. That was announced several months ago, and it was a widely criticized decision. Even Steve Irwin's father thought so – he publicly criticized Bindi for signing on to an organization that keeps captive animals for tricks and profit. Yikes. This family has more drama than you'd expect.
Photos courtesy of Getty, cover courtesy of People.