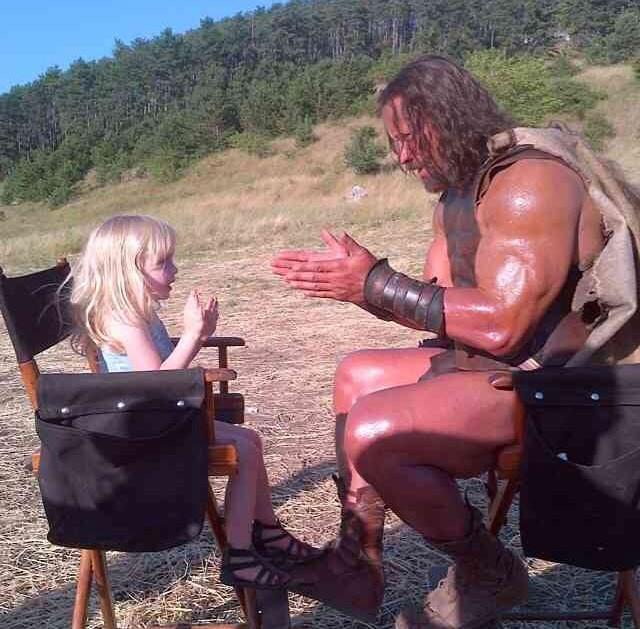 Hercules comes out in theaters today, so this is a great moment to run a Dwayne Johnson catchall post. Starting with The Rock killing it on Twitter with photos like this one. The Rock was hanging on set, dressed as Hercules, when a lovely 2-year-old asked him to play patty cake. He complied. Look at his legs! They're massive. Even when The Rock looks ultra roidy, I'd still hit it so hard. He's devastatingly handsome and has a great reputation for being so sweet to fans. This is a guy who never forgets where he came from. This film's trailer looks dreadful, yet I want the movie to do well. I will always root for The Rock.
My man did a Reddit AMA a few days ago. There weren't any standout quotes, but he does drop a few details:
Making this movie: "Hercules was by far my most demanding role. I knew that going it though – so I was prepared to go the distance and commit. 6 months of hard core training, prep and diet. Chariot, sword and combat training as well. What I didn't count on was the injury that occurred 6 weeks before shooting (tore two tendons from my pelvis) which then ultimately led to my abdomen wall weakening which cause 3 hernia tears. So wrap all that up into a big ass ball of fun pain and you have the most challenging role Ive ever had. Also when I arrived on set in Budapest in a physical peak I was happy with for the character, I had to maintain that look for the next 5 months. Very taxing on the body – physically, mentally and every which way in between. Funny thing is, if I had to do it all over again.. I'd do it twice. Only I'd add a freaking cheat meal once a week or so. Geeeezus"

His favorite cheat meal: "Pizza (double dough), pancakes and peanut butter brownies. And for good measure I throw in a diet coke!"

What he's thankful for: "My family is everything to me. It sounds cliche but its true. More and more as I go thru life my cup runneth over with gratitude for the loved ones in my life. For the record, Ive always wanted to write 'my cup runneth over,' so Fa'afetai Tele Lava!"

On Paul Walker: "Finishing Fast and Furious without Paul was very bittersweet. His death was heartbreaking and in a way, informed us that we should be even more grateful for every waking minute and hug our loved ones and friends just that much tighter and stronger. I truly feel audiences will be very happy and emotionally moved by Fast 7. Im proud of the movie we made – proud of my fellow actors, director, studio partners and hard working blue collar film crew. The truth is, like all movies – Fast and Furious will come and go and hopefully, leave an incredible movie legacy behind. To me, the #1 most important thing I care about is making sure his daughter has stability in her life and good solid men around her to help raise her in the wake of Paul's passing. (MYB)
[From Reddit]
I remember reading about The Rock's adductor injury last year and cringing. I once ripped an adductor but it was only a 2nd degree tear. It was so freaking painful, and I can't imagine what it was like to completely rupture the connected tendons. He went back to training almost immediately. The Rock is hardcore. It's impossible to dislike this guy. He was even adorable during his Tonight Show visit. He and Jimmy Fallon wore bad wigs and formed the "Fungo Brothers" workout duo:
Dwayne has also been fielding rumors that he'll soon play a superhero. He teased EW with hints that point towards him playing Captain Marvel in a movie. There's going to be a big announcement soon, supposedly.
I'm including some more excellent photos from The Rock's Twitter (including his glorious fanny pack selfie). The crowd goes wild for him. Will they show up for a movie where The Rock wears a lion's head on his noggin and makes Hydra soup? There's also some photos from the LA premiere this week. Rufus Sewell is in this movie? Hmm.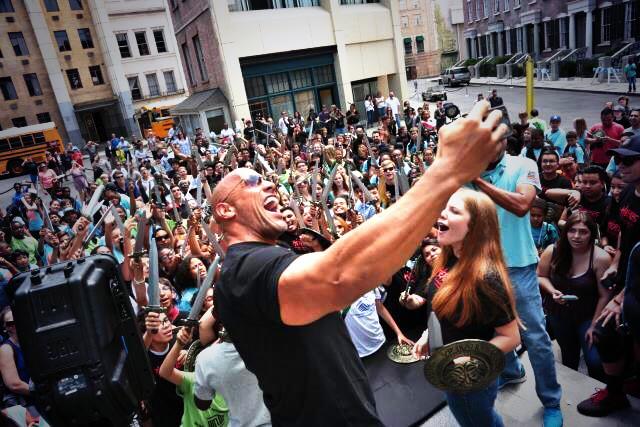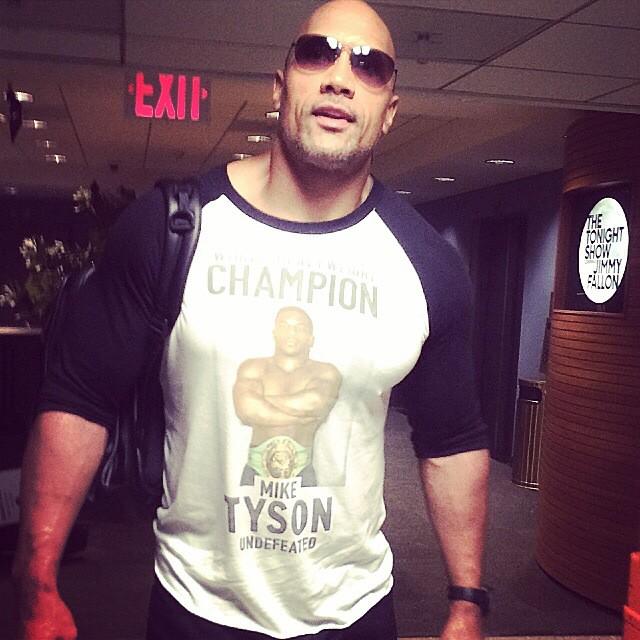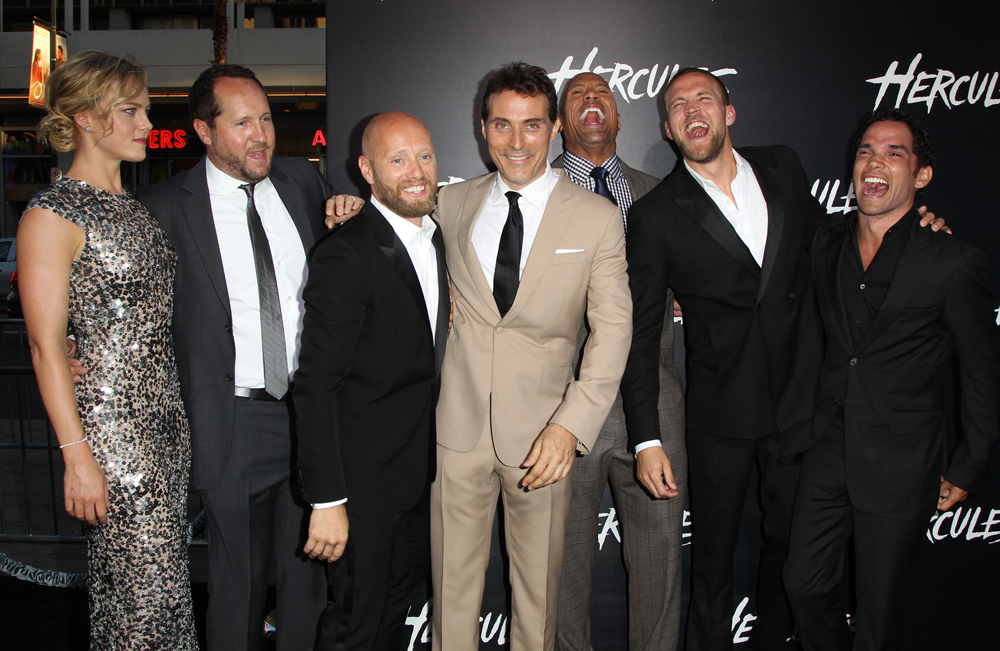 Photos courtesy of Dwayne Johnson on Twitter & WENN