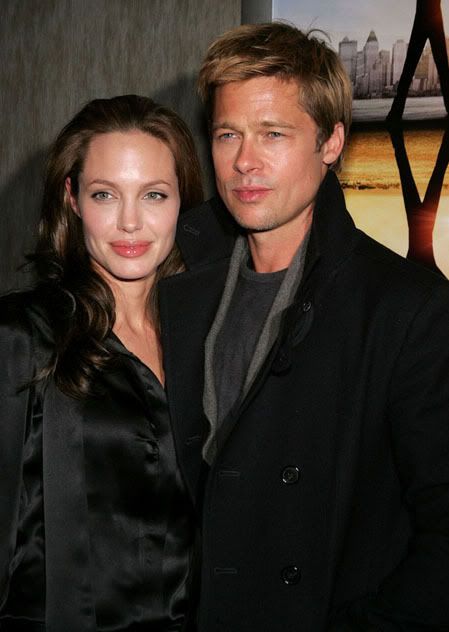 The new issue of Life & Style is set to say that Angelina broke up with Brad. The cover features one of those cheesy torn-looking photos of the two of them side by side and reads "Angie says: 'It's Over!' Why she left Brad. Exclusive: All the intimate breakup details, PLUS, a newly single Angie parties in NYC!"
I sincerely doubt they broke up considering they're now in Prague while Angelina films her new movie. The two were seen enjoying a romantic dinner together in Prague, and they looked perfectly happy. While those pictures may have been staged, that doesn't mean they're having trouble, they could just be responding to the rumors.
Here's what Life & Style reports:
But Brad Pitt remained in LA with the kids while Angie used the night to party like a single gal, schmoozing with a slew of attractive men, including reported onetime fling Olivier Martinez!

"The whole time Angie was away from Brad, she felt like a huge weight had been lifted off of her shoulders," says a friend. "She told me, 'I'm looking forward to having that freedom "

Soon enough, she will. As Life & Style reports in our cover story this week, Angie recently made a shocking confession to a second friend about her two-year romance with Brad: "It's over," she said. "It wasn't meant to be."
It sounds like someone is making up shit based on the known news that she was out in New York promoting her new documentary without Brad. Sure she partied with her ex, the recently single Oliver Martinez, but it's doubtful whether she gave him a lap dance, as US Weekly and we reported, or if she was just dancing and messing around.
A considerably more positive story about the two has Angelina buying Brad a custom made Bucati Ducati motocycle as a romantic gift. Brad was out riding on the bike that day, and the next day they got a suite at a hotel, just the two of them, and spent a few hours of alone time together:
Angelina Jolie found a way to bring the romance back into her relationship with Brad Pitt – by surprising him with a custom-built motorcycle. A friend says that Angelina gave Brad, 43, the bike on the weekend of April 21, and he was seen riding it in LA that same day. "She wanted to do something special for him," the pal tells In Touch…

On April 22, the couple of two years took some time away from their four children… and checked into a luxury suite at Hollywood's Roosevelt hotel. "They stayed for a few hours, just the two of them," says an insider.
[From In Touch print edition, May 7, 2007, via Sammie's Effluvia]
Not that it's any of our business, technically nothing we gossip about is, but if they're spending a few hours in a nice hotel suite there's got to be some loving going on.
These two are busy working parents, and sure they have problems like everyone, but I don't think they're breaking up this week. It sure sells a lot of gossip rags to say they are, though.