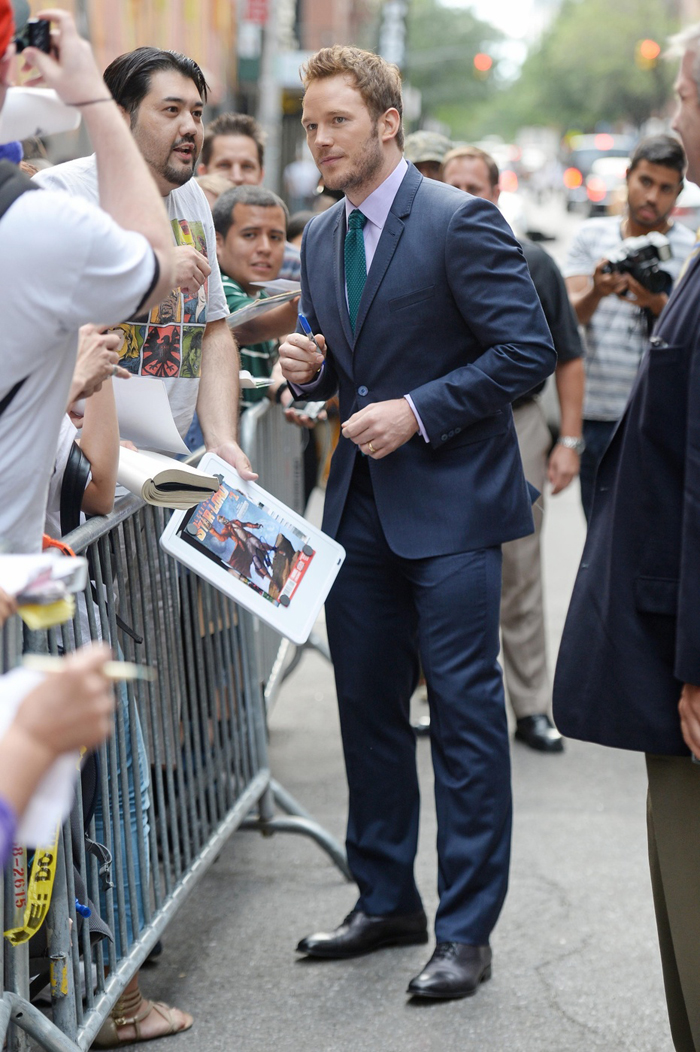 Chris Pratt must be exhausted by now with all of the Guardians of the Galaxy promotion. The movie comes out Friday. Home stretch all the way. Chris last bared his soul for us by talking about his emotional eating. Now he's going to slay hearts with some last-minute interviews. He talked to People about how his son, Jack, was premature. He and Anna "were scared for a long time." Chris also said the experience helped him find prayer. Jack was in intensive care for a month, which sounds terrifying.
If that hasn't set your heart aflutter yet, here's something even sweeter. Chris spoke to Panzer TV about how he can't wait for his Star-Lord character to be a hero to children. Why? Because he wants to dress up as Star-Lord to visit sick kids in the hospital. Does Captain America do that? Yes, Chris Evans does that (but not in costume). Pratt has planned ahead:
"I stole the jacket and some of the wardrobe so that, if this movie comes out and does what everyone hopes it can, I can follow the example of someone — say, like, a Russell Wilson [QB for the Seattle Seahawks] – and go visit kids. If it was a big enough movie to where it would mean something to a kid who's sick in the hospital for Peter Quill or Star-Lord to come visit them, I'll do that. I think that's awesome, man. That would give me real meaning for this movie, you know? Right now, it means high profile, cool jobs coming up, big press tour, and all the excitement of it all. But none of that really means anything. The coolest things would be that my son can one day see this, and that maybe I can go affect some kids in a positive way; be a good role model for them."
[From Panzer TV on YouTube]
How cool is that? Chris Pratt admits he loves job security and all the excitement of appearing in a Marvel movie, but what he really wants to do is cheer up sick kids. How rad.
Pratt has also put together a Vulture playlist of songs people should listen to before watching Guardians. One of the songs is Patrick Swayze's "She's Like the Wind."
Here's some photos of Chris visiting Dave Letterman and a video too. The Pratt poker face is amazing. You can tell Dave is impressed.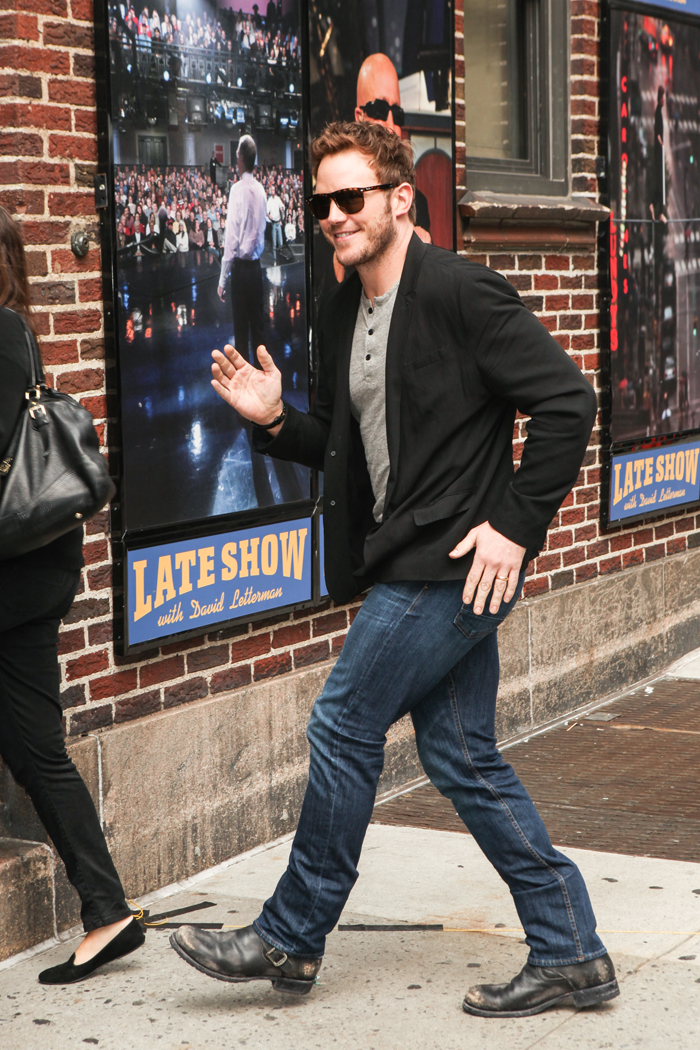 Photos courtesy of Pacific Coast News & WENN