Over the past few days, I've lingered over photos of The Expendables 3 cast for a few seconds here and there, trying to figure out if any of them were interesting enough to write about. I was only really paying attention to Sylvester Stallone and Jason Statham though. Before today, I didn't realize that the film also stars Wesley Snipes (!!!), Antonio Banderas, Harrison Ford (!!) and other assorted old guys. Dolph is in there. So is Mel Gibson. And Arnold Schwarzenegger. But here's the real shock: KELLAN LUTZ is in there too. THE Kellan Lutz. The Kellan Lutz who cannot stop Kellan Lutzing. Kellan Lutz is the biggest Kellan Lutz out there!!!
Anyway, I have a point. I'm not just going to write KELLAN LUTZ over and over again, although Kellan Lutz would probably love me forever if I did that. It seems that Sylvester Stallone confirmed, a few days ago, that the aging lady action-stars were also going to get their own movie and that it would be called The Expendabelles. YES. There are already casting rumors, something about Cameron Diaz and Milla Jovovich (she would do it) and maybe Sigourney Weaver (sure, why not). But when they asked KELLAN LUTZ, he had some ideas about which ladies should do it, because obviously Angelina Jolie cannot wait to work on this kind of project.
Kellan Lutz wants Angelina Jolie to star in 'The Expendabelles'. The 29-year-old actor, who plays John Smilee in 'The Expendables 3′, is very excited there is a female version of the action film franchise in the works and he would love to see the 39-year-old actress, Cate Blanchett, Cameron Diaz and Jessica Biel appear in the project.

When asked who he would like to see star in 'The Expendabelles' at the world premiere of 'The Expendables 3′ in central London on Monday night (04.08.14), Kellan told BANG Showbiz: "Cate Blanchett, Angelina Jolie, Cameron Diaz, Jessica Biel … I mean there's just so many, that could be in there."

Kellan got to share the screen with an array of legendary Hollywood actors in 'The Expendables 3′, such as Sylvester Stallone, Antonio Banderas, Wesley Snipes, Arnold Schwarzenegger, Mel Gibson, and Harrison Ford, and he particularly liked spending time with Sylvester and Jason Statham. He added: "I love working with Sly but you know, Wesley Snipes and Antonio Banderas … they are just freaking studs, like they're very fun to work with, very hilarious and Jason Statham's just a badass so it's very fun to hang out with Transporter and Crank, you know, he's just a dude."
I'm surprised Kellan Lutz didn't offer himself to all of the action ladies right there. And while Angelina Jolie is definitely known for ass-kicking, I think Cate Blanchett is kind of bizarre actress to name-check while discussing a project called The Expendabelles. Granted, if Helen Mirren can blast away bad guys with a machine gun in Red, I'm sure Cate Blanchett could do some kind of shoot 'em up action flick too. Anyway… this is just a heads up. Kellan Lutz name-checked Angelina Jolie.
PS… How has Joe "I'm A Muscly Unicorn" Manganiello never been a part of these movies?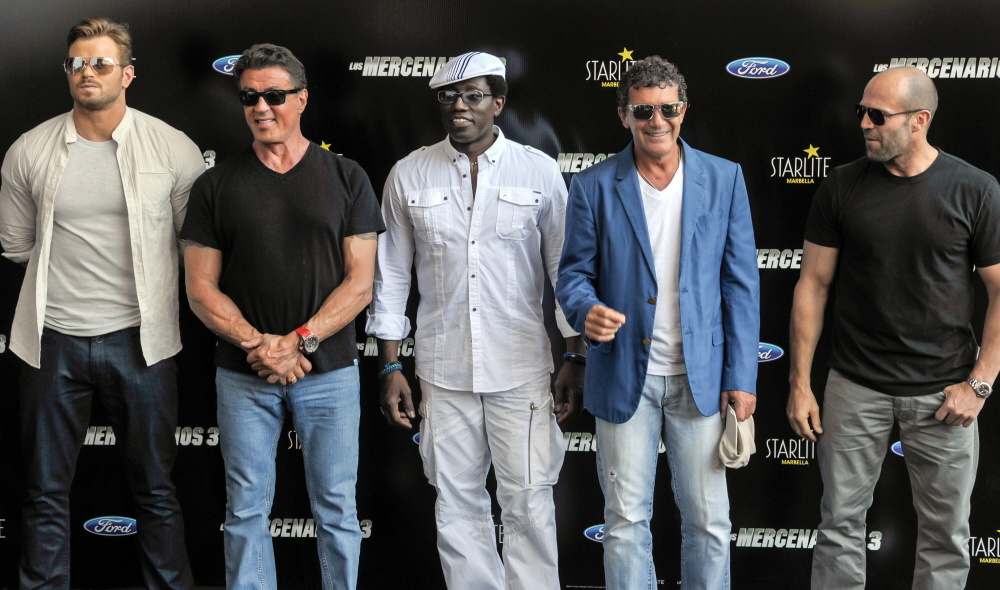 Photos courtesy of Fame/Flynet and Joe Alvarez & WENN.