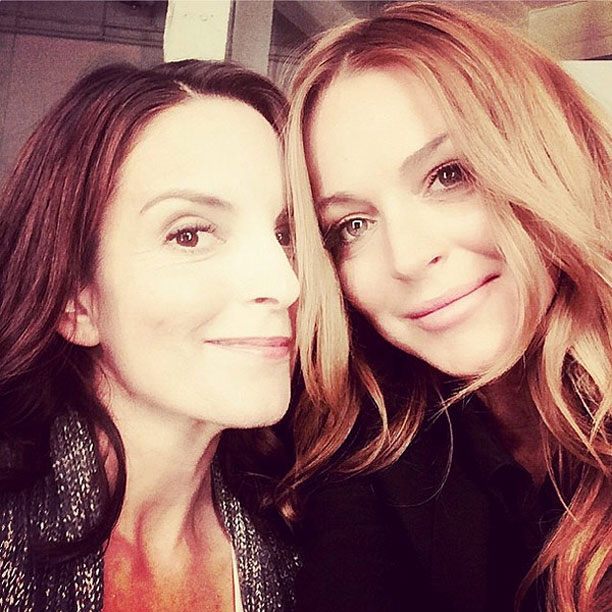 Here is an Instagram photo Lindsay Lohan posted a few days ago and then deleted a few hours later. Lindsay posed with her Mean Girls mentor Tina Fey. The same Tina Fey who always defended (and perhaps still does) Lindsay as an actress and as a person, regardless of the mountain of crack shenanigans and cracktastrophes (Mount Cracken, if you will). So, why did Lohan post the photo and then delete it? Did Tina Fey demand it? Or did Lindsay preview something that was supposed to be top-secret? Vanity Fair says that Lohan and Fey were probably doing a reunion photoshoot for Entertainment Weekly and maybe EW shut it down. Because everything Lindsay touches turns to crack, basically. EW just wanted to do an exclusive and top-secret reunion shoot and LL crack-blocked them.
Meanwhile, Page Six reported yesterday that A) Lindsay still somehow (????) has credit cards and B) those credit cards are all overdrawn, obviously. Lindsay tried to pay the bill at 1Oak and her card was declined:
Will Lindsay Lohan ever get good credit? The starlet, who is soon about to work again in a London production of David Mamet's "Speed-the-Plow," was dismayed when her credit card was declined at 1Oak in Southampton on Saturday night.

In a rare move, Lohan was attempting to pay the $2,500 bill for her table and bottles of vodka, when her card was rejected.

A source said, "Lindsay freaked out when her card was declined. Her friends and others in her group had to chip in to cover the bill."

Bartenders and servers take note, Lohan makes her London West End debut on Sept. 24.
I still find it hard to believe that Lindsay still has credit cards. How is that possible? That's the most unbelievable part of this story. She's literally millions of dollars in debt, she keeps getting kicked out of houses and apartments, she's a crack-horder without a real home and whatever money she gets goes straight up her nose. And I bet she has a black Amex too. What the s—t?
As for the other details… of course she's partying at 1Oak. I remember that earlier this year the 1Oak manager was trying to get the Cracken permanently banned because she's such a mess. I guess the ban didn't hold. And so much for staying in London for rehearsals, I guess. I hope the understudy realizes that she's going to be doing almost all of the performances. Theatre-goers will hear an off-stage crack squawking, then crack-shrieking, then Lindsay will just sleep it off backstage while the understudy does the part.
Oh, and this was in Page Six this morning:
She appeared at Up & Down on Monday, where sources tell us she insisted on doing the ALS Ice Bucket Challenge in the middle of the venue, using two Champagne buckets.bbWhile the former OWN star did drench herself with ice water, unfortunately nobody appears to have been focused enough to catch it on video for the ensuing social media blitz.

Tuesday night, Lindsay was back in action at 1Oak in Chelsea, where a huge commotion kicked off after she sat herself at the "high-roller table," and then "was furious when the person who had a reservation for the table arrived and she was asked to move. She stormed out of the club."
OMG, does it get anymore Classic Cracken than that?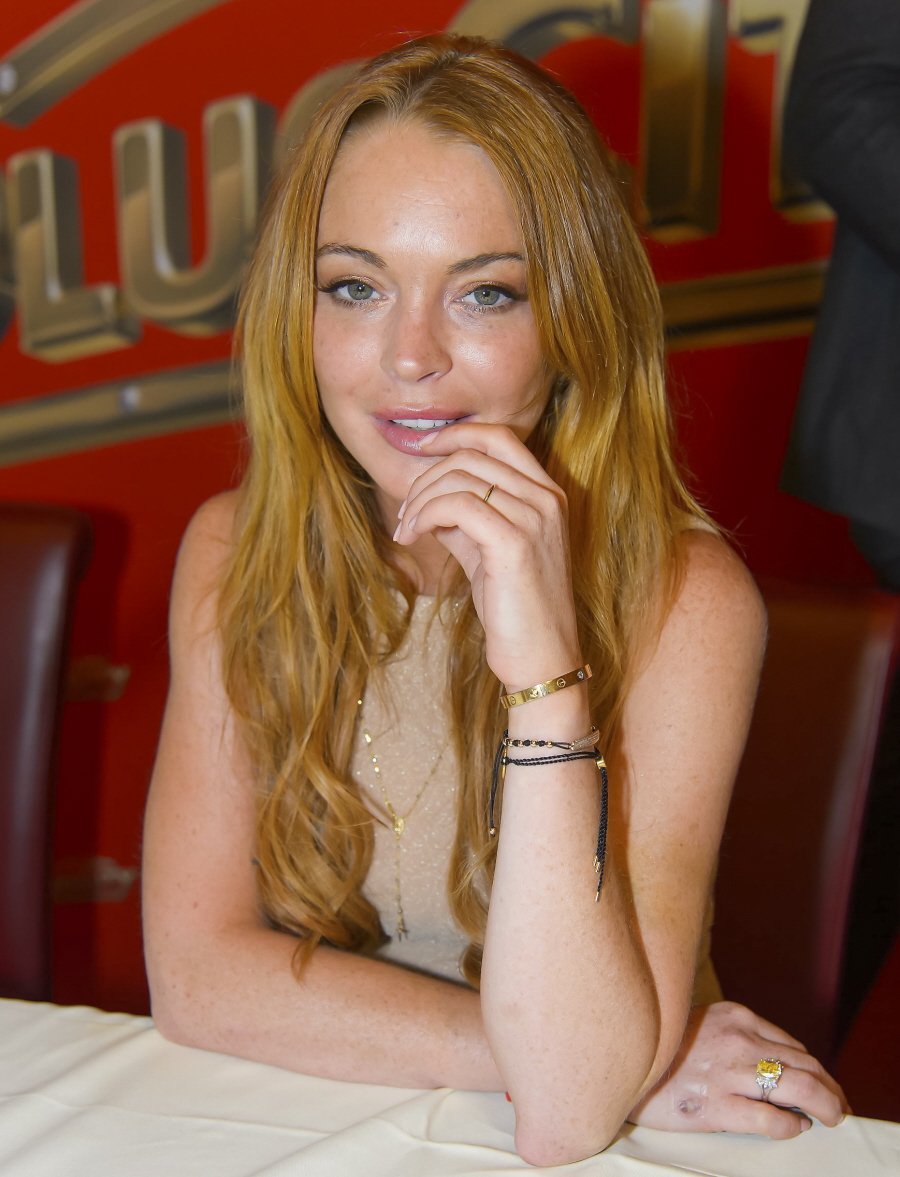 Photos courtesy of LL's Instagram & Fame/Flynet.