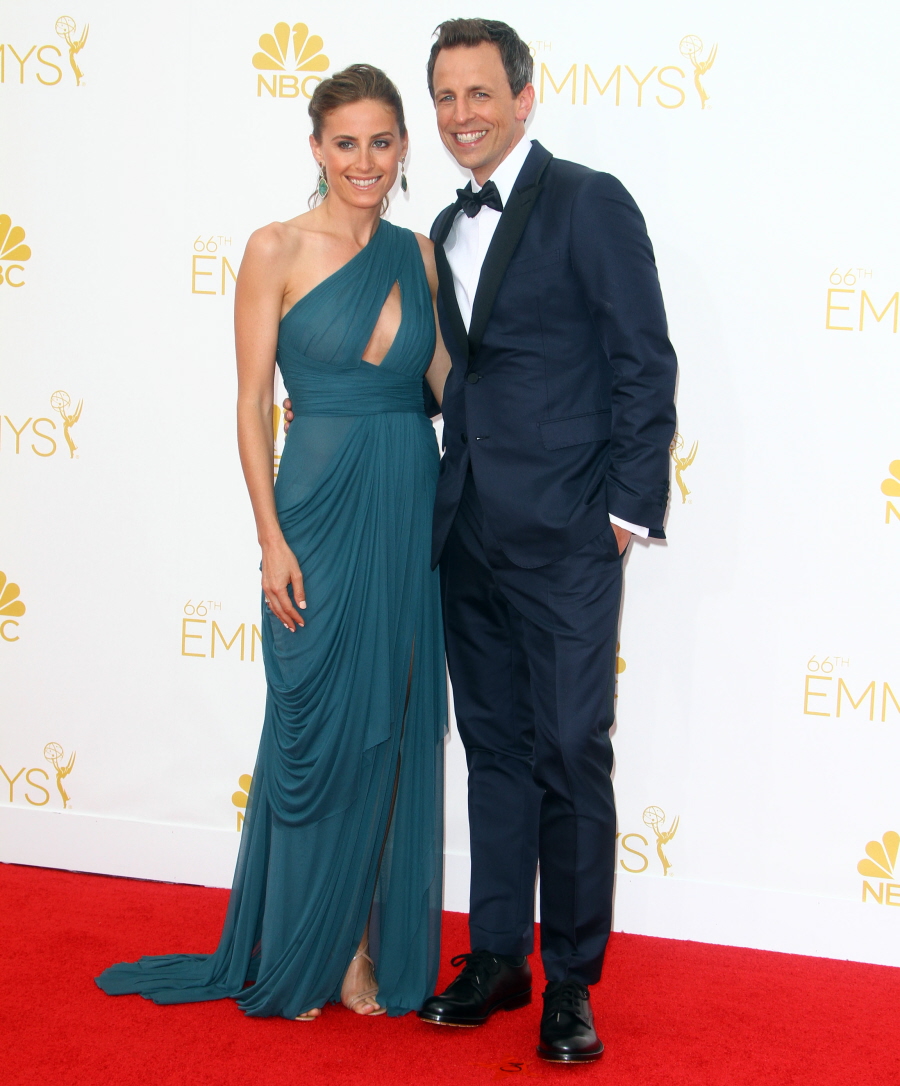 Let's do this, people. Emmys coverage 2014. Making it happen. Our host last night was Seth Myers, the newest late-night host and all-around cutie. I'm including photos of Seth and his wife Alexi Ashe. She wore J. Mendel, a designer I always associate with Taylor Swift. I could see Taylor in this dress, couldn't you? As for Seth as a host…people had mixed feelings, but I thought he did his job really well, if you believe his job was to keep things light and fast. I would have liked an even longer opening monologue because I enjoyed his one-liners so much. Here's the video of his opening bit:
See? I thought it was funny. I appreciated that there weren't too many "bits" and attempts at big production value set-pieces. You can see the full list of last night's Emmy winners here. Some highlights from the show:
*One of the biggest highlights? Weird Al doing the only big song-and-dance number about the Emmy-nominated shows. The Game of Thrones part was the best:
*Ty Burrell won Best Supporting Actor in a Comedy. In real life, he just seems like a dorky, kind dad-type.
*Allison Janney won Best Supporting Actress in a Comedy for that weird CBS show with Anna Faris. I'm okay with it because Janney has gotten a lot of recognition for Masters of Sex too (Janney actually won Guest Actress in a Drama for MoS this year too).
*Jim Parsons won again! For the love of God, I like Parsons but they need to stop giving him awards. Ricky Gervais made fun of it too, rather brilliantly.
*Julia Louis-Dreyfus' kiss with Bryan Cranston was amazing and surprisingly hot. They have a history – he guest-starred on Seinfeld back in the day and Julia pretended that she didn't remember him until he kissed her. Julia keeps looking better and better, doesn't she?
*Steven Moffat won a writing award for his work on Sherlock, "His Last Vow". Martin Freeman and Benedict Cumberbatch were not in attendance which upset me at first but then THEY BOTH WON and then I was cursing the Gods. This is ridiculous. There's no reason why Bendy and Freeman both were no-shows. I cannot even tell you how disappointing all of that was.
*Julia Roberts LOST in her category to Kathy Bates. It was amazing. Julia was really hustling for her Emmy and it got snatched by Madame Bates. LOVE IT. Favorite moment of the night. The Normal Heart actually got shut out of all of the acting categories (I thought Mark Ruffalo would have gotten it) but it did pick up Best TV Movie.
*A new show finally won something when Fargo picked up Best Mini-series.
*Stephen Colbert and The Colbert Report won the Variety Show Emmy. Gwen Stefani mispronounced "Colbert" but it wasn't quite Adele Dazeem-level. Jimmy Fallon also tried to jack Colbert's win. That was cute.
*As for the Drama stuff… it was mostly a sweep by Breaking Bad – Bryan Cranston, Anna Gunn, Aaron Paul and the show all picked up Emmys for BB's last season. (CB will talk about that more, she was so happy.) The only category that went to someone else was Best Actress in a Drama, which went to Julianna Marguiles. The Good Wife had a game-changing season last year, but I lamented the fact that Josh Charles didn't get anything for HIS final season. He was doing the best work of his career last year.
*The Robin Williams tribute on the heels of the In Memoriam part of the show was well-done. Billy Crystal was heart-breaking but I liked that they got someone to talk about Robin who actually knew Robin very well.
Okay. And now onto the fashion!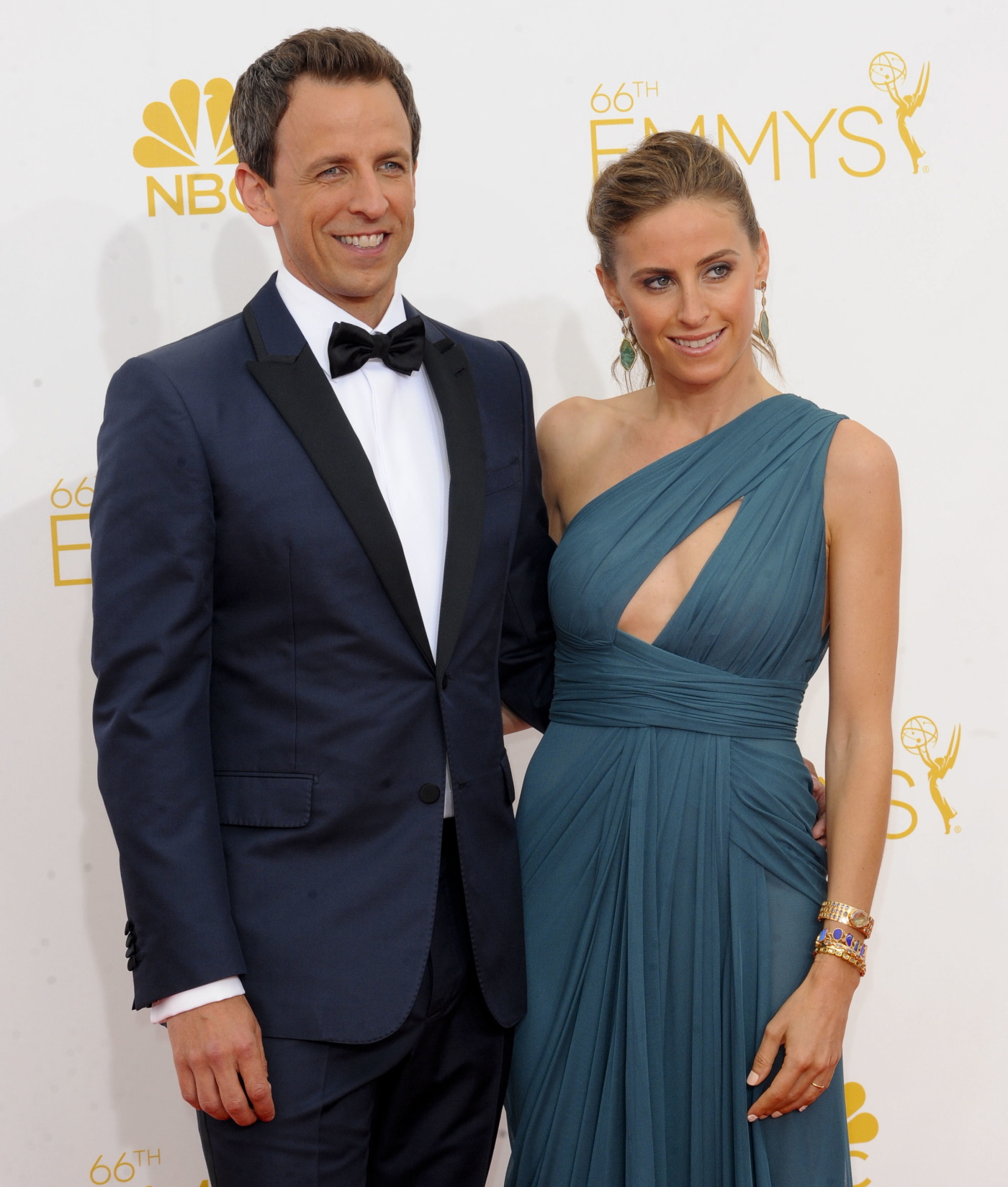 Photos courtesy of WENN, Fame/Flynet.