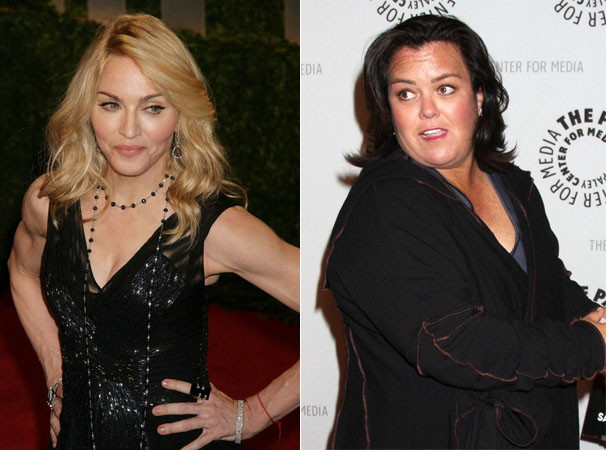 Watch out Rosie O'Donnell, HRH Madonna is going to excommunicate you. Rosie has implied on television that Madonna is post-menopausal. She is not menopausal – she works out 4 hours a day! She hasn't eaten a carb in nine years! She's dating a young man! She is not aging! Deny. Deny. Deny.
Rosie appears on the Tyra Banks show this week, and in a preview she talks about being Madonna's friend. Rosie says they hit it off as, on their first meeting leading up to filming A League of Their Own together, they commiserated about seeing their own names on their mothers' gravestones. When Rosie asked Madonna about menopause, she told her to get hormone cream.
Rosie says "I had just seen Truth or Dare, and she was the first woman I'd met who had a similar situation to me. My mom died when I was a kid, as did hers, and I'm named after my mother, as is she, so I don't know anyone else who's gone to their mother's grave and seen their own name. When she walked in I said 'listen I saw your movie and my mom died and I'm named after her and I totally get it'. And right away we were like sisters.

"She's [Madonna] great, she's a lot like a big sister," O'Donnell says. "When I started having my hormone things, I'm like, 'What the hell is going on?' she's like, 'Get the cream.'"
Us Weekly, view the video here
Rosie cheerfully admits that her menopause started at 41, and that a few months ago 'Aunt flow ' stopped visiting. I have no idea what Rosie is on the show to talk about, she also mentions incontinence and diarrhea so I can only assume the show is about bodily functions.
While I think it's okay for Rosie to talk about her own menopause, I think it was crossing the line to talk about someone else. Madonna is a pop singer, so much of her career is based on image in a way that comedian Rosie's isn't, and Madge is competing with stars 30+ years her junior. We all know Madonna is getting older, and if you google Madonna+menopause you get a huge volume of responses, mostly talking about how Madonna's amazing physique is the new way to tackle menopause – presumably for those of us who don't have jobs and can devote several hours a day to personal maintenance. Great – now women are being given unrealistic examples for how to cope with menopause, as well as losing baby weight and aging.
As far as 'the cream' goes, I think it's a natural progesterone cream marketed for hormonal complaints that gained popularity after other common hormone replacement treatments were linked to cancer. Obviously this is a gossip website, consult your doctor and not Madonna for menopause advice. Never consult Madonna, the woman looks like she's been freeze dried for space travel.