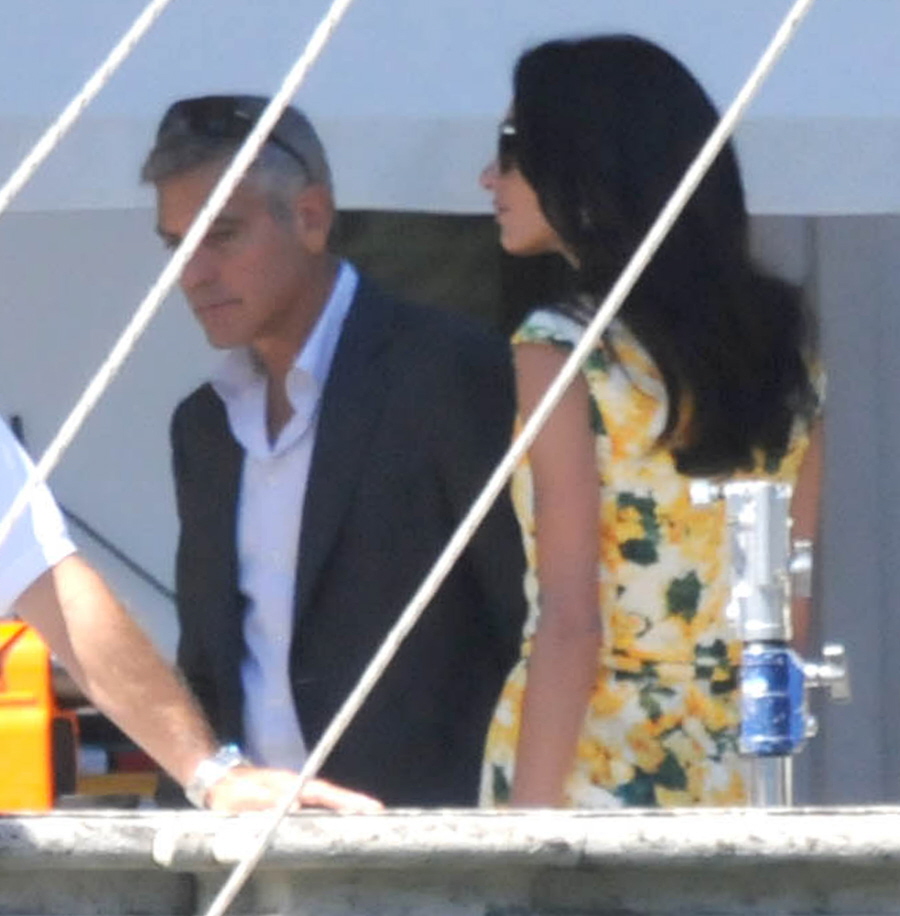 Considering the fact that George Clooney and Amal Alamuddin have been together for about 10 or 11 months, it's sort of weird to me that we have so few photos of them together. There are a few candid shots, here and there, mostly exclusives to one photo agency or to X17. There was the flat-out engagement photoshoot they did with People Magazine where we got to see Amal's $650K ring. Usually, George takes his girlfriends out on the red carpet quickly, like, within a few months. I can't wait for George and Amal's first red carpet. That's going to be amazing.
Anyway, the reason I was talking about how we don't have that many photos of them together is because we have some new photos of them together. George was filming another Nespresso commercial in Cernobbia, Italy and Amal stopped by to kiss and cuddle her man. WHO ARE YOU?! And why does it genuinely feel like Amal hasn't done a stitch of work in months? Something nice… I like her floral dress. Pretty. But really, the best part of these photos is Jean Dujardin, who was filming the commercial with Clooney.
As for all of the wedding stuff…yesterday, we talked about the report that Amal and George would do a civil ceremony in London in two weeks. But E! still says that the wedding plans involve Como.
Clooney and Alamuddin's wedding is getting closer and closer. As E! News reported last week, the lovebirds will likely marry next month at his Lake Como home Villa Oleandra in Laglio, Italy. A source told us that the wedding will be very "small and intimate."

"This is not going to be a huge Hollywood wedding with Julia Roberts and Sandra Bullock flying in to Italy for a week," explained the source. "George and Amal don't want a media circus with paparazzi helicopters flying overhead and motorbikes chasing after them as they all arrive at the airport in Milan from Los Angeles. They want the wedding to be intimate with quiet but happy and fun dinners and lunches after they've said short but meaningful, hand-written vows in front of their loved ones. They want their guests to enjoy it as much as they do and they know that if the guest list reads like the Oscars invite list with lots of big Hollywood names there it will be intimidating for their families. They can do a party for movie industry friends in Los Angeles at a later date."
Sure, okay. Just please please make it sooner rather than later.
Oh, and if you want a bit of Clooney History, check out this Radar story – it's all about his divorce from Talia Balsam, who is currently married to John Slattery. Apparently, George and Talia fought like cats and dogs over money, community property, etc. Classic Clooney.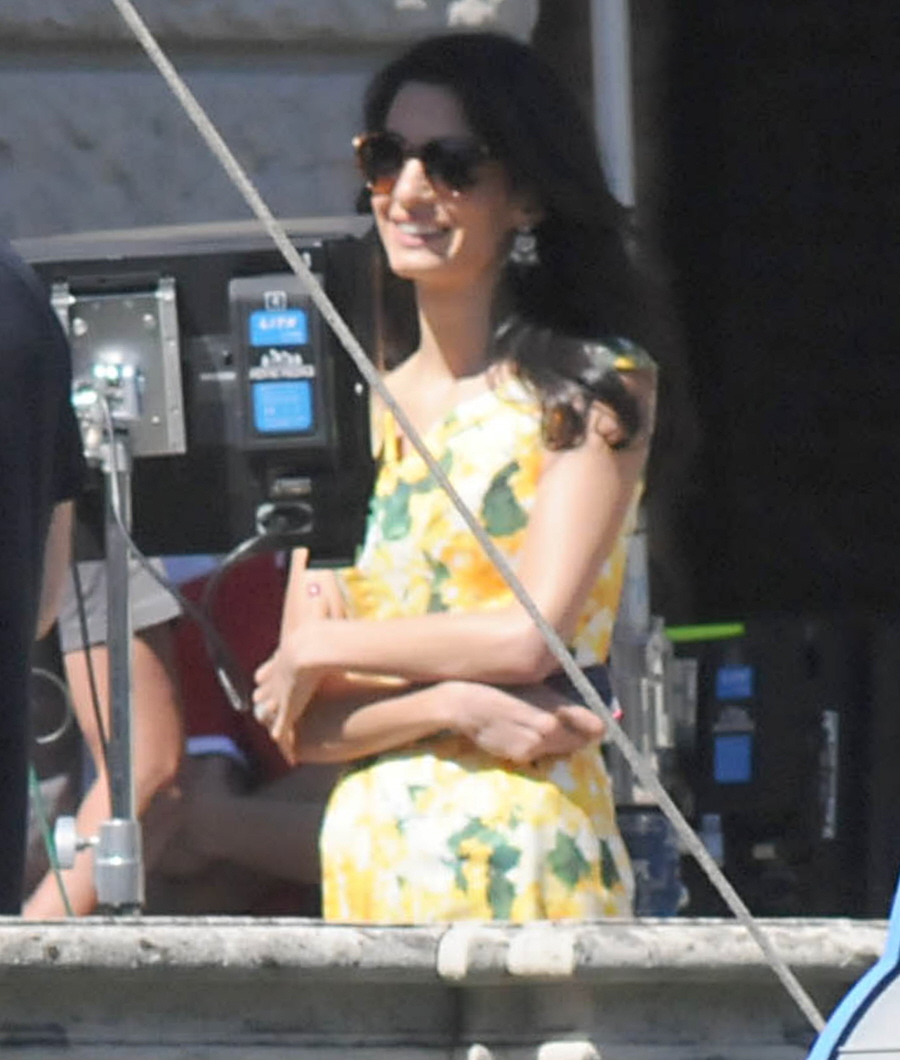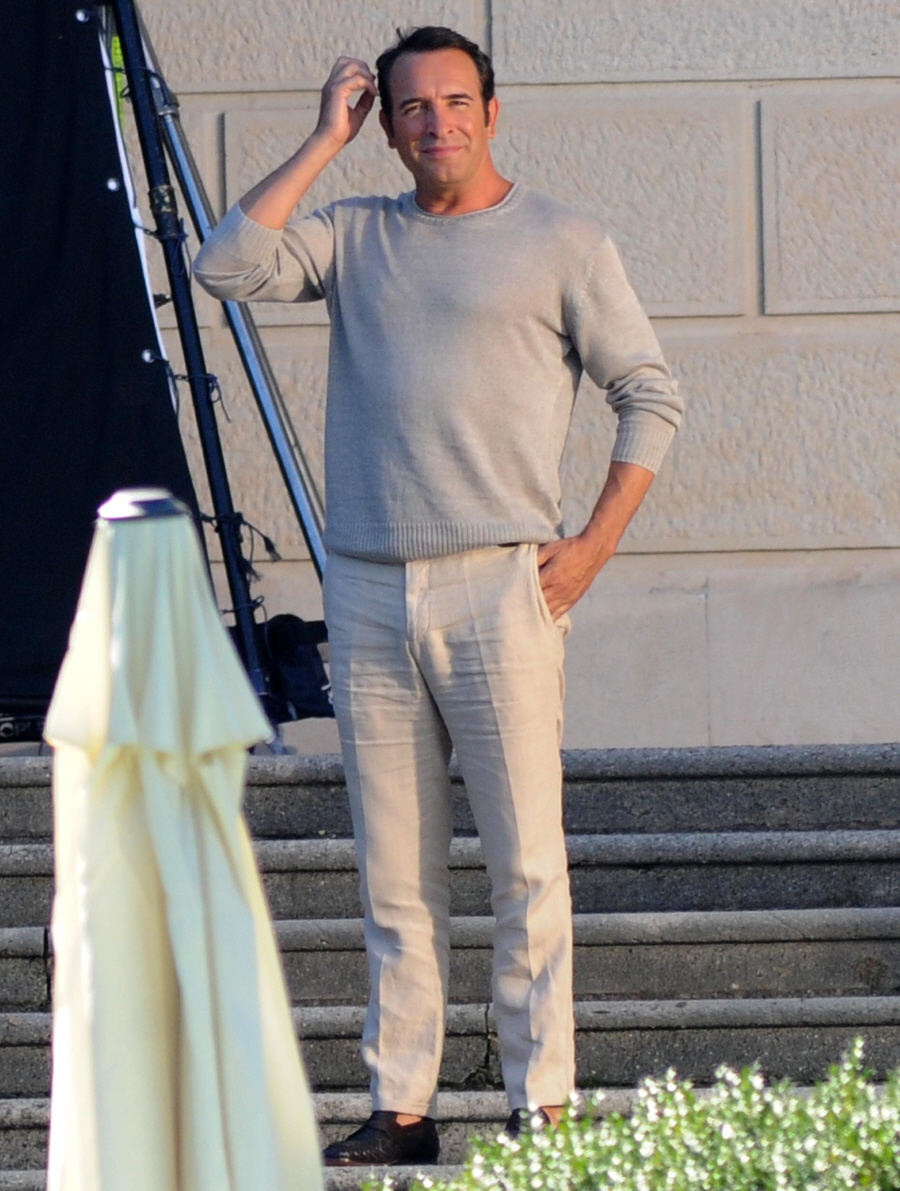 Photos courtesy of Fame/Flynet.