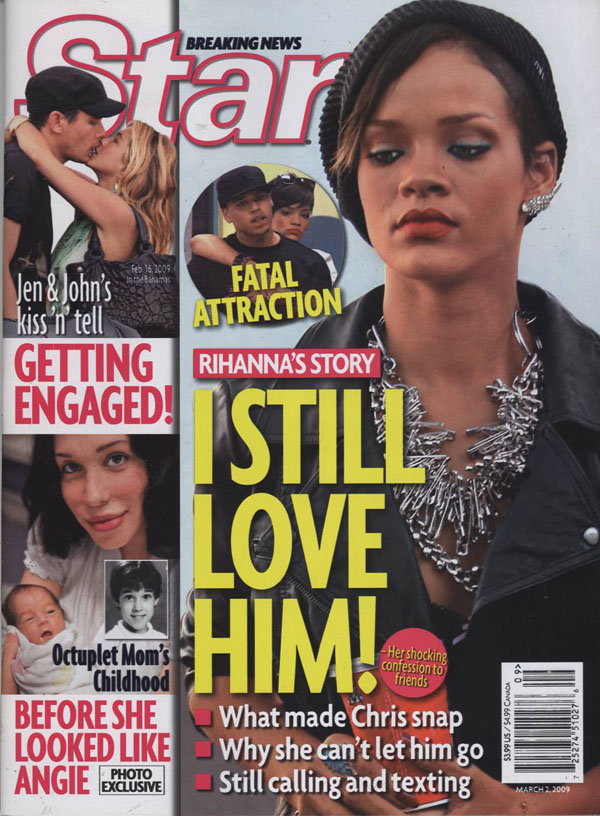 Star Magazine decided to take a different stance on the Rihanna and Chris Brown beating incident. In a desperate bid to separate themselves from the rest of the tabloids, they focused on Rihanna supposedly wanting Chris back with a cover story that read "I Still Love Him!" with bullet points "What made Chris snap," "Why she can't let him go," "Still calling and texting."
I assumed that was just Star's way of selling copies and that the accompanying article would be less offensive, but I was wrong. It reads like a list of cliché's blaming the victim, with headers like "What set him off" and "she can't forget the words that made him snap… her shamed first love." Inside, they focus on what made Chris angry as if Rihanna had it coming! It's obnoxious, irresponsible and careless to say the least. Star should be ashamed.
Headline inside: Rihanna's Shocking Confession to Friends: "I Still Love Chris."

Subheader: Rihanna is still powerfully attached to Chris Brown and can't forget the words that made him snap. As she recovers from her injuries, she continues to call and text her shamed first love – and friends and family fear she will never break free of him.

Inset text: "Rihanna says she doesn't want to make Chris look like the villain in all of this," an insider tells Star.

Bolded text above article: What set Chris off...
After the party, Chris and Rihanna drove off in his rented Lamborghini – but soon after, he got a text, reportedly from beautiful 16-year-old Russian fashion designer Kira Plastinina. When Chris, 19, looked at his phone, Rihanna tried to grab it from him to read the message, Star has learned.

"She was getting more and more furious and kept trying to take the cell away from Chris," says a source. "He lashed out but didn't connect, and that set her off even more. She was steaming!"

In the heat of the moment, Rihanna struck a deep, dark chord in Chris when she blurted out at him: "Stop it! I'm not your mother!" referring to the abuse he witnessed his stepfather unleash on his mom, Joyce Hawkins. "That just set Chris off," says the source. "He started beating on Rihanna. He hit her several times in the face. She put her arms up to defend herself, but he was in such a rage, he actually bit them…"

Rihanna's been missing Chris so much since that fateful night, she has actually reached out to him on numerous occasions, both calling and texting him with the message: "Miss you. Love, peace and hope u r ok," according to a source.
[From Star Magazine, print edition, March 2, 2009]
Star does include the details of how Rihanna was found unconscious, but the way they focus on her role in the incident is unconscionable. They may have had a source for once, probably Chris himself, but why run that terribly one-sided account against a woman who was left unconscious with black eyes, facial contusions and a split lip? She got upset at a booty call so she had it coming, right Bonnie Fuller? Incidentally, this week Star is also running a fluff piece that's incredibly sympathetic to Octomom.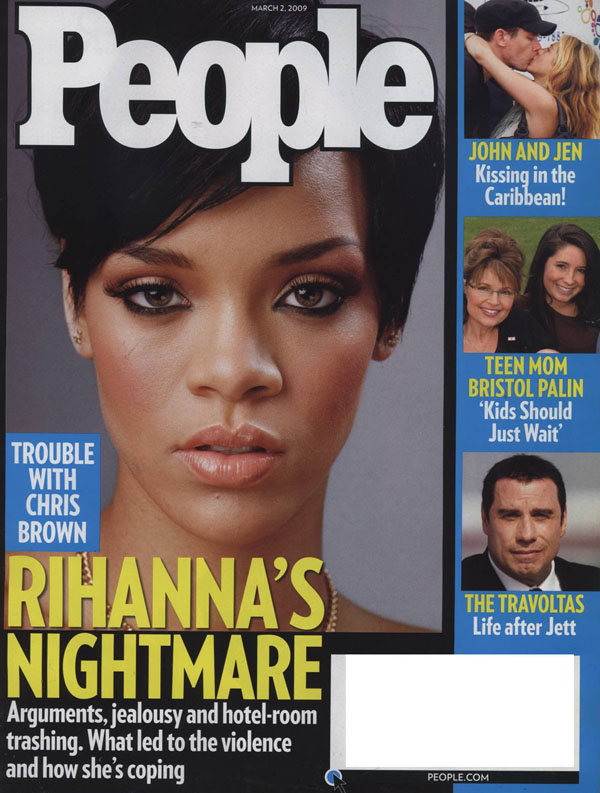 Compare Star's very slanted coverage about how Rihanna is somehow culpable in her attack to the staid way that People focuses on how Rihanna can recover as a victim of domestic violence and how her response is normal. It includes essentially the same information, that she still loves and cares for Chris, but it does it in a way that clearly communicates that this was an unforgivable act:
As for what ignited the Feb. 8 fight, a source, who knows them both, says "Jealousy. That's usually what causes their arguments." Even so, those who knew the couple were shocked by what reportedly happened that night. Explains the source close to Brown's camp: "He just snapped and flew off the handle…"

Now it's up to Rihanna to decide if he is the right guy for her. Though her feelings will not affect how (or if) the district attorney charges him, LA criminal defense attorney Jeffery Rubenstein says that many women in her position have taken their men back. "It's extremely common for a domestic-violence victim to do what we would call 'go backward,'" he explains. "The victim's swelling goes down, they recover from their injuries and realize they still love their boyfriend or girlfriend and don't want them to face trouble."

Rihanna's family hopes she isn't so kind. "I would move on," says her father. One of her relatives agrees: "I don't want her to go back to him. I don't think anyone does."
[From People Magazine, print edition, March 2, 2009]
Meanwhile Chris Brown has enrolled in anger management classes. I guess that PR crisis firm he hired is good for something, even after he issued one of the worst non-apologies ever. The NY Daily News includes some quotes in their coverage of Brown's anger management that may have come from Star Magazine's "insider" about how Rihanna could use some classes too. I would say she needs counseling on how to pick a better man next time, and how to ignore some of the very hurtful things in the press.