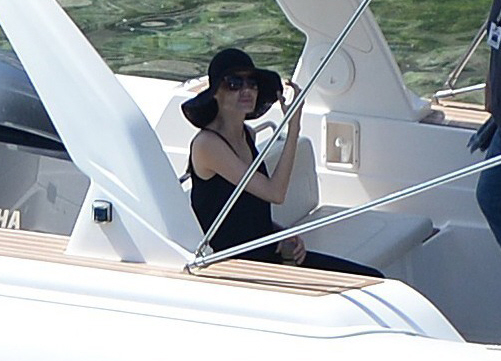 Here are the first photos of Angelina Jolie as a married lady. I don't understand why these pics are such poor quality. Surely every paparazzo in Europe has descended upon Malta to stake out the set of By the Sea? That's where Angelina is now, in Malta, prepping By the Sea. Brad Pitt, her HUSBAND, should be there shortly if he's not already there. Angelina wrote the script and she'll be directing it. People Mag had a nice write-up about their "Maltese honeymoon":
They finally tied the knot. Now, Brad Pitt and Angelina Jolie are heading to their honeymoon – and it's a sexy mix of work and play. Pitt, 50, has been doing press in London (where he gave a peek at his new wedding ring!) for his upcoming World War II drama, Fury. But the actor is expected to soon join Jolie, 39, in Malta, where she is prepping for their first onscreen reunion since 2005′s Mr. & Mrs. Smith.

Here's where things get really interesting: The film, By the Sea, which has been described as "an intimate, character-driven" drama and was written by Jolie herself, is far from family-friendly. Pitt and Jolie play a married couple in the south of France who become sexually obsessed with their neighbors. (One of the neighbors is played by French actress Mélanie Laurent, who costarred with Pitt in 2009′s Inglourious Basterds.)

"I wrote something a few years ago for Brad and me," Jolie told PEOPLE in May of her script for By the Sea. "Just for fun. Just an independent little art piece. Because we don't get to do those as much as we'd like. But it's something really small and experimental."

The couple have gotten tantalizingly personal in the past, with Pitt telling CBS This Morning in 2012 that Jolie "is still a bad girl. Delightfully so. It's not for public consumption."

His comments came after Jolie expressed the same sentiment to 60 Minutes, revealing, "I'm still a bad girl. I still have that side of me. It's just in its place now … It belongs to Brad."
Us Weekly says that Brad and Angie's villa in Malta is pretty tricked out too, so they should have some moments of luxury with all of the work they'll be doing. Oh, and Melanie Laurent? Hm… I'm not sure what I think of that.
You know what I was thinking about? Names. We always called them "the Jolie-Pitts" but I wonder if Angelina is going to officially change her name to Angelina Jolie-Pitt or Angie Pitt? And God knows, Brad might be one of those rare dudes who wants to change his name as well. Would he become Brad Jolie-Pitt? That would be amazing. Obviously, their names will most likely stay the same professionally, but I would get a kick out of it if they changed their names privately.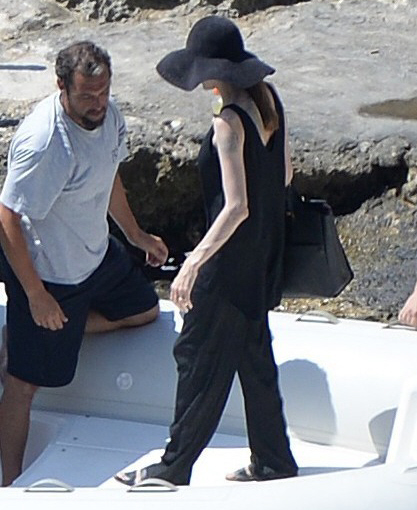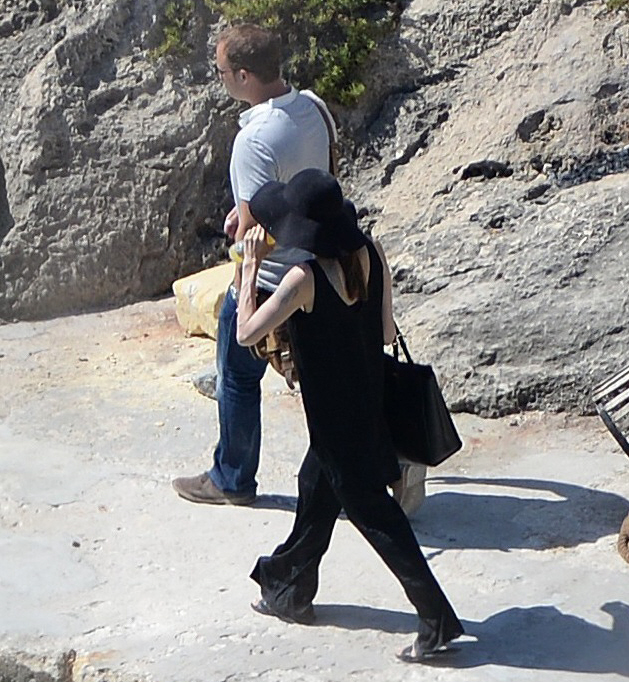 Photos courtesy of Fame/Flynet.