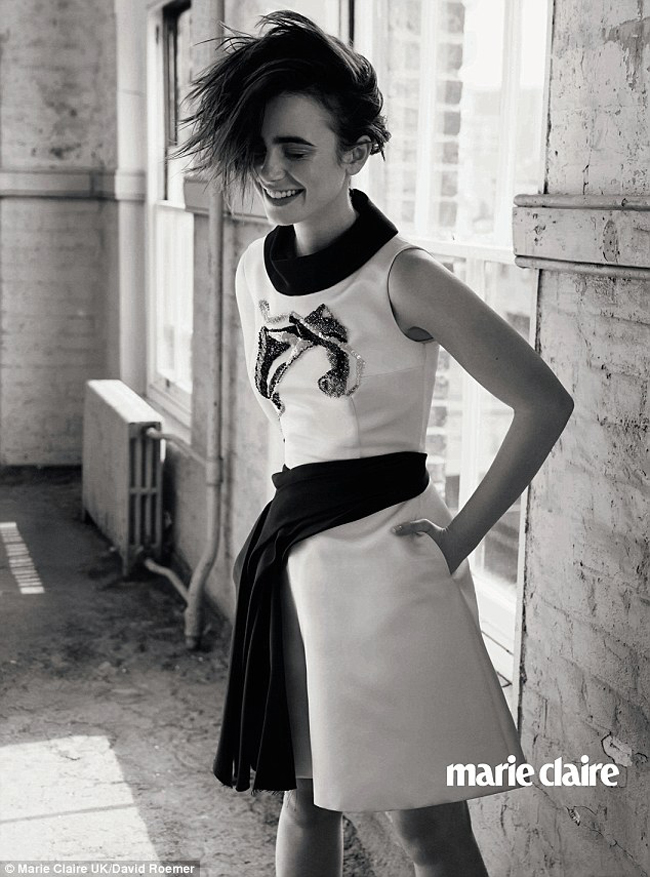 Lily Collins covers the October issue of Marie Claire UK to promote Love, Rosie. I guess she's trying to be a romcom queen after Mortal Instruments didn't perform well. She's cute, and she has a fetching English accent. As does Sam Claflin, her co-star. Suki Waterhouse makes her film debut in this movie. Suki plays the girl that comes between two friends who secretly love each other. Typical 20-something romcom.
I like what's going on in this shoot. Lily has a new bob, and Marie Claire styled it to look slightly punky. She talks a lot about media perception and how her career is exploding (it's not). She admits losing out on Gossip Girl and being upset about it. Lily still doesn't believe nepotism had a hand in jump starting her film roles. I don't blame her for feeling that way. We'd all be defensive on the subject in her position. Imagine going on a press tour and having everyone ask about "Sussudio." Journos keep asking over and over again. Lily answers differently this time:
KStew & JLaw's media reps: "It's definitely not normal. There are preconceived ideas about them and the media wants to prove them wrong or find fault in them. They feel that, because they've known them since they were young, there is an ownership of their personal life. Jennifer and Kristen have done such a great job of navigating that; they're witty, strong, funny, cool, young women. It's really just nice to see that it's possible to go through something like that and still be genuinely awesome people."

Talking out against nepotism: "When I first met with agents I was asked, 'Well, what makes you so special? Everybody in LA is a cousin or a daughter of someone.' At the beginning, that was the most interesting thing about me. Now I've done eight films, it's an afterthought. I get kids who say, 'Oh, I love your movie, but my mum loves your dad.' It's really nice to be able to share that with him, but it doesn't define who I am career-wise."

The one that got away: "I tested for Gossip Girl. I wanted to be in it so badly, I thought at the time it was the end of the world. But now I think, 'well I would have got pigeon-holed, have had to move to New York, leave high school and be signed away for six years. I wouldn't have done the films I've done, and everything would have been so different."

She didn't know her dad was famous: "We'd be at dinner and people would come up for autographs and I thought, 'Why do they want Dad's?' I remember one day I asked him the stupidest question: I'm like, 'Did you ever do a music video?'. I had no idea."

She's single: "I'm working and enjoying finding out who I want to be. You can never rely fully on someone else to complete you. I think making somebody else your everything is adding way too much pressure; needing somebody to feel complete is a dangerous thing."
[From Marie Claire UK]
Lily is perfectly civil in this interview. She's probably had some media training after stories of a bratty ego circulated. She did seem a bit "above it all" on her last media tour, but she seems more grounded now.
Here's the Love, Rosie trailer. It looks like a clichéd romcom.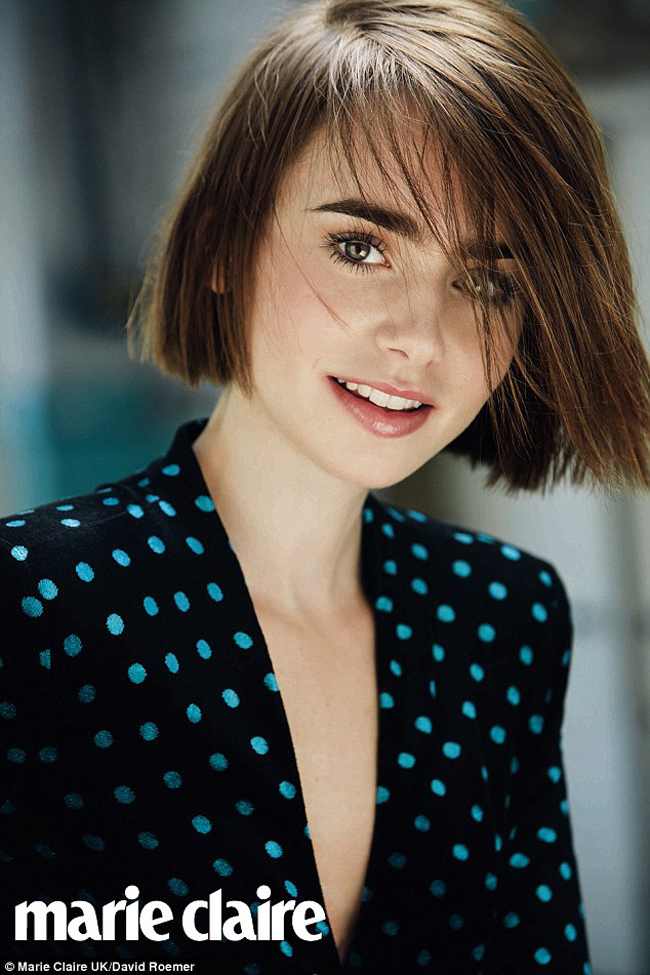 Photos courtesy of Marie Claire UK