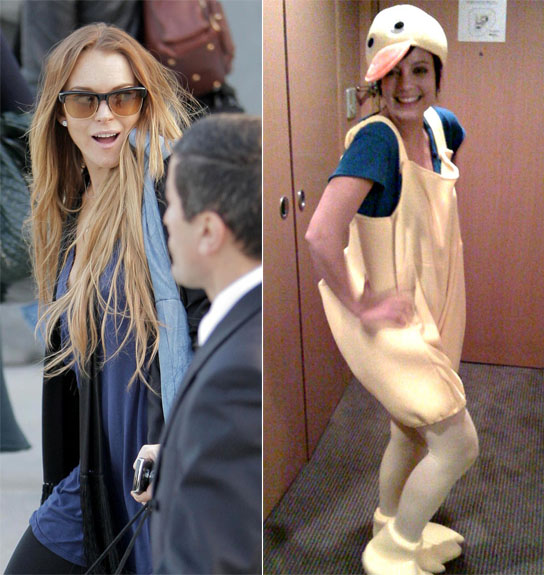 What a combination. Lily Allen and Lindsay Lohan, BFFs who recently got matching "Shhh" tattoos on their left index fingers (just like Rihanna's, though I doubt she approved the tats, Lindsay told E! she didn't even know it was a Rihanna tat until after she got it), will be going on vacation together and possibly recording an album. Vacation would be a couple's affair, with Samanthan Ronson going as well. And if she tags along, I assume Lily's new man Tom Dinsdale will also be joining them in the Bahamas. Considering that Lily bragged about making out with twin lesbians at a party and the fact that Lindsay has an unstable relationship, get ready for some major drama between Samantha, Lily, and Lindsay.
The singer, enjoying her fourth week at the top of the singles chart with The Fear, said: "I signed my publishing deal at Stringfellows and had a private dance. One of the naked ones.

"And I went to Spearmint Rhino the other day — for six hours. I've had lapdances there. It's fun. I like having a chat with the strippers."

Last month she also confessed that she once "snogged lesbian twins on a couch in San Diego".

No wonder she has become such good friends with wild child actress Lindsay Lohan.

The pair have got so pally during Lil's latest promotional stint in the US that they are planning a holiday together. A source said: "They have been getting on really well and they're planning a summer escape, along with Lindsay's girlfriend Samantha Ronson.

"They've discussed the Bahamas, and are also planning a trip to the Coachella Music Festival in April to see Amy Winehouse perform."

And it looks like the young stars, who have got matching 'Shhh' tattoos, are planning to mix business with pleasure.

The source added: "They've discussed making a record together, possibly at a pre-arranged studio, while they're away on holiday."
[from The Sun]
Somehow, this actually seems right to me. I may be crazy, but their songs might actually be good. I was not a fan of Lindsay's album when it came out – was anyone? – but she didn't have a terrible voice. It was just so distorted by the sound mixers and synthesizing that her voice came out sounding like a cross between Britney and Paris. Lily Allen's music tends to be much breezier, and her light voice alongside Lindsay's gravely one might just work. If the vacation doesn't end in relationship disaster, perhaps we'll have something new to listen to on the radio. At the very least, I'm sure there will be some Amy Winehouse-esque stories of tourists' stolen beverages and naked guitar playing.
Lily Allen is shown playing dress-up in Japan. Credit: Fame and her Twitter. Lindsay Lohan is shown shopping on 2/25/09. Credit: WENN.com