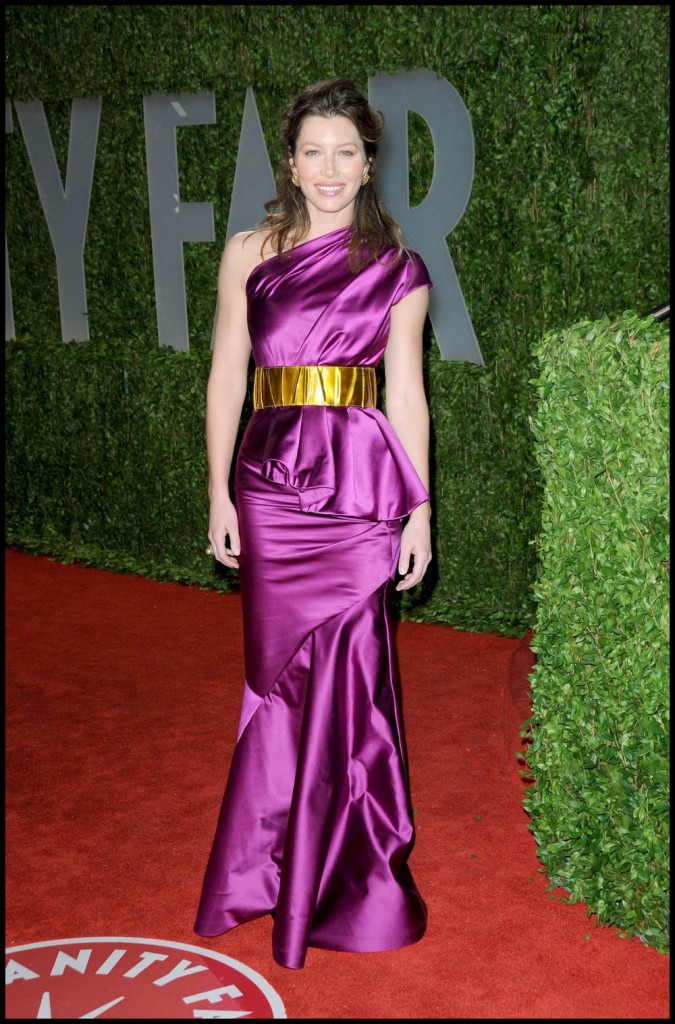 Jessica Biel needed some good press after her disastrous showing at the Oscars, where it appeared she was wearing a satin boob-napkin accessorized by dirty, stringy hair. Hopefully, she fired her stylist and her hairdresser and called her publicist in an attempt to change the subject away from being on everyone's worst dressed lists.
Bippity-boppity boob-napkin, we have a nice, friendly story in OK! about how Justin Timberlake's mother just loves Jessica. This actually isn't the first time that mama's boy Justin's mother has been discussed in a tabloid story about Jessica. Last year, Celebitchy reported that Justin's mom was blocking his wedding to Jessica. Mm-hm, sure. Then there were the reports that Justin bought Jessica an engagement ring in Rome. Right. When will Jessica Biel realize that just because she leaks "impending engagement" rumors to the press, doesn't mean Justin wants to marry her. OK! has more:
The two most important ladies in Justin Timberlake's life, mom Lynn Harless and girlfriend Jessica Biel have become super close since the couple moved into their $2.9 million NYC duplex — which they furnished with $25,000 worth of merchandise from ABC Carpet and Home — this month.

"Lynn and Jess seem really tight," says an insider who saw the pair at the W Hotel's backstage lounge before Justin's William Rast fashion show at NY Fashion Week.

Jess, 27, and Justin, 28, are planning to celebrate his success at Fashion Week with a beach vacation. And a second source tells OK!, "they ordered black his-and-hers Havaianas flip-flops with their initials."
From OK! Magazine
I wish I could spend $25 K on home furnishings, but if you consider all of the furniture they needed, that amount is probably too small. Am I being to harsh on Jess and Justin? They just seem… there. I could understand Justin and Cameron Diaz, they made some kind of sense. Maybe he and Jessica just seem boring on purpose, as a way to avoid media attention. But if that's the case, why do we always get these pro-Biel stories strategically leaked?
Here is Jessica Biel at the Oscars and at the Vanity Fair Oscar Party, where she also wore an ugly dress. Credit: WENN.com