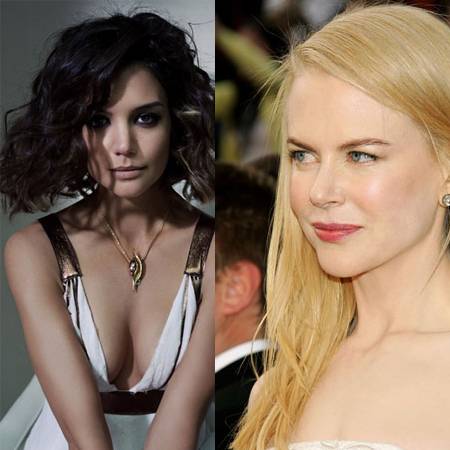 According to OK! Magazine, Katie Holmes and Nicole Kidman are fighting over Kidman's two children with Katie's husband, Tom Cruise. Nicole wants Katie to know she's their real mother, and is said to be angered by the young bride's role in her children's life.
OK! tells the story of how Isabella Cruise, 14, immediately visited a salon in Sydney when she was in Australia visiting her mom Nicole, and had blue streaks put in her hair. Tom and Katie would have been livid, they claim, and would never have allowed Isabella to dye her hair blue under their watch.
"In a million years, I can't imagine Bella doing that while at home," a friend of Tom and Katie tells OK!. "As the so-called weekend parent, it seems Nicole may be letting Bella get away with things that wouldn't fly at home in Beverly Hills." The reason? According to an insider, Nicole isn't happy about how close her kids are to Katie….

Close TomKat friend Jada Pinkett Smith recently referred to Katie as Isabella and Connor's mom in a magazine interview. "She's a great mother," Jada, 35, said. "Her kids – Connor, Bella, Suri – are some dynamic children and are extremely happy."

While Nicole's spokeswoman Catherine Olim tells OK!, "I doubt Nicole even saw the Jada Pinkett stuff," other sources insist she not only knows of it but was hurt by it. "It was a pretty thoughtless thing for Jada to say," a top studio executive tells OK!. "Bella and Connor only have one mother, and Nicole's it!"
[From OK! Magazine print edition, May 28, 2007 via Sammie's Effluvia]
There was a story in February that Katie Holmes was overheard telling friends that she didn't approve of a dress that Bella was going to wear to a party, calling it "too grown up" for her, but that Isabella told her that Nicole said it was OK for her to wear the dress.
Katie was said to have mentioned to friends that she needed to call Nicole to make sure she approved the outfit. She put in a phone call, and Kidman told her that she agreed and that Bella shouldn't wear the dress.
At the time, UrbanDK said it meant that Kidman and Holmes were raising the kids together, but in retrospect it sounds like they have at least some drama in their dual-mommy roles.
I'm not sure if OK! has an insider information here, or if they're just jumping to conclusions based on the known fact that Bella dyed her hair right after arriving in Sydney. Still, it's not much of a leap to think that Kidman might resent Katie's role in her children's lives. They live with Tom and Katie and she hardly gets to see them.