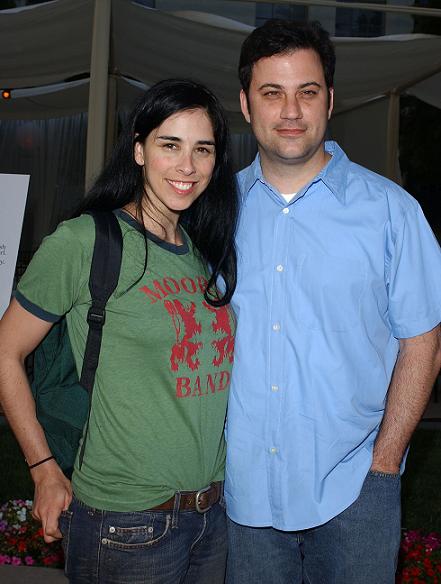 Just days after Jimmy Kimmel and Sarah Silverman confirmed their breakup, Jimmy poked fun at himself while dressed like Rosie O'Donnell on a segment of "The View." Jimmy fielded questions about the breakup from the co-hosts and tried to keep the mood light. But you can tell by his body language that it's an uncomfortable topic for him. Or maybe he's just uncomfortable with the leggings, clogs and black wig.
Jimmy Kimmel showed up on "The View" Monday, dressed in drag as former co-host Rosie O'Donnell, and fielded questions about his recent, second break up with longtime girlfriend Sarah Silverman.

"The View" is in Los Angeles this week, and Kimmel walked about in a wig, clogs and wedding ring for his two-segment appearance.

Sherri Shepherd told Kimmel they feared he would no-show when news broke of his split.

Kimmel said, "The only thing better than breaking up is going on 'The View' right after you break up."

Asked what happened, Kimmel said, "What do you think happened? I'm a 41-year-old man with a bra filled with Koosh balls. I'm an imbecile. She couldn't date an imbecile anymore."

Walters then pressed him if it's really all over, to which he sputtered, "I don't know, I mean, you know, I think, I don't know. Ask her. I don't know what's going to happen."
I actually think Kimmel is more attractive than the actual Rosie – he definitely has better hair! It had to be tough to sit there and take these questions about something so personal, but to Jimmy's credit, he did so with a smile. I am one of those people who hopes Jimmy and Sarah get back together – but if they keep getting together and breaking up, there has to be a reason.
Pictures are older images from when Silverman and Kimmel were together in 2005. Images thanks to BauerGriffinOnline.