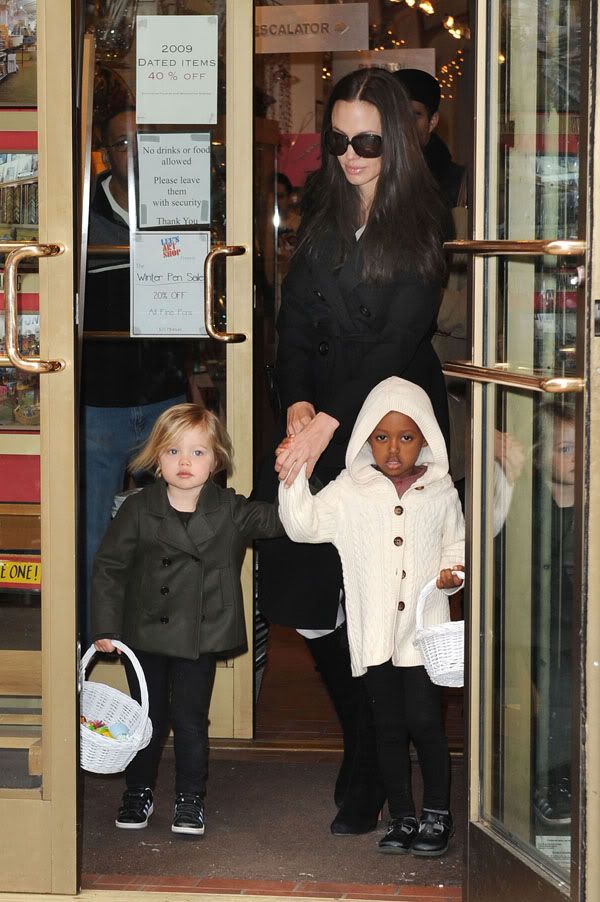 Shiloh doesn't have enough playmates, so she had to make one up. She has an imaginary friend named Amy, whom Shiloh claims "she likes more than Knox and Viv" according to a source who supposedly spoke to Star Magazine. To be fair to Shiloh, Knox and Viv are probably still too little to really play with. And Shiloh's big sister Zahara probably bosses Shiloh around something horrible.
When Brad was on Oprah, he told a few stories about his kids. One of those stories was about how Shiloh was obsessed with Peter Pan, and wanted to be called Peter. Has Shiloh's little fantasy changed? Is she off Peter Pan and now only interested in "Amy"? It's Star, so anything could be possible:
Brad Pitt and Angelina Jolie have added another kid to their brood — Shiloh's imaginary friend, Amy!

A source close to the couple says their 2-year-old daughter's closest confidante is a made-up pal. "Shiloh says she likes Amy more than Knox and Viv," says the source.

And at dinner time, Shiloh often announces, "Amy's not hungry," and pushes away her own plate!

So far, reasoning with the tot has proved useless. Two cute!
From Star Magazine
If Shiloh pushes away her own plate and says that Amy's not hungry, maybe she wants to be called Amy. I did that when I was little too, I wanted a different name and so I would tell my parents that they should call me Diane.
It's interesting that Shiloh has five siblings and yet she still either makes up imaginary friends or imaginary identities. She probably has a really great imagination, and may just be copying her actor parents. Fifteen years from now Shiloh will be screaming at Angelina "I learned it from watching YOU!" as she embarks on her one-woman cabaret show "Call Me Amy".
Shiloh, Zahara and Angelina are shown out in NY on 2/18/09. Credit: WENN.com