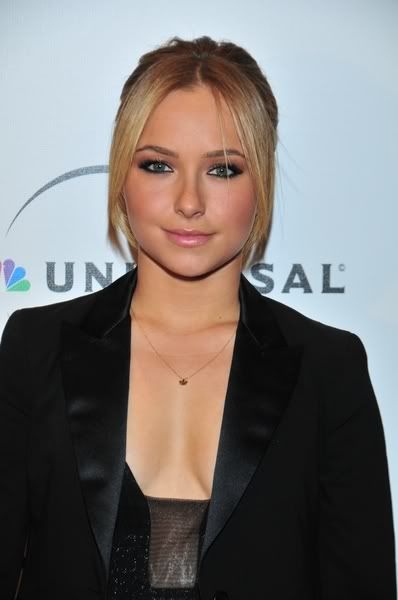 This week, Heroes star Hayden Panettiere left the ivory tower as a media darling. It started out with an outing for a charity in Hawaii, in which Hayden was allegedly (or not so allegedly, since multiple sources confirm it) very unpleasant to the media on the red carpet. Apparently, the cause of some of Hayden's angst was her fear that people would ask her awkward questions about her split with Heroes co-star Milo Ventimiglia.
The next scandal was a report coming out of OK! Magazine. OK! claimed that Hayden was trying to force Milo off Heroes because it was so awkward between them on set. Even though I think overall her behavior has been rather rude, I gave her the benefit of the doubt. After all, she is only 19 years old, and everyone has a bad week.
Now Hayden is trying to do some damage control. She gave an "exclusive" interview to OK!, and the quotes are actually pretty good. The girl either has a really great publicist, or she has naturally good instincts about the right thing to say:
The headlines in the past few weeks have been a bit rough toward Hayden Panettiere with one magazine accusing the Heroes star of lashing out at a reporter during an event in Hawaii and with sources telling OK! of on-set tension between her and former boyfriend Milo Ventimiglia.

However, when OK! had the chance to get Hayden's side of both stories, we jumped at the chance.

"Milo and I are very close," the 19-year-old beauty explains to OK!. "We have enjoyed and continue to enjoy working together."

OK! also heard from Heroes honcho Tim Kring, who said that his stars' relationship status has nothing to do with how he and his staff plot the NBC hit. "The final decision about which characters live and die on Heroes rests with me," he tells OK!. "I've made no announcement yet as to who will return and who won't."

As for the alleged outburst against a tabloid reporter in Hawaii, Hayden says it's all been blown out of proportion.

"I have tremendous respect for the media and reporters – particularly the press who treat the people they are interviewing with dignity," she says. "I am appreciative that the press has supported me, my career, and especially the causes I feel passionately about. While in Hawaii, one reporter grabbed me suddenly from behind and frightened me. It happens. Typically, the press has treated me with great respect."
From OK! Magazine
Alright, I'm going to give her the benefit of the doubt about the Hawaiian incident. Hayden is a very small (and very young) girl, and I can totally see how being grabbed would freak out any woman, especially a petite girl who would have felt physically threatened. All in all, I think Hayden just had a bad week.
Hayden Panettierei s shown at a Super Bowl party on 1/31/09. Credit: PRphotos