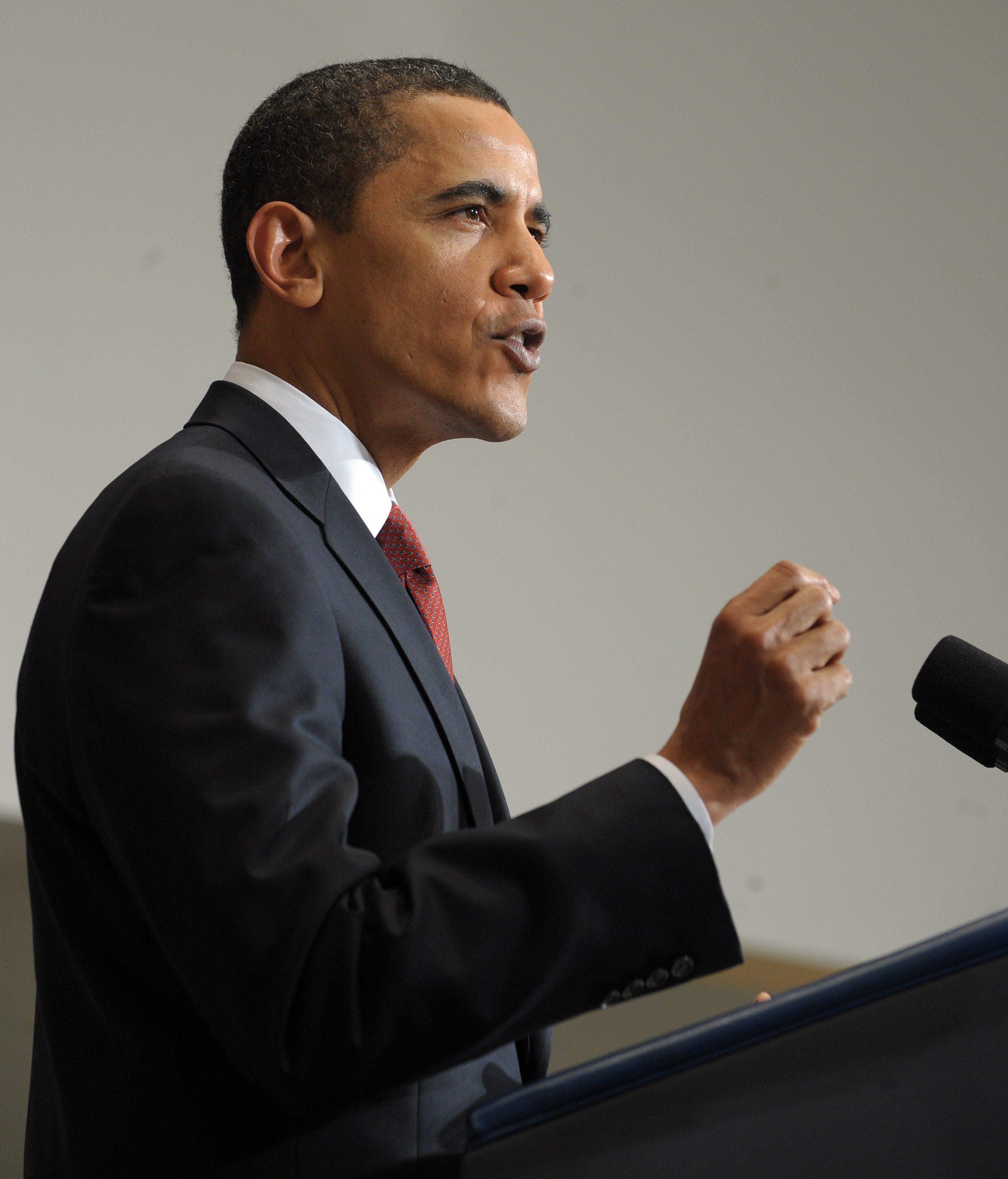 President Barack Obama has described himself as a "mutt" before, usually when describing the kind of dog he wants. When asked, Obama replied "A mutt like me." Part of Obama's appeal is the idea that he is multi-racial, thus he transcended the traditional ideas of what is black and white and in-between. So is it such a surprise that Obama has a wee bit o' Irish in him?
The folks at Ancestry.com did the research, and found that Obama's ancestral links to The Kearneys, a family of cobblers in Moneygall, Ireland. Many of The Kearneys immigrated to America in the 1840s, and one of them, Fulmouth Kearney, ended up being Obama's great-great-great-great-great-great-grandfather. And the president still has relatives in town too! There's some guy claiming to be his eighth cousin in Moneygall, Ireland. The man's friends even tell him there's a family resemblance. The Los Angeles Times has more:
Until recently, Moneygall's most famous son wasn't even human. It was a horse, Papillon, who streaked to the title as a long shot in a nail-biter at Britain's prestigious Grand National race in 2000. But for months now, the modest sign marking Papillon's achievement has been muscled aside by pictures celebrating the new hero in this tiny pit stop on the Dublin-to-Limerick road: President Obama — or, as they like to call him here, Barack O'Bama.

An out-of-the-blue call from the United States, some yellowing church records and an iPhone-toting priest have earned bragging rights for Moneygall as the "ancestral home" — one of them, anyway — of the leader of the free world.

How the family connection came about is the quintessential story of America as a nation of immigrants and Ireland as a land that supplied them, including Obama's great-great-great-granddaddy on his mother's side, a cobbler from Moneygall. How the tie was unearthed more than 100 years later and how news of it spread across the globe is a testament to 21st century instant communication, Obama's star power in Europe and the natural gregariousness of the Irish. Since the discovery of its link to Obama a little less than two years ago, Moneygall (population 298) has been catapulted out of its sleepy backwater and into the international spotlight.

Camera crews from distant countries flocked to the village during the U.S. presidential race, eager to capture reaction at the neighborhood pub, between pints of Guinness, to Obama's primary and election victories. "There's No One as Irish as Barack Obama," an infectious song by a Limerick-based band, became a YouTube sensation and landed the group a recording contract.

Moneygall's merchants, including the glazier and a plumbing company, have happily seized the opportunity for some self-promotion, plastering Obama's face on their ads. Tourists from France and Germany have stopped by to pay their respects. A politician, meanwhile, wants to erect an Obama heritage center. It's the most attention ever lavished on the village, where you can find two pubs, a small general store, an ice cream vendor, a car dealership and a single traffic signal, if you don't blink.

Many of the visitors knock on the door of Henry Healy Jr., 24, the genial spokesman of Obama's current-day Irish kin. According to local records, Healy's great-great-great-great-great-great-great-aunt was Obama's great-great-great-great-great-great-grandmother.

"So there's a definitive blood link between our family and Barack Obama. It makes
me an eighth cousin," declared Healy, a full-blooded Irishman with brown hair and blue eyes.

"The resemblance is uncanny," his friend Stephen Neill added.

"Uncanny," agreed Healy.
[From The Los Angeles Times]
The LAT story is really long, but it's a pretty good read if you like funny stories about how the Irish are "claiming" Barack O'Bama. Moneygall's Protestant rector was the one to sort through the genealogical records and come up with definitive "proof" that the President has the luck of the Irish. The rector also calls Obama "a great man of God."
President Obama has even remarked that he would like to visit Moneygall one day, something that would please them to no end. Moneygall focused on the American elections more than they paid attention to their own.
For a really sweet St. Patrick's Day treat, check out the music video Moneygallians Gerard, Brian and Donncha Corrigan made called "There's No One as Irish as Barack Obama". Sample lyric: "He's as Irish as bacon and cabbage and stew / He's Hawaiian, he's Kenyan, American too."
Here's the president speaking in Washington DC yesterday. Images thanks to Newscom.