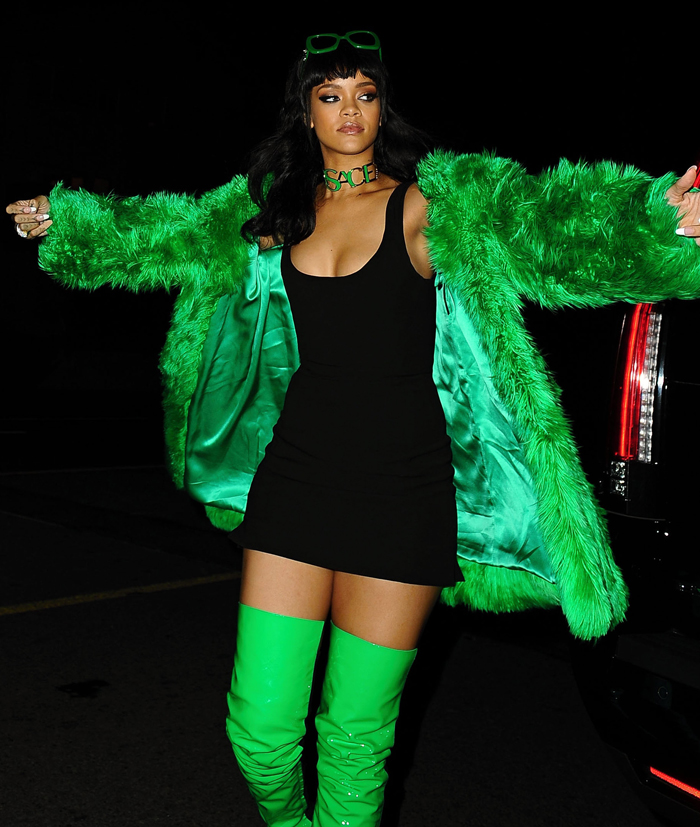 The title of this post is somewhat misleading because Rihanna doesn't write most of her songs. She claims occasional co-writing credit, but she's usually the voice and face for other people's lyrics, which is fine. Rihanna's doing well for herself and bringing in money regardless (although other disgruntled artists have tossed shade about her not being a real "artist"). Rih's latest single, "Bitch Better Have My Money," was written by Bibi Bourelly. Kanye West helped produce.
About a week ago, Rihanna dressed up like a Muppet to perform the song at the iHeartRadio awards. "BBHMM" has created an enormous amount of dialogue for what could be considered a simple club tune. Rihanna pranked Jimmy Kimmel (by waking him up on April Fool's Day) and said her video will explain the meaning of the song. Vulture described it as "a slice of rachet heaven." Lainey called it an "equality anthem". A columnist (and Yale grad student) named Barbara Sostaita at HuffPo wonders if it's a call for reparations that carries far-reaching implications. All of these theories are interesting to consider.
There's more scrutiny, some of the not-so-positive variety. Some people wonder if Rihanna (by way of songwriter Bourelly) plagiarized this catchy tune. Fans of rapper Just Brittany noticed that Rih's song sounds a lot like JB's 2014 "Betta Have My Money." Brittany's song can be heard here; and for comparison's sake, Rihanna's song is here. Both songs reportedly took inspiration from a monologue by Fly Guy from the I'm Gonna Git You Sucka (a blaxploitation parody film). The similarities between Rihanna and Just Brittany's songs are undeniable. But as Styleite notes, AMG, Drake, and Tyga have all sang or rapped similar lyrics that reference the same movie. So did Rihanna's songwriter plagiarize, or are all of these songs simply paying homage to the same source?
Here are photos of Rihanna looking gorgeous during her Kimmel visit last Friday.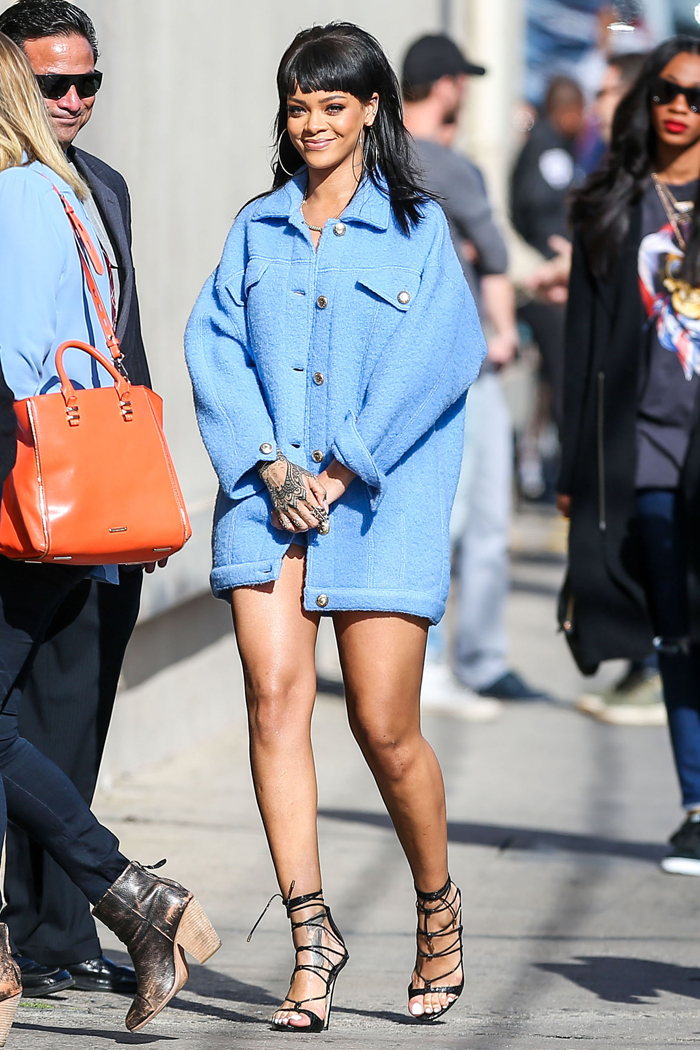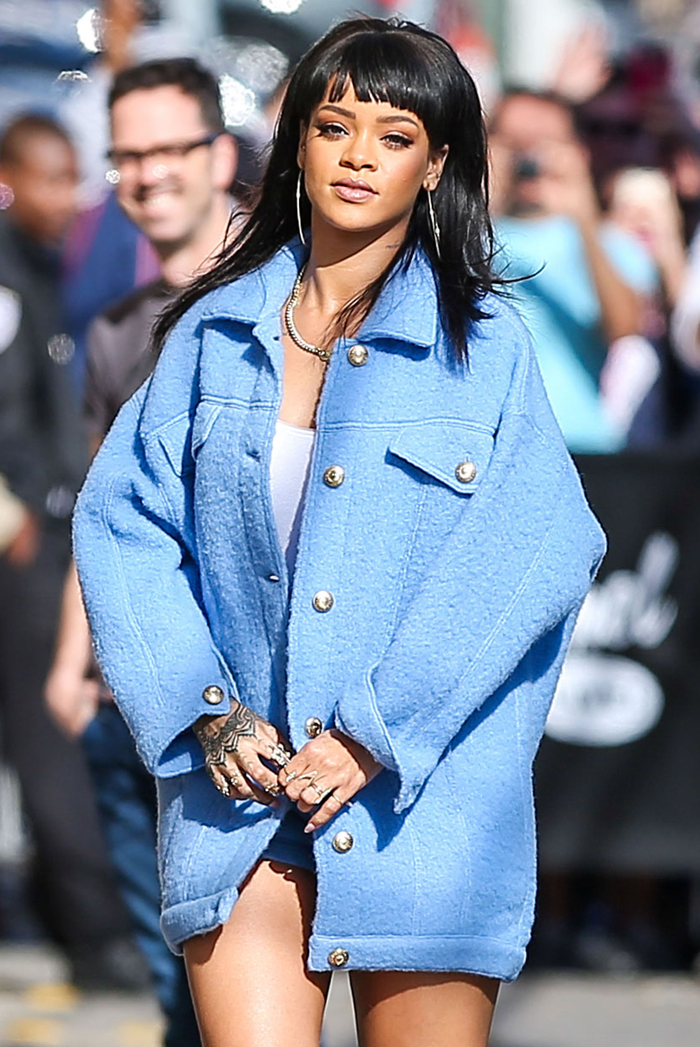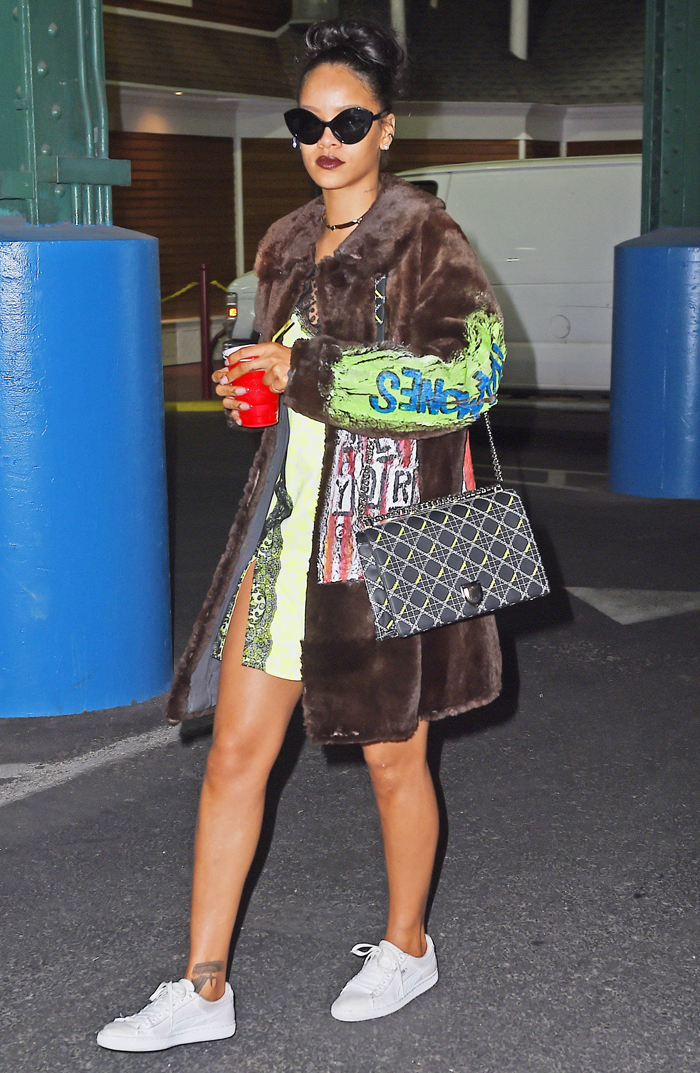 Photos courtesy of Fame/Flynet & WENN