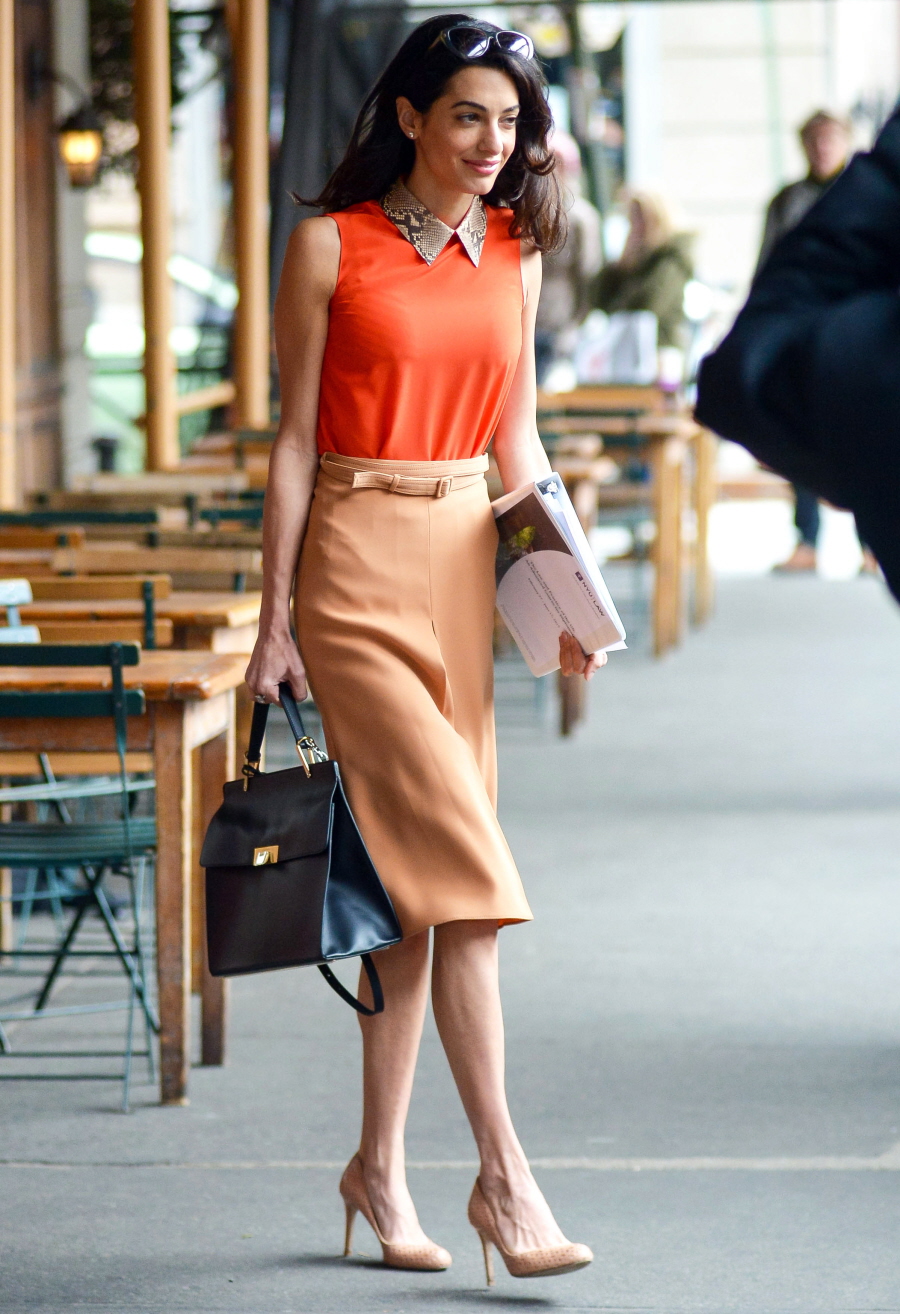 Here are some additional photos from Amal Clooney's pap-friendly walk in NYC earlier this week. I found out that the skirt and blouse are both Gucci. I still don't like the ensemble – I think it's "off" for her coloring. Unfortunately, we don't have any photos of Amal and George out last night – according to Page Six, they had dinner with Justice Sonia Sotomayor. Amal and Justice Sotomayor are seemingly old friends/colleagues – Amal worked as a student law clerk for Sotomayor for a semester while she was at NYU.
Yesterday, The New York Times published a puff piece called "How Amal Clooney Took New York". Much of it reads like a fever dream of George Clooney's publicist, but I was shocked to find there was actual information in the article! Like, they got quotes from designers, there was shade thrown at George Clooney's ex-girlfriends, and they had a very interesting story about Amal meeting the cast of Mad Men. You can read the NYT piece here. Some highlights:
Teaching at Columbia. Apparently, all of Amal's students are "under strict orders not to discuss her or anything about her class," said a student who declined to give her name. Amal did a slideshow for her students too.

Meeting New York tastemakers. Amal had a private lunch with Anna Wintour, plus Amal and George had dinner with Tina Brown at Brown's home. Brown told the NYT: "I think she has a natural charm. She talked about her cases. She is serious about her work. She is not into being a socialite."

The Politician's Wife: "There is perennial talk, too, that Mr. Clooney, 53, will seek political office. And in New York his wife has perfected the camera-ready pose of a political spouse: head tilted to the left as she strokes her luxurious tresses and parts her lips just so while slipping quietly into the back of a black sedan."

Peggy Siegel, "the doyenne of New York publicists," has an opinion: "All of a sudden George has this new stature of being married to a glamorous woman who is intelligent."

Bonnie Fuller, the editor in chief of HollywoodLife.com: "People wonder what did she have that his other long-term girlfriends did not."

Amal enjoys Manhattan: Amal lived in NYC through the early 2000s and she's been telling people how much she enjoys being back in Manhattan.

Giambattista Valli loves her: Amal has been wearing a lot of the designer's clothes, and Valli says he met Amal through Anna Wintour. Valli tells the NYT that Amal does not have a stylist, that she shops for herself and has come to his showroom to try on clothes in private. He also said: "She is not a reality-show girl. Finally there is someone with a mind and legs. She is very spontaneous. She is not the kind of woman who programs."

Amal shops vintage: She stopped by What Goes Around Comes Around and picked up a "Chanel knit dress and a mink fur baseball cap."
A mink baseball cap? Amal shops for herself? She has brains AND legs? And for someone not interested in being a socialite, she sure does love to go out to dinner with all of the important people of New York, right? But maybe they mean she doesn't want to "entertain" and be a "hostess." Darling, she doesn't cook. She's not a hostess. She's not planning your party. If you're lucky, she will ATTEND your party.
And the Mad Men story… Amal and George happened upon the cast of Mad Men and George went over to the table and asked the actors if he could introduce them to Amal. Amal was apparently very "excited" to meet the cast because she loves Mad Men. The NYT makes the point that John Slattery was in the group. Um… you guys know who John Slattery is married to, right? Slattery's married to Talia Balsam, otherwise known as the first Mrs. Clooney (Balsam also plays Slattery's on-screen ex-wife on Mad Men). I would LOVE it if Talia and Amal met. Wouldn't that be amazing?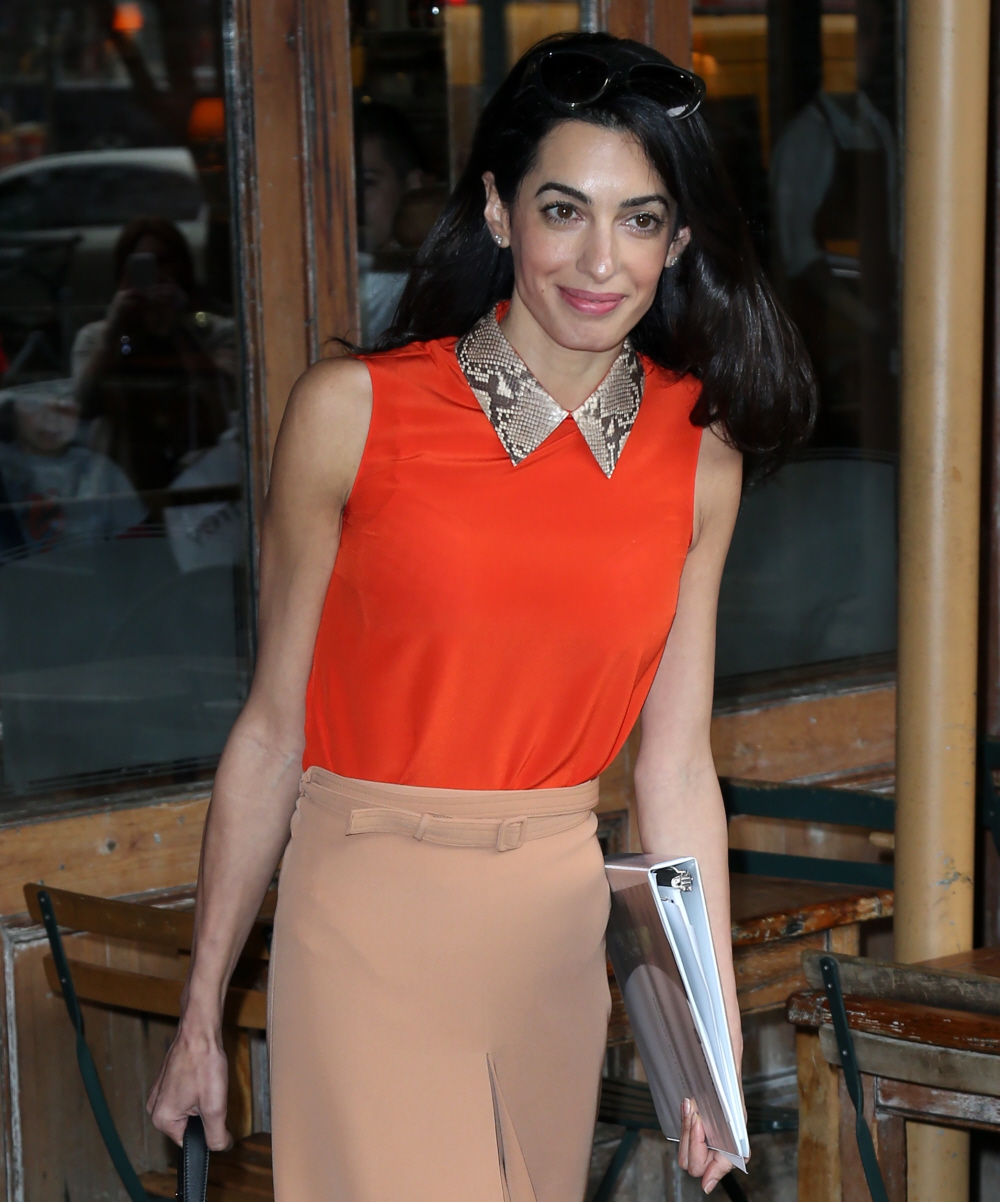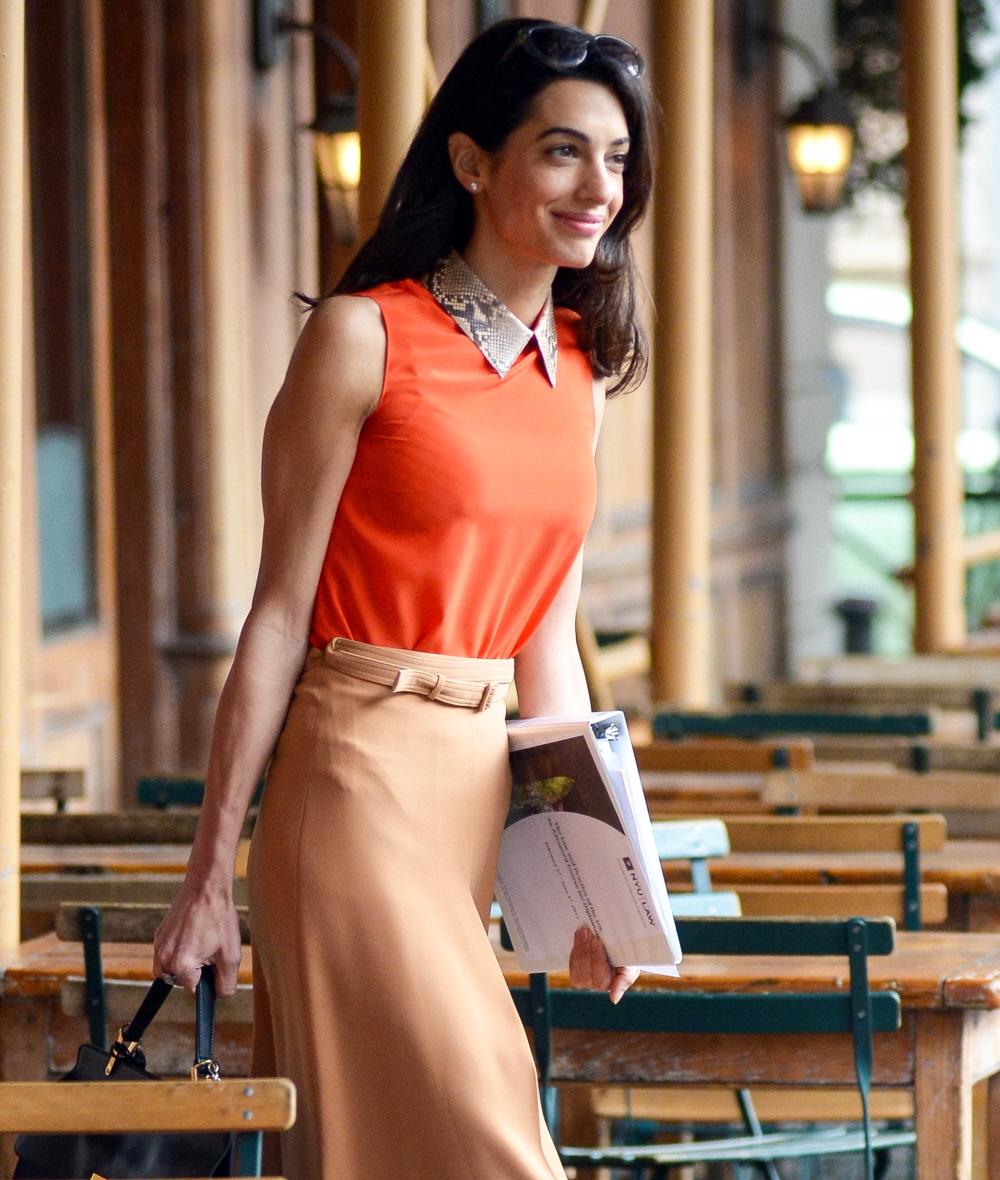 Photos courtesy of Fame/Flynet.