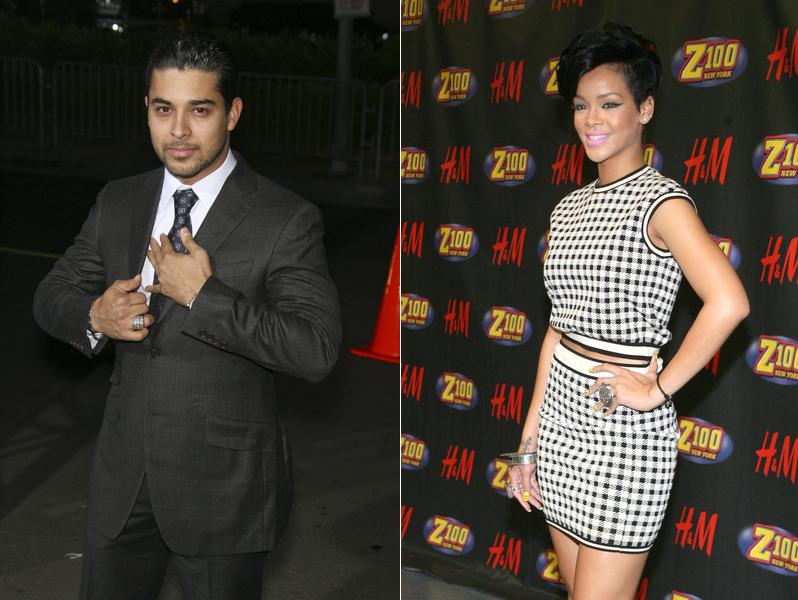 Wilmer Valderrama is one of the most legendariest manwhores in Hollywood. That's right, he's so legendary I had to make up a new word to describe him. Legendariest. He is the skeeziest guy around. He is so skanky and gross, and generally only dates nearly as gross women. He just oozes slime.
According to The Mirror, Wilmer was hitting on Rihanna hardcore. And she didn't seem totally disgusted like she should have. There were absolutely no reports of her screaming "sick!" and running away from him. I find this upsetting.
If Rihanna wants to make her fella feel Browned off, she's going the right way about it. She was seen getting "pretty cosy" with Wilmer Valderrama at the Geisha House in Hollywood last Wednesday. Wilmer, star of That 70s Show, hosts weekly karaoke nights there. We hear he made a beeline for 21-year-old Rihanna when she walked in.

Our spy says: "Rihanna looked so pretty and Wilmer could hardly take his eyes off her.

"They were chatting and laughing for ages. They looked pretty cosy and relaxed in each other's company. Wilmer was all charm and even had a bottle of champagne for Rihanna."

She wasn't even put off by his impressive track record. Wilmer once dated Lindsay Lohan and has been linked to Paris Hilton, Ashlee Simpson and Mandy Moore. Phew! It was the second time that week that Rihanna was out partying without boyfriend Chris Brown, following their pre-Grammys bust up.

And she didn't seem to miss him…
[From The Mirror]
It's great Rihanna is moving past Chris Brown, but don't go from one bad decision to another. Rihanna is so talented and beautiful. Why is she attracted to such terrible men? Someone needs to make her see that she is worthy of a man who treats her like a queen, and nothing less.
In other Rihanna news, she's been spotted house hunting throughout the Hollywood Hills over the last few days. She's moving up in real estate – now it's time to upgrade the men, too.