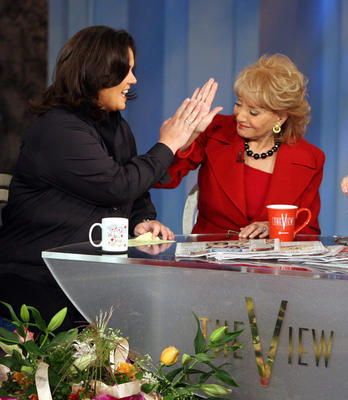 In case anyone wanted to know what Barbara Walters thought about not getting the Paris interview, here it is in her own words, as posted by the New York Post in an interview with Cindy Adams:
"Look, I've done prison interviews before, but people like the Menendez Brothers were really important news stories. This wasn't. And even though I'd already written my questions, when all that pay-for-play stuff happened, I suddenly felt this was not up to my standard. It . . . felt . . . sort of . . . tawdry. The whole thing somehow was beneath me. Besides, it was a no-win. If I did a tough piece and her tears started to flow, it would be, 'Oh, there's Barbara Walters making people cry again.' Too soft, and I'd be criticized. [ABC] they wanted it. For them it was ratings. For me it was respect. I'm fortunately at a point in my life where I can choose what I want, and this was solely my decision. But I must tell you how classy ABC was. They didn't try to force me or say they'd place it on Nightline, or give it to someone else to do or any of the things they could have done. They respected my decision and walked away. Some agreed with my decision, some didn't. For me it was just a question of respect."
I think Barbara is being very classy in her way of handling this. And I am glad that she sees that this is not the be all and end all. Paris was thought to be giving her first interview to NBC, who denied reports that Paris was getting paid 1 million for the interview. Now it has been reported that she will be going on the Larry King Show this Wednesday. She has released this official statement regarding the interview:
"I am thrilled that Larry King has asked me to appear on his program to discuss my experience in jail, what I have learned, how I have grown and anything else he wants to talk about. Larry King is not only a world-renown journalist, but a true American Icon. It will be an honor to do his show."
TMZ is also reporting that Paris plans to build a transitional home when she gets out of jail. The home would be a place where just released inmates can get back on their feet and out of the whole in and out of jail cycle, by having a place to stay, food to eat, clothes on their backs to help them get on their way. AND Paris also says she wants to start a fresh, and get rid of her old toxic friends. Whew. Hard to keep up with her, and she's still in jail. Can't wait to see the circus once she gets out!