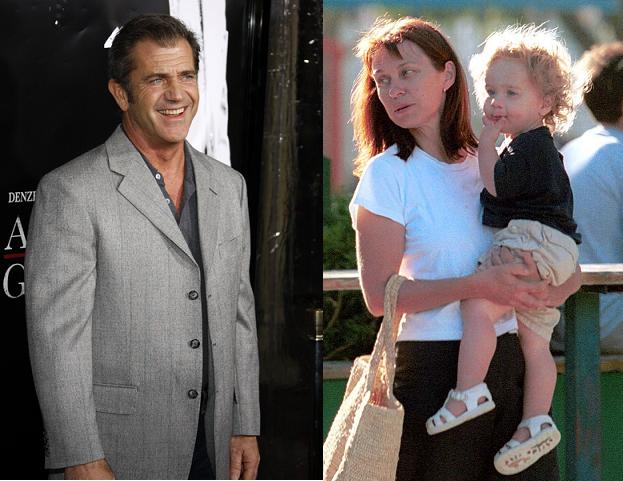 Robyn Gibson, long-suffering wife of Mel Gibson, reportedly spent $50 million more than she was supposed to on the family's new Catholic Church when news of her husband's infidelity hit the tabloids again. After new photos of Mel and his mistress frolicking by the ocean in Costa Rica made the rounds, Robyn decided to take a new, passive aggressive approach to her husband's cheating.
Scandal-scarred Mel Gibson is paying a high price for humiliating his wife with his womanizing – in fact, sources say he's paying more than $50 million!

That's how much Robyn Gibson has spent after silently suffering through Mel's liaisons with other women and other betrayals. With Mel refusing to consider divorce, Robyn has enraged him by spending his fortune.

In his latest indiscretion, Mel was caught kissing a beautiful bikini-clad young woman on a beach in Costa Rica. Shocking photographs showed the star cuddling with the shapely brunette and frolicking in the surf with her.

But sources close to Mel's wife say that she has found a way to get revenge.

Robyn has been overseeing the building budget for Holy Family Chapel. While Mel wasn't paying attention, she spent close to $60 million, say sources who reveal the original budget was $10 million.

"Holy Family was long seen as Mel's redemption for his alcoholism and cheating," confided an insider. "Mel thought that sinking a fortune into his church would show how sincere he is about leading a religious life."

But he never dreamed Robyn would allow the cost to get so astronomical, said the insider.

The "Braveheart" star, 52, entrusted Robyn – who handles the family's finances, since he's often off filming – with the business aspects of building the chapel near their home in Malibu, Calif., and that's when the trouble started, said the source.

"Mel's original budget was $10 million. But Robyn's spent close to $60 million, and the church isn't even finished!" said the source.

Robyn's unhappiness over Oscar-winning Mel's DUI arrest in 2006, his string of extramarital hijinks, and their sons Edward's and Christian's rehab stints in 2007 have played a huge role in her overspending, claims the insider.

"Robyn's been so distracted that she skipped meetings with the contractors. That caused delays in construction and meanwhile, the workers were still getting paid.

"Logical or not, Robyn is letting that church go way over budget as her way of making Mel pay."
[From The National Enquirer print version, April 6, 2009]
This story sounds a little weird to me. I was under the impression that this church was Mel's big vanity project – previous reports claim that he was very involved in the construction of it. But perhaps the new movie he's working on, along with his young mistress, have taken precedence lately. You'd think that if Robyn Gibson really is fed up with her husband, she wouldn't be investing extra money into his vanity project- she'd be storing it away somewhere for herself, in the event that they do split up. Whether this story is true or not, it can't be easy for Robyn. She and Mel have been married for 28 years through many ups and downs. For him to be so casually about this relationship with another woman has to hurt.
Here's Robyn Gibson with one of their kids in 2000. Images thanks to Fame Pictures .