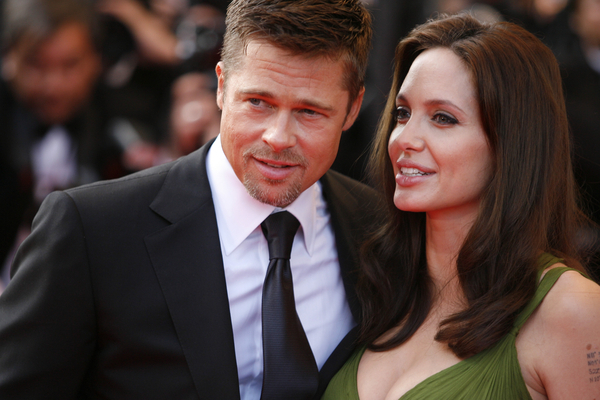 Brangelina will be saying "bonjour" to the South of France for the third year in a row. Quentin Tarantino's WWII film Inglourious Basterds has been accepted at the Cannes Film Festival, and the film will be appearing in competition for the Palm d'Or (like, Best Picture of the festival). Brad Pitt is expected to show up to shill the film, most likely with Angelina there to hold his hand. People has more:
Brad Pitt is going to Cannes – and means to win.

The star's WWII action film, the intentionally misspelled Inglourious Basterds [sic], has been invited to this year's May 13-24 Cannes Film Festival, and the film's director, Quentin Tarantino, has not only accepted the call, Variety reports, he's agreed to allow the picture into competition.

The trade paper further reports that Tarantino has promised the Weinstein Company and Universal that his Dirty Dozen-style adventure about Jewish-American commandos battling Nazis will be ready in May. The movie is scheduled to open to the public Aug. 21.

A Cannes premiere – and possible prize – helps launch word of mouth. Basterds will mark Tarantino's fifth time out in Cannes – but only his second time at vying for the fest's top prize, the Palme d'Or. His Pulp Fiction took that one in 1994.

In recent years, Pitt has become a regular at the world's largest film festival. After turns for Troy and Ocean's 13, he appeared on last year's red carpet alongside partner Angelina Jolie who was there in support of her movies Changeling and Kung Fu Panda.
From People Magazine
Actually, People had the title spelled "Bastards" but I still think Tarantino is going with "Basterds". The film already has an American release date – in August of this year. They seem to want to make the film into a late summer blockbuster. It might work… both Pitt and Tarantino have devoted followings and the film's supposed to be really, really violent. Perfect for teenage boys… and their mothers?
Brad and Angelina are shown at Cannes last year, 5/15 and 5/19/08, when she was pregnant with the twins. Credit: PRPhotos