Royal Scandal: The Queen embraced Michelle Obama first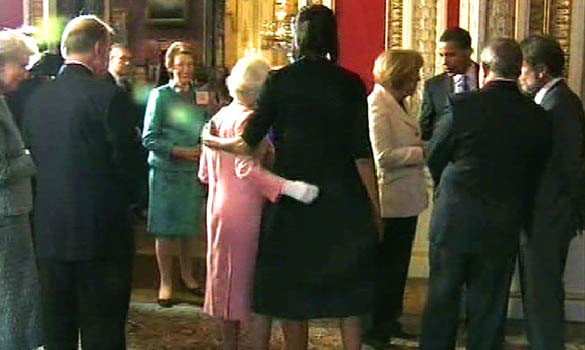 By now, most people have already seen or heard about the incident. It's an image that was plastered over news shows for a full day – the image of First Lady Michelle Obama and Queen Elizabeth with their arms around each other. The Queen has her hand on the small of Michelle's back, and Michelle has reached over and put her arm across the Queen's shoulders. But what about the "no touching" protocol? Won't anyone think about the protocol? It's scandalous!
There's some late-breaking news about all of this. Various sources (American and British) are saying that the Queen was the one to break protocol first. Allegedly, the Queen and Michelle were standing very close together when the Queen commented on how incredibly tall Michelle is. As the Queen spoke, she reached over and touched Michelle's back, letting her hand rest on the small of her back. Then Michelle reached over to embrace the Queen as they spoke. Glad that's settled. The Daily Mail has a version of these events:
She is not renowned for public displays of affection. Which made the Queen's decision to put a friendly arm around Michelle Obama's waist at a Buckingham Palace G20 reception – prompting the U.S. President's wife to return the gesture – so utterly astonishing.

Finding herself next to Mrs Obama, the Queen remarked on their height difference. As she did so, her hand edged towards the small of Mrs Obama's back. Mrs Obama responded – and even rubbed the Queen's shoulder – before both women moved gently apart after about ten seconds.

The sight of the Queen publicly hugging another woman astonished other guests. An onlooker said: 'It was a pretty simultaneous gesture. We couldn't believe what we were seeing.'

It was an electrifying moment of palpable majesté: A breach of centuries-long protocol when the friendly and outgoing Michelle Obama put her arm round the Queen.

It now appears, however, that it may have been the Queen who made the initial move. In any case, it was the first time that anyone can remember in her long public life that she has put her arm around another woman.

'A mutual and spontaneous display of affection and appreciation,' was how a Buckingham Palace spokesman hastened to describe it.

But the protocol concerning the sovereign has been set in stone for generations. 'Whatever you do,' courtiers are apt to warn, 'don't touch the Queen.'
From The Daily Mail
Ah, so everybody had a good freak-out and now it's over. Hopefully. The Queen looked so small next to the Obamas. Perhaps the Queen simply doesn't care about protocols anymore, and she just wanted a cool American girlfriend.
It seems the Queen wasn't the only one who wanted to be Best Friends Forever with Michelle. The First Lady spent several hours on Thursday visiting a girls' school in London. Footage from the event made me cry, I will admit that freely. The girls' school has a 90% minority enrollment – a lot of those girls looked a lot like Sasha and Malia. The girls were so pleased to be performing for Michelle, and so many seemed overwhelmed to meet her. The Daily Mail has more:
There were hordes of screaming girls jostling to meet her – the sort of welcome usually reserved for pop stars. Michelle Obama proved a huge hit yesterday as she visited a London girls' school for the first solo outing of her trip to Britain.

The U.S. First Lady was nearly knocked off her feet with adoration at the Elizabeth Garrett Anderson Language College in North London. But far from being overwhelmed, she wrapped her arms around pupils and punched the air in appreciation as they performed.

She tapped her feet through dance performances and watched intently during a modern-day staging of The Tempest. Bringing a very American feel to the occasion she applauded with hands held high and high-fived one pupil before taking to the podium for her own motivational speech.

At Elizabeth Garrett Anderson School, some 55 languages are spoken by around 1,000 pupils, with about two-thirds of the girls speaking English as a second language. The school prides itself on helping disadvantaged girls succeed.

Mrs Obama, a graduate of Harvard Law School, choked up as she told her rapt audience the world needs 'strong women'. She said: 'I am an example of what is possible when girls from the very beginning of their lives are loved and nurtured by people around them.'

'I was surrounded by extraordinary women in my life who taught me about quiet strength and dignity. You too can control your own destiny, please remember that. Whether you come from a council estate or a country estate, your success will be determined by your own confidence and fortitude.'

Her speech inspired more screams from her attentive audience. Before she left, she stopped to hug as many pupils as she could and was mobbed by excited girls as she leaned over the stage to greet as many as possible.

Sabrina Chowdhury, 16, was one of the first to get an embrace from Mrs Obama. She said: 'Her speech was spectacular. There are so many girls in our school who need that kind of motivation. It moved us to tears. When she came in it was like the room lifted.'
From The Daily Mail
Michelle also told the girlsthat President Obama "is going to be very jealous of my afternoon. He's meeting with important people, but it's not as much fun as being here." She ended her speech, directing an emotional word to the staff and the students – "These girls are terrific. The school is phenomenal, and you all should be very proud of what you have created … You are precious and you touch my heart… you touch my heart." And yes, people are already comparing Michelle Obama to Princess Diana. I think it's all the hugging and crying. All I know is that I need a tissue.
Here is footage of Michelle visiting the school:

Photos from the Obamas visit with the Queen are thanks to WENN.com. Header image from Timesonline
Written by Kaiser

Posted in Michelle Obama, Queen Elizabeth II, Royals

- The Blemish interviews Carmen Electra [The Blemish]
- Rumer Willis joins Pretty Little Liars [Lainey Gossip]
- Morgan Freeman falls asleep during interview [D-Listed]
- Fug or fab: Isla Fisher [Go Fug Yourself]
- Tamra Barney confirms spinoff [Reality Tea]
- Movie franchises that rebounded [Pajiba]
- Why Dylan McKay is the perfect boyfriend [Buzzfeed]
- Saoirse Ronan could have been a Lohan [Evil Beet]
- GIFs from Cannes [Popsugar]
- Cat massages a dog [CDAN]
- Heather Graham is so pretty [Celebslam]
- What is Lucy Hale wearing? [Moe Jackson]
33 Responses to "Royal Scandal: The Queen embraced Michelle Obama first"