Charlize Theron doesn't have ticking biological clock; does want kids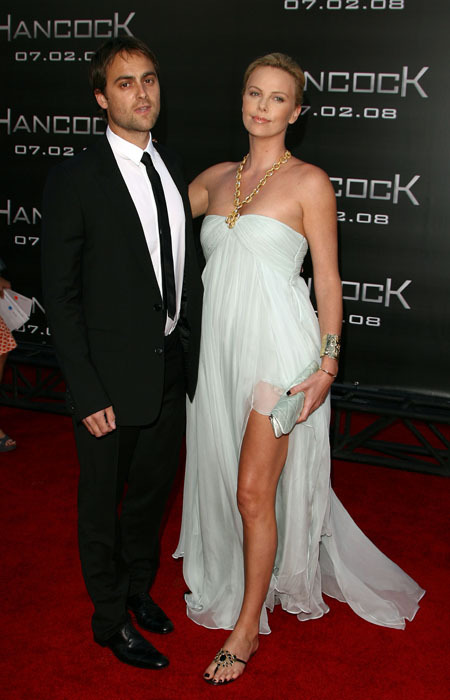 A few months ago, there were some rumors about the state of Charlize Theron and Stuart Townsend's relationship. After the initial flurry of gossip, nothing really happened, and it looks like those break-up reports were either false, or the couple weathered whatever minor storm they had. They've been together for more than eight years, and Charlize has said several times that they feel like they're already married, and have no need to make it official. She's also been vocal of her support for gay marriage, saying that she wouldn't even consider getting married unless homosexuals could too.
Now Charlize is talking babies. She gave an interview to Marie Claire (quotes via Showbiz Spy), and she's saying that although she doesn't feel a biological clock ticking, she and Stuart both want kids. Since she's been with Stuart, Charlize says "I don't feel like I'm in survival mode anymore. I feel like it's OK, I can breathe, so I'm very grateful to him." So when can we expect the babies?
Charlize Theron wants to be a mom.

The Battle in Seattle star – who is currently dating Irish actor Stuart Townsend – says she is keen to have a baby, but is no rush to get pregnant.

She tells Marie Claire magazine, "I've always known that I wanted to be a mom. I love children. I've always loved children. But I'm not like, 'Oh my god, I really must have kids right now.' I've never felt this pressing urge that some biological clock is ticking. We both want to be parents one day, but I've no idea when that will be."

"Since I've been with Stuart, my vulnerability has become something I'm more comfortable with. I think there's a part of me that is very much a survivor. I don't know if it was in my genes, I don't know what it is. But I guess being young and starting out in a sense of, 'I'm not going to be a wallflower, and I'm not going to be messed with.' That was the only way I knew how to survive at that time."

"But all that has changed since I've been with Stuart. I don't feel like I'm in survival mode any more. I feel like it's OK, I can breathe, so I'm very grateful to him."
[From Showbiz Spy]
I totally get where Charlize is coming from, especially when she's talking about her own vulnerability. I'm the same way with a lot of men. I have that self-destructive "fight or flight" thing that comes up, and I totally mess up relationships because I find it so difficult to be vulnerable. It's cool that Chalize has found someone who takes her as-is. Stuart's always seemed like a decent guy, one of those modern men who isn't intimidated by his girlfriend's star power, fame, or money. He just seems to love her, and that brings a little tear to my cold, self-destructive heart.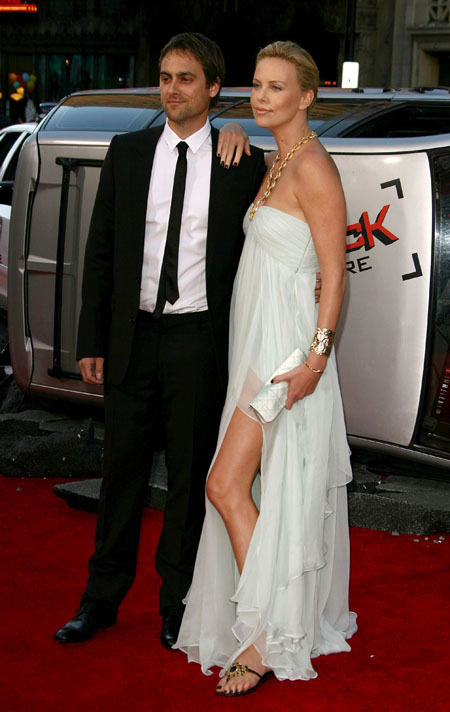 Here are Charlize Theron and Stuart Townsend at the LA Premiere of Hancock on 6/30/08. Images thanks to Fame Pictures .
Written by Kaiser

Posted in Babies, Charlize Theron, Marriage, Stuart Townsend

- Mariah Carey lip synced on American Idol [CDAN]
- Colin Firth is looking good [Lainey Gossip]
- Internet celebrity charged with murder! [D-Listed]
- What is Paz Vega wearing? [Go Fug Yourself]
- New bachelors on The Bachelorette [Reality Tea]
- Goodbye to The Office [Pajiba]
- Bachelor Sean's fiance cheats on him [Evil Beet]
- Britney Spears out with her man [Popsugar]
- Nina Dobrev works it [Popoholic]
- Cindy Crawford needs to lay off the 'tox [Celebslam]
- Who said it: Carrie Bradshaw or The Dalai Lama? [Buzzfeed]
11 Responses to "Charlize Theron doesn't have ticking biological clock; does want kids"