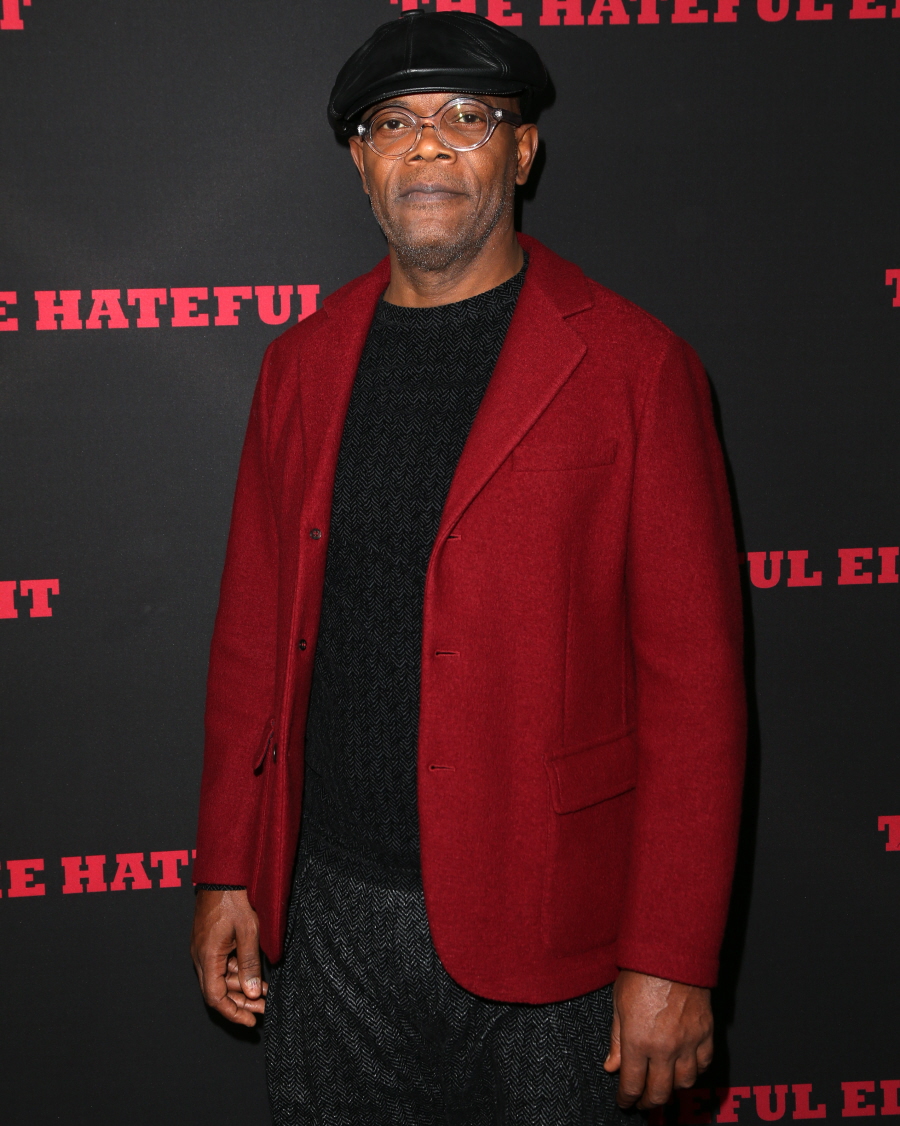 I'm sort of depressed about Samuel L. Jackson. By all accounts, he gives an amazing performance in The Hateful Eight, but he's not really part of the awards-season conversation right now. Part of that is by Sam's own design – I didn't know this until right now, but Sam is not a "believer" in the Oscar campaign process, so he doesn't care one way or the other if Harvey Weinstein will put any money into a possible Best Actor campaign. Still, there are signs that Sam is playing the game. A little bit. Mostly, I think he just loves Quentin Tarantino and Sam is genuinely proud of The Hateful Eight, so Sam is happy to give interviews and shill wherever he's wanted. So he sat down with THR's Scott Feinberg for an awards-season podcast, and the quotes are amazing! You can read the full piece here (you can also listen to the podcast), and here are some of the best quotes:
Not getting an Oscar nomination for Jungle Fever: "When the Oscar nominations came out that year, I didn't get nominated, but there was like three people from Bugsy, so my wife and I said, 'Well, let's go see Bugsy.' And we're sitting there, and at the end of it we're like, 'Really? Really?' And she actually cried about it. And I think that was the thing that kind of broke us about the whole Academy Awards milieu and whatever it is."

Getting nominated for Pulp Fiction: "When I did get nominated, bullsh-t started immediately. All of a sudden there were these phone calls going, 'We're gonna [push] John [Travolta] for best actor and you for best supporting actor because we can't have both of you in the same category. I'm like, 'Okay, whatever that means.' Then, all of a sudden, I start going to these things and people start telling me, 'You were amazing in that movie and I'd really like to vote for you, but [Ed Wood's] Martin Landau's been nominated, like, four times, and this might be the last time he has a chance.'… I was already cynical about it at that point, so the more things I went to that I didn't win, the more I got it… I think I might be the only person that's ever reacted honestly [at the Oscars] when my name wasn't called. Even though you know you're not gonna win, you're sitting there and you're saying to yourself, 'Maybe they're gonna get it right this time — just maybe they'll get it right this time.' And they didn't. And I didn't think about the camera — I just went, 'Aw, sh-t!' Still only 13 people have seen f–kin' Ed Wood!"

Muslims are the new black people: "When that thing happened in France, we were sitting there going, 'Oh, my God, these terrorists!' And I can't even tell you how much that day the thing that happened in San Bernardino — I was in Hawaii — how much I really wanted that to just be another, you know, crazy white dude, and not really some Muslims, because it's like: 'Oh, sh-t. It's here. And it's here in another kind of way.' Now, okay, it happened on an Army base and it happened somewhere else. But now? It's like they have a legitimate reason now to look at your Muslim neighbor, friend, whatever in another way. And they become the new young black men."

He's voting for Hillary Clinton: "I'm forever a Democrat, you know, and I'm gonna vote for Hillary. I mean, I love Bernie — Bernie's a man of the people — but he can't win. So I gotta cast my vote for a person that can keep those other people from winning, okay? Not to mention, you know, Hillary kinda knows the job, she can hit the ground running. She didn't have a huge learning-curve like Barack had or some other people had. And hopefully she can open up the skeletal files of those do-nothing a–holes that go to work, like, four times a year and not vote on things and threaten them with whatever she and Bill uncovered on them years ago and make 'em do something and we can get something done."
There are two more lengthy discussions which you should just go and read in their entirety at THR. At one point, Sam is asked about police violence against civilians, specifically the African-American community, and Sam talks about Vietnam vets who became cops in the '60s and '70s, and how a new generation of soldiers/veterans are becoming cops, and how the war mentality is being brought to community policing. His point of view is really interesting and I do think there's something there (although it's far from the complete picture). Sam is also asked about Tarantino's use of the N-word, because Sam always gets asked about that. Sam always has the same kind of answer too: "It's bullsh-t. What word do they want him to use? How do you describe me in a Tarantino movie if there are rednecks?" Sam also says that Tarantino is allowed to use the N-word, in Sam's mind, because QT has a "black consciousness," which is an amazing way to describe Quentin Tarantino.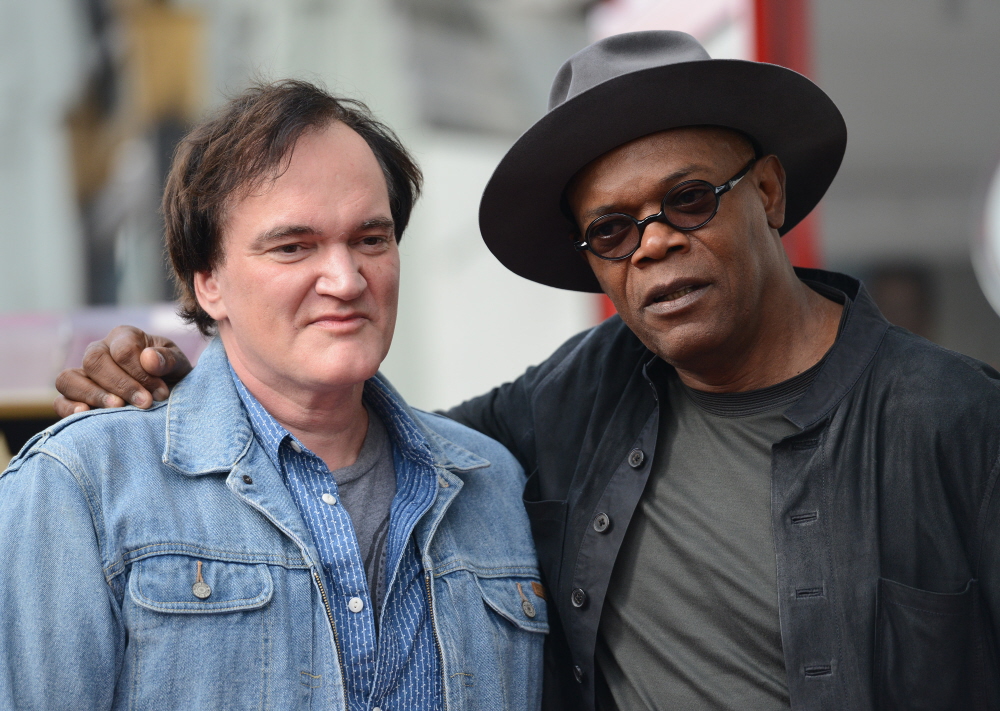 Photos courtesy of Fame/Flynet and WENN.