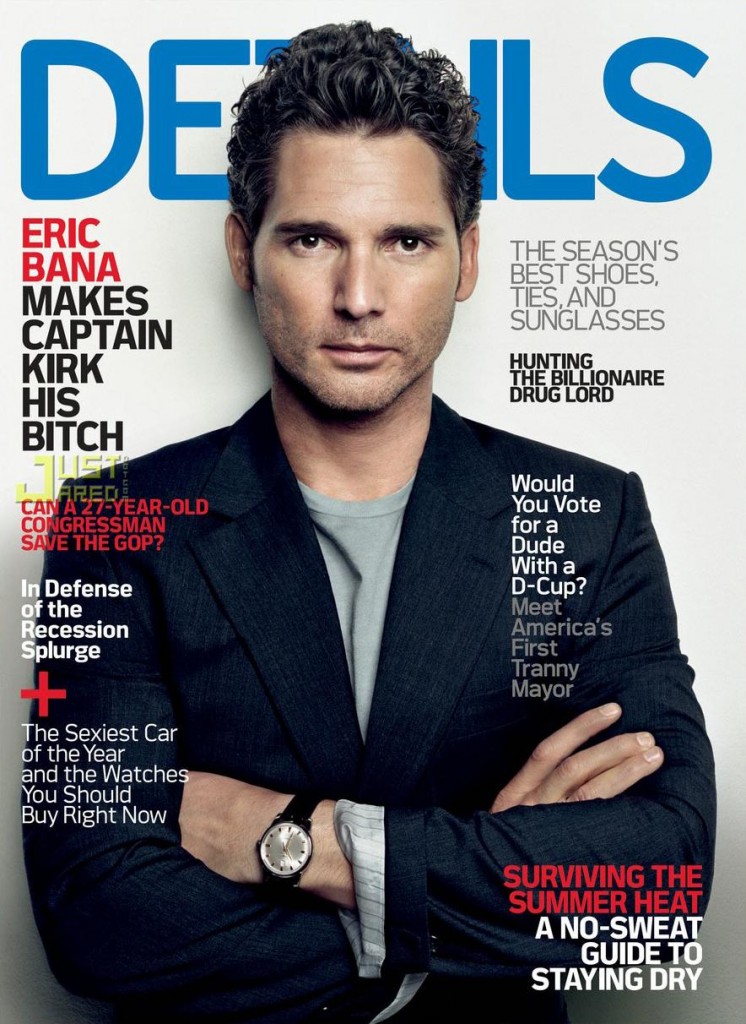 Eric Bana is a sexy bad boy. He's so bad, all of his friends are either dead or in jail. He's so bad, he had to repeat a year in high school. He's so bad, he sets panties on fire. He's so bad, he had his tongue insured for a million dollars. Okay, only three of those are true.
Bana is the May cover boy for Details, which is weird because I didn't think Details put real, manly-men on the cover. Usually they just pluck some pretty boy out of the air, put some makeup on him and tell him to pose like a gay porn star, and bippity-boppity, a Details cover is born! Anyhoo, Bana's cover interview is okay. He's not known as a really great interview, but who cares when you could just look at pictures of him? Sigh. So pretty.
So Bana is trying to convince us that he's a "bad boy". I'll believe it when I taste him- whoops, I mean, I'll believe it when I see it. He talks about drinking, school, et cetera:
Eric Bana may star as the ultimate evil arch nemesis in this summer's Star Trek, but the brooding heartthrob admits he had a streak of a bad boy quality in him growing up.

"I went through a little phase," the Australian actor tells Details in it's May cover story, in which he reveals that he showed up drunk to school prompting his mom to ground him for six months. "But I did a lot better than some of the guys I hung with, who have ended up dead or in jail."

For Bana, 40, getting into mischief during his teen years affected his grades at school, causing him to repeat a year of high school. "It wasn't like I was busting to get into NASA or anything," says the Hulk and Black Hawk Down star.

But now as a husband and a dad with two kids, Klaus, 9, and Sophie,7, Bana confesses that he still is prone to dark moods like everybody else with the daily grind of life.

"I do get incredibly frustrated," says Bana. "I tend to dwell on the negative." But he looks to his wife Rebecca for reassurance. "[She] is great at talking me off the ledge."
[From People Magazine]
I loved Bana in Black Hawk Down - he's such a badass in that film. He's one of the Rangers that comes in and saves the day when all of those Marines are scattered over Mogadishu. I wish he would do more films like Black Hawk, but the fact that he's playing the villain in Star Trek will most likely bring him a new class of fanboy fame. Fanboy fame cannot be discounted, either. Look at the career William Shatner still has thanks to the fanboys.
Here's Eric Bana at the 'Star Trek' photocall in Paris yesterday. Images thanks to WENN.com .