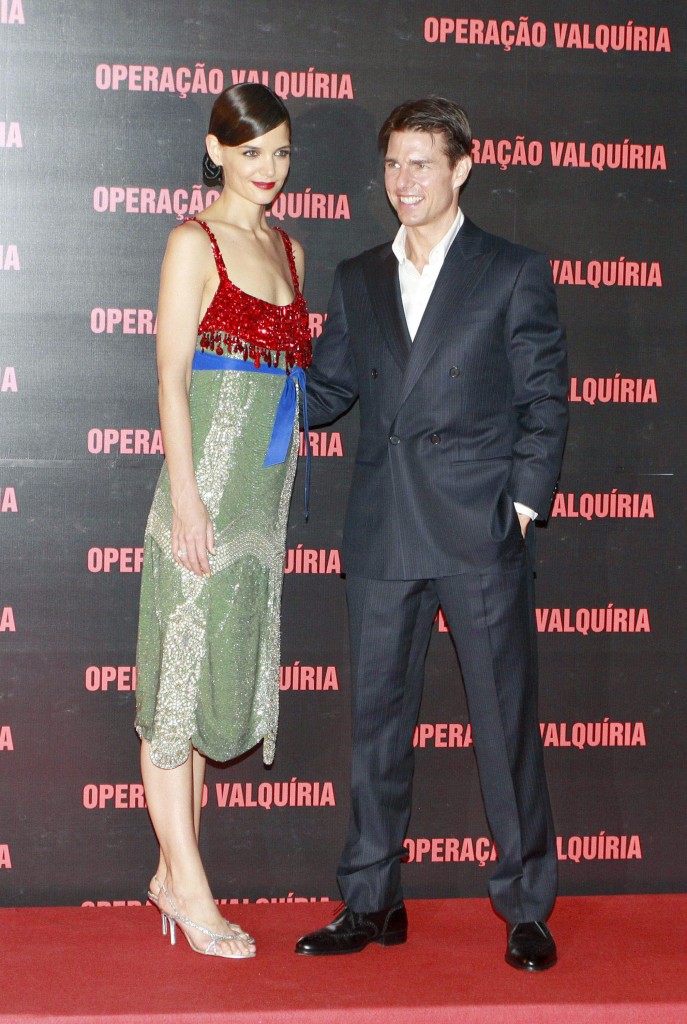 Do people still want to work with Tom Cruise? Apparently, they do. Not only that, studios are shelling out millions of dollars to keep Tom happy. After his neverending Valkyrie press tour, Tom Cruise has been weighing his options for his next role, now that his "comeback" is complete. Tom has no fewer than three films that he's seriously weighing – to the point where studios are spending hundreds of thousands of dollars a week for script re-writes to make Tom happy. Variety has more:
Tom Cruise is narrowing the prospects for his next film, but no matter which he chooses, he has single-handedly propped up the script doctoring biz: Studios have spent millions of dollars in rewrite fees to custom-tailor projects for the star.

The frontrunners for his next film appear to be Dreamworks drama "Motorcade," to be directed by Len Wiseman, followed by Spyglass remake "The Tourist" (with Charlize Theron), to be helmed by Bharat Nalluri, and Fox action comedy Wichita (with Cameron Diaz), which James Mangold will direct. Also still in the mix is MGM's "The Matarese Circle," which potentially matches Cruise with Denzel Washington and helmer David Cronenberg.

No longer in the mix are Universal Pictures/Working Title romantic comedy "Lost for Words," to be directed by Susanne Bier, and "The 28th Amendment," the drama Florian Henckel von Donnersmarck will helm for Warner Bros.

While screenwriters all over town have been taking haircuts on every deal, the script doctors in the Cruise derby have been making as much as $250,000 a week, for two to six weeks, as they hone projects with notes from Cruise. Those writers include Scott Frank, who has been revising the action comedy "Wichita" for Cruise to play an action hero; Richard Curtis, who beefed up "Lost for Words"; and Paul Attanasio, who is now rewriting the rewrite that "Matarese Circle" director Cronenberg delivered.

Meanwhile, Billy Ray continues to hone "Motorcade" with notes from Cruise. Christopher McQuarrie is doing the same on "The Tourist," which the writer is also producing. (Ray and McQuarrie are not technically script doctors because they've been writing these projects for months.) And Alex Kurtzman and Roberto Orci also did some reworking of "28th Amendment," which they originally sold as a spec script in 1999.
[From Variety]
So is Tom just being fussy? Is Tom Cruise the Biggest Movie Star In the World back in town, throwing around his weight? Or is Tom, a known perfectionist when it comes to his film work, just the same as he always was? Lots of stars ask for and receive re-writes, but usually they're only working with one script at a time, and the re-writes really aren't this extensive or expensive. I think the best choices are the one with Cameron Diaz, and the David Cronenberg one. Tom Cruise plus Cronenberg would be really interesting… I would totally pay for that.
Tom Cruise and Katie Holmes are shown on 2/4/09 and 2/21/09 at Valkyrie premieres. Credit: WENN.com