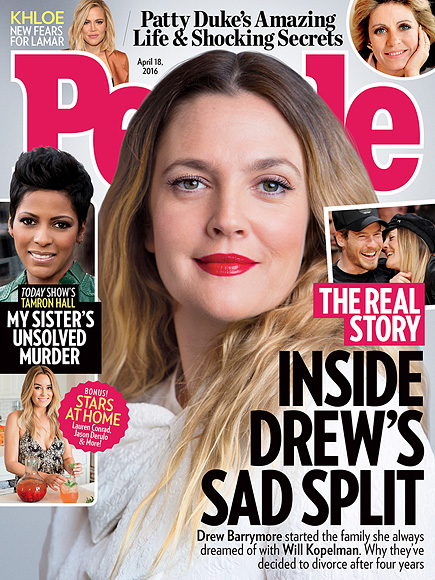 Drew Barrymore's split covers this week's People and US Magazines. Each article mentions that she tried to make her relationship work for some time, that it ultimately didn't fit with what she's looking for in life, and that she and Will are too different to last long term. One thing that both articles emphasize is that Drew is happy to move forward, and this is consistent with what she told PopSugar during her interview over the weekend. It sounds like she's relieved to break the news to the public:
In the new issue of Us Weekly, a source says the pair's decision to separate just two months shy of their fourth wedding anniversary is devastating to Barrymore. Already a two-time divorcée… "she feels like a failure," says the source.

Echoes another friend… "She's disappointed this didn't work. They both expected to be together forever."

But ultimately the pair, who started dating in 2011, couldn't overcome their differences. Former child star Barrymore — who spent her adolescence doing cocaine in the bathrooms of NYC clubs and became an emancipated minor at age 14 — and Kopelman, the 38-year-old straight-laced Connecticut boarding school grad and son of former Chanel CEO Arie and his bride Coco, "are total opposites," says the source. "Things began crumbling shortly after they were married and the relationship unraveled over time…"

Over time, though, acting the part [of wife and mother] became tough for the Flower beauty line and Barrymore Wines founder. Says another Barrymore insider, "Will is this great guy from a stable family and everything she didn't have growing up, but it just wasn't making her happy." – From US Magazine

---

Dividing their time between L.A. and New York City, the family settled into their Park Avenue apartment so Olive could go to preschool. Yet sources say the couple's differences became harder to ignore.

"Will is very organized and disciplined about his life," says an industry source. Barrymore took a breezier approach but threw herself into multi-tasking between her business empire – she created Flower Beauty and Flower Eyewear along with her film production company – and her daughters: "Drew was always busy with her projects as well as being a good mom."

The couple "tried to work through things for some time," adds the insider, before finally deciding to end the marriage. "This was not an overnight decision. They both really wanted to make it work."

While a family source says Kopelman is "saddened," the couple "really are friends," says a source close to the actress. "And they fundamentally agree on everything when it comes to their girls." As for Barrymore, "she's disappointed," adds the insider. "But she's optimistic for the future." – From People
Drew's divorce rollout is very Jennifer Garner-esque, like we're hearing the woman's side (which makes more sense in this case because Drew is the famous one), and it's told across multiple outlets with slightly different wording and the same message. Both parties are striving for civility and putting their children first. It's presented in a way that makes it all very relatable. This is Drew's branding, and you get the sense that she's announcing her return to the public at the same time as her divorce. She wants to reboot her life and her career and get back to what she knows.
Do you remember how celebrity divorce attorney Laura Wasser said there were splits coming at the end of March? I bet Laura represents Drew, although we haven't had confirmation of that yet. Jennifer Garner, who is represented by Wasser, has had several US Weekly covers. I wonder if there's some kind of deal going on there, because Wasser's recent profile specifically mentioned her clients' divorces on the cover of US Weekly. As far as I can find, Drew and Garner don't share a publicist.