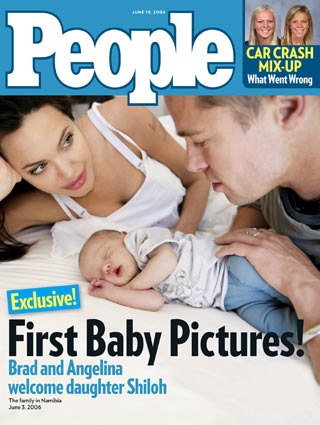 Forbes magazine has a list of the top ten most expensive celebrity photographs of the last decade.
1. Shiloh Jolie-Pitt's first photos – People – June '06 – $4.1 Million
2. Demi Moore and Ashton Kutcher's wedding – OK! – Oct '05- $3 Million
3. Eva Longoria and Tony Parker's wedding – OK! – July '07 – $2 Million
3. Larry Birkhead with daughter Danielynn – OK! – April '07 – $2 Million
3. Pax Thien Jolie-Pitt's adoption photos – People – March '07 – $2 Million
6. Anna Nicole's wedding to Howard Stern- People – Sept '06 – $1 Million
7. Britney's son Sean Preston's first photos – People – Nov '05 – $500,000
7. Angelina and Brad's first photos as couple – Us Weekly – April '05 – $500,000
7. Angelina Jolie's first visibly pregnant photos – People – Jan '06 – $500,000
10. Anna Nicole Smith's son hours before his death – InTouch – Sept '06 – $400,000
Interestingly, most of these photos are deals done with celebrities rather than paparazzi selling their wares.
Angelina Jolie dominates this list, but only during her time with Brad. At the time of her first expensive shot, April 2005 when she first started dating Brad, I couldn't have named three of her movies under pain of torture. But I knew who she had been married to, how many tattoos she had – she's old hollywood glamour, with a bit of modern crazy thrown in. Just a dash of it, take note Britney!
Close behind Angie is Anna Nicole Smith, which Dan Wakeford, the editor of In Touch Weekly who paid for the number 10 photos, explains that "The death of Anna Nicole's son was the massive news story of the moment–it consumed the whole nation, and these pictures were so newsy and so emotive," he says. "This was every mother's worst nightmare, and through these pictures, America could empathize with what Anna Nicole was going through."
Unfortunately, he can't offer an explanation as to how Demi Moore won such a delicious young man at her age, why Anna Nicole Smith lied about the paternity of her baby when her private life had been so public, or even the secret to frizz-free hair on rainy days.