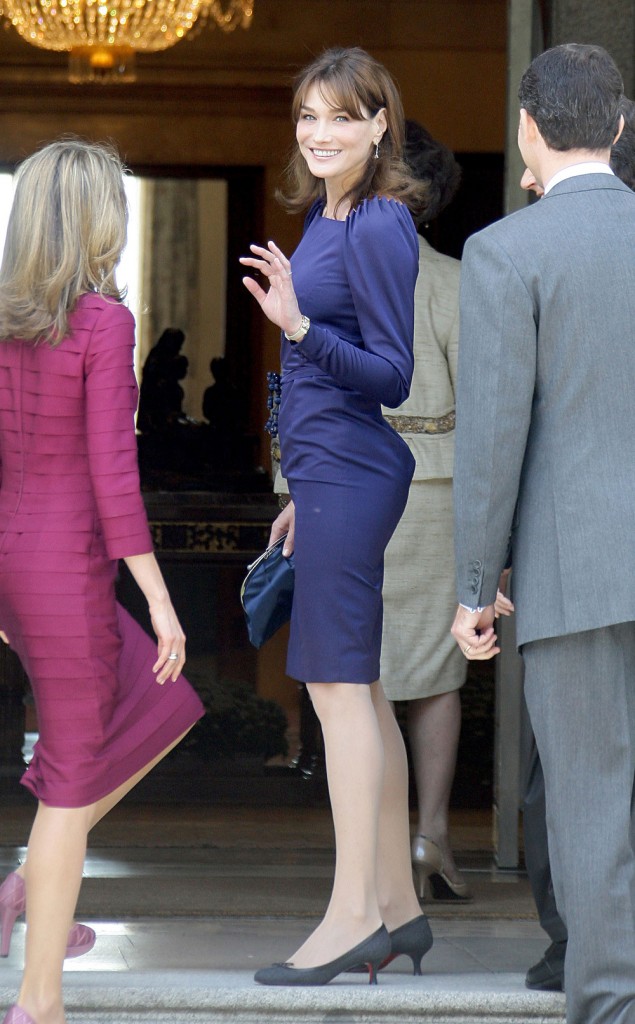 It's always struck me that French President Nicolas Sarkozy knew what he was getting into when he married Carla Bruni. There's something almost admirable about Carla's refusal to be embarrassed by her extensive sexual past, and her two decades of bohemian life. Carla never lied about who she was or what she did – and I, for one, appreciate that.
When she was a model, Carla posed nude many, many times. And before she even met Sarkozy, she had a relationship with a married man, Raphael Enthoven. When they broke up, apparently Raphael still had many photographs and videos of Carla – many of them nudes, or perhaps even a few sex tapes. What to do with a sex tape of yourself with an ex? Raphael decided to hand these items over to his brother, Julien.
Julien's Paris apartment was just burgled – and the thieves got away with the photographs and the sex tapes. Police are investigating, but people feel strongly that sometime soon, a Carla Bruni sex tape will be leaked.
Hundreds of 'highly intimate' images of Carla Bruni and an ex-lover have been stolen during a burglary in Paris. Police fear they could now be made public, overshadowing the French First Lady' s official trip to Spain with her husband, President Nicolas Sarkozy.

The photographs and videos were taken during 41-year-old Miss Bruni's affair with philosopher Raphaël Enthoven – the father of her child, Aurélien, eight.

Thieves broke into the flat of actor Julien Enthoven, who is Raphaël's younger brother. Raphaël is believed to have entrusted the pictures to his 27-year-old brother because he did not want them to embarrass his new partner – or Mr Sarkozy, said a detective working on the case.

'The thieves appeared to know exactly what they were looking for – taking highly intimate prints, a camera full of further images, videos, and numerous computer files,' said the source.

'They broke into Mr Enthoven's flat in Rue Dauphine, in the sixth arrondissement, on Sunday night, smashing a window in the sitting room which looks out on to the courtyard. Nobody was at home at the time, and nothing else was taken.'

Police now fear that thieves could take advantage of Miss Bruni's status as an international sex symbol by selling the pictures for hundreds of thousands of pounds. They could be posted on the web so as to cause maximum embarrassment to Mr Sarkozy, who is only too well aware of his third wife's colourful past.

As embarrassed French officials tried to play down the burglary as a opportunist one, neighbours in the mansion block where Julien Enthoven lives said it was 'extremely suspicious'.

'It's almost impossible to get into any of the flats here, and burglaries are pretty much unheard of' said Jean-Frederic Avel, who lives nearby.

'Nobody heard anything, even though they say a window was smashed in the courtyard. It seems strange that photos of Carla Bruni should have been targeted and then an announcement made about their disappearance.

'Also, what kind of a person keeps dozens of photographs of his brother's ex-lover? Something does not add up here.'

Jennifer Scott, another neighbour, said: 'It was certainly a very strange burglary. Perhaps somebody wanted these pictures out of the way?'

The flat is in a secure block in one of the most upmarket, chic streets on Paris's Left Bank – an area which is always swarming with police.

Ms Bruni is around a decade older than Raphaël Enthoven, and went out with him until 2007, but the pair never lived together as a conventional family, either with or without their son. Throughout this period, Ms Bruni had to put up with antagonism from Miss Lévy, daughter of famous French philosopher Bernard-Henri Lévy.

Miss Lévy's book also portrayed Ms Bruni as 'a leech of a woman' who had plastic surgery. Ms Bruni's ex-lovers including British rock stars Mick Jagger and Eric Clapton, as well as a number of other public figures.

'We are doing everything we can to retrieve the images, and would ask anyone with any information about them to come forward immediately,' the detective added.

Ms Bruni had been living with the Enthoven's father, the Paris philosopher Jean-Paul Enthoven, in the later 1990s before cheating on him with his married elder son. Raphaël Enthoven's ex-wife, the author Justine Lévy, has never forgiven her for the affair – portraying Ms Bruni in a book as a 'husband stealer' with a 'terminator smile'.

Nude pictures of Ms Bruni were released just before a state visit to Britain last year. Since then she has been trying hard to tone down her risqué image. Official pictures of Ms Bruni in her now trademark style – demure designer dresses and low-heeled or flat shoes – have been making front pages and leading TV new bulletins during the current trip to Spain.

The timing of the burglary – on the eve of the official visit – is a cause of deep concern.
[From The Daily Mail]
I love all of the conspiracy theories of the French neighbors – "Maybe Sarkozy burgled the apartment with ninjas!" And then another one chimes in, "No! I heard Bernard-Henri Lévy hired the CIA to do the deal!"
If there really are Carla Bruni sex tapes (very possible, in my opinion), I doubt it will be a huge international scandal. Or am I underestimating this? It will be good gossip, and maybe even a half-decent sex tape… but will it really change international politics? And I doubt President Sarkozy even cares – he knows who he married.
Here's French President Nicolas Sarkozy and his wife Carla Bruni Sarkozy meeting with the Spanish Royals, King Juan Carlos and Queen Sofia at Zarzuela Palace in Spain yesterday. Images thanks to Fame Pictures .