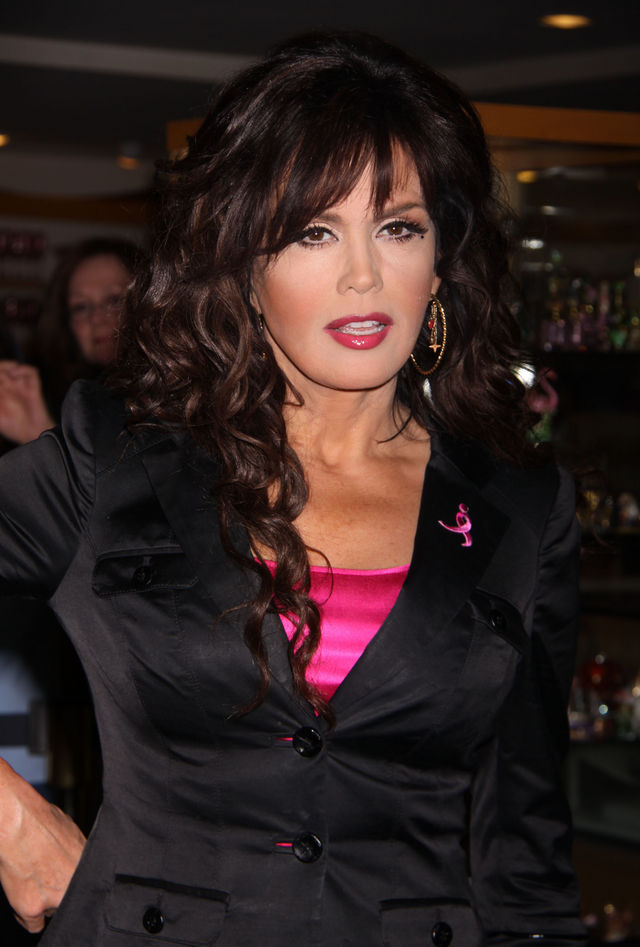 Marie Osmond is a great mom. I'm sorry, but I just came to that realization after reading this article. Marie is a devout Mormon, having been born into and married in the Mormon faith. She has eight children by her two ex-husbands. Three of her kids are biological, five adopted. A few weeks ago, some tabloids began reporting that Marie's 21-year-old daughter Jessica was a lesbian, and that Marie was ashamed of her.
Marie stood up for her daughter, though. In an interview with the radio station KOST 103.5 in Los Angeles, Marie confirmed that Jessica is a lesbian, and that Jessica is entitled to every civil right that a straight person is entitled to. Marie laughed off the idea that her daughter's homosexuality was "a sensitive topic" because of Marie's Mormon faith, and basically said that her faith was her own, but she doesn't think that faith should be used to block anyone's civil rights. Marie's comments are actually a little funny – she tries to quote the Bible, I think, but comes out with "God said to be married and be productive with your children and, you know, replenish the earth or whatever." I love that – "or whatever".
In an interview with Los Angeles radio station KOST 103.5, Marie Osmond confirmed rumors that her daughter Jessica is a lesbian and spoke about her views on marriage equality.

Though the interviewer suggested the question might be "a sensitive topic" because of Osmond's Mormon faith, the entertainer didn't hold back.

"That's not a sensitive topic, I love my daughter," said Osmond with a laugh.

Last week, the U.K. publication The Sun suggested all may not be well between Osmond and her daughter. But Osmond went on to say that though the Mormon Church may not agree with homosexuality, she isn't imposing those beliefs on her children.

"You know, on those types of things I'm very supportive. When it comes to marriage, I think that civil rights need to be for all," Osmond said. "When you start mixing religion into that and beliefs, you know, I do believe in the Bible. My daughter understands my beliefs. And, you know, God said to be married and be productive with your children and, you know, replenish the earth or whatever. She understands those things. My daughter is sharp. And we have a great relationship and I think she would tell you that."

In the weeks following the passage of Prop. 8 in California, Marie Osmond and her brother Donny became easy targets for some gay activists as high-profile members of the Mormon Church, which was responsible for raising a substantial amount of money in passing the same-sex marriage ban, but the brother-sister act responded by appearing on posters condemning the church.
[From The Advocate]
Doesn't Marie seem pretty cool? She's all "It's my faith, y'all, or whatever, do what you want, mama needs a nap." It just goes to show, once you meet, know and love a person who embodies a quality that you find weird or strange or abhorrent, whether it's race, religion or sexuality, it's a lot easier to see that we're all fundamentally human. I applaud you, Marie! Now go take that nap!
Here's Marie at the 'Race For The Cure' doll signing in the Flamingo Las Vegas Promenade on May 2nd. Images thanks to WENN.com .